Advice: Keeping dogs safe in the hot weather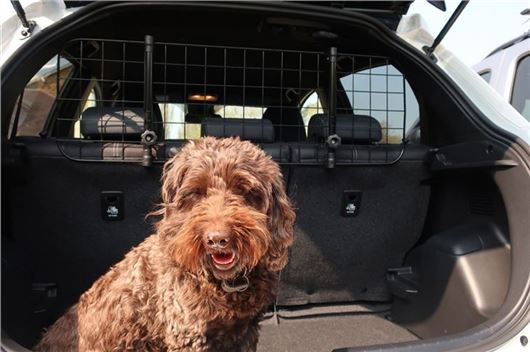 Published 03 June 2021
As lockdown restrictions ease, HonestJohn.co.uk's urging dog owners to ensure they're keeping their pets safe this summer. Here is everything you need to know when it comes to keeping a dog safe in a car and restraining a pet while you drive.
It's no surprise that with more Brits at home due to the pandemic during the last 12 months, many have adopted new pets — especially dogs. With many first-time dog owners hitting the road with their new four-legged friends this summer, we've put together this guide to keep you on the right side of the law and to keep your pet safe as temperatures rise.
>>> Top 10: Useful car accessories for dog owners 
The RSPCA receives thousands of calls every year reporting about dogs in hot cars. In 2019, the British Veterinary Association (BVA) saw a three-year high for the number of reports of animals suffering heat exhaustion, while the RSPCA's emergency line in England & Wales receives over 8000 reports of dogs in hot cars every year.
Does a dog have to be restrained in a moving car?
It's not a legal requirement to restrain your dog in a car so there's no direct penalty for leaving a dog unrestrained while you're driving. However, Rule 57 of the Highway Code states that drivers are responsible for making sure dogs (or other animals) are suitably restrained in a vehicle so they can't distract or injure you — or themselves — if you brake sharply.
Driving with an unrestrained pet could also come under 'careless and inconsiderate driving'. This offence can carry an unlimited fine/discretionary disqualification, as well as three to nine penalty points.
In some instances, driving with an unrestrained dog in your car can invalidate your car insurance policy, too. If you need to make a claim, your insurer will want to know what was happening while you were driving. If your insurer finds out that you were driving with an unrestrained pet, you might be denied coverage.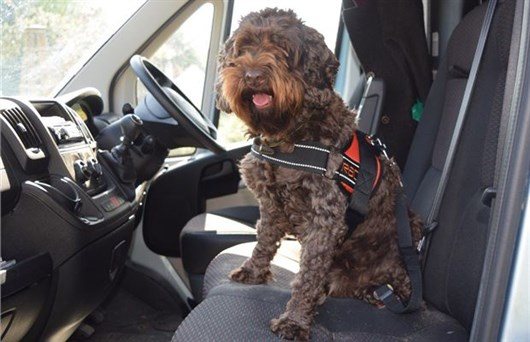 Is it illegal to leave a dog alone in a car?
It's not illegal to leave a dog in a hot car in the UK, but owners are legally responsible for their pet's health and welfare. If a dog became ill or died due to being left in a hot car, owners could be charged with animal cruelty.
If an owner is convicted of failing to meet the needs of their dog or causing unnecessary suffering (by leaving them in a hot vehicle), they could face a maximum sentence of six months in prison and/or an unlimited fine. The Animal Welfare (Sentencing) Bill, which comes into force on 29 June 2021, also means the maximum sentence will be increased to five years for the worst cases of animal cruelty and suffering.
Will your car insurance policy cover the cost of the repair if someone smashes the window to rescue a dog from the heat?
According to Jade Devlin at NFU Mutual, a claim for damage caused by a third party trying to get into a car to rescue a dog would be considered under a comprehensive car insurance policy.
"Comprehensive cover includes damage to glass – whether that be the windscreen, windows or even a sunroof. For most claims on car insurance, an excess will be payable, but this amount will differ and is quite often less for damage to glass than it would be for standard damage to the bodywork," says Jade.
"Despite the valiant intentions of a third party rescuing your dog, if any damage caused resulted in a claim, your NCD (no claims discount) would be affected. The best course of action to safeguard your car – and more importantly, your dog – would be to not leave them unattended, particularly as temperatures increase as the summer months approach."

If you leave my car's windows open for my dog, will this invalidate your car insurance?
Jade Devlin says it is always important to check your policy, as your car insurance may be affected by leaving a window ajar.
"Most car insurance policies have a general condition of a 'duty to take care' and to safeguard your property against theft loss or damage. Failure to take reasonable steps to prevent a loss may invalidate a claim, but circumstances are considered on merit," explains Jade.
"It's also worth checking your policy for any special terms or endorsements that may have been applied, particularly if the terms reference 'security'.
"Most comprehensive car insurance policies also provide cover for personal effects that may be stolen from a vehicle, subject to monetary limits. Leaving a window open or even a roof down in a convertible could also invalidate this section of cover unless the items are kept in a locked glove box or boot."
What should you do if you see a dog stuck in a hot car?
In an emergency (if an animal is displaying any sign of heatstroke such as panting heavily, drooling excessively, is lethargic, collapsed or vomiting) dial 999 and report a dog in a hot car to police. Officers can attend and have the power of entry to locked vehicles.
If the situation becomes critical and the police can't attend then your instinct may be to break into the car to free the dog. However, without proper justification, this could be classed as criminal damage. Make sure you speak to the police before doing anything that could land you in trouble.
Once removed from the car, the dog should be taken to a shaded/cool area and you will need to pour small amounts of cool water over their body. Don't use cold water as this could put them into shock. Allow the dog to drink small amounts of cool water and take them to the nearest vet as a matter of urgency.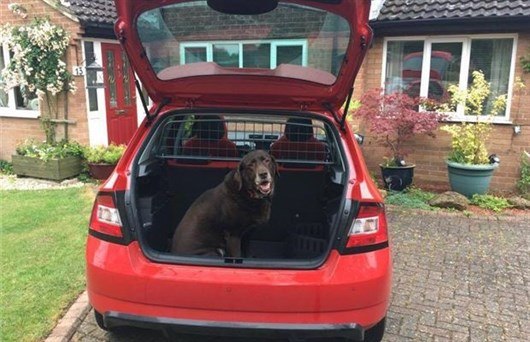 What does the RSPCA recommend to keep your dog safe this summer?
Avoid walking dogs during the hottest parts of the day. Aside from overheating, the heat of the ground surface can get very hot, too. Test the temperature with the back of your hand to see if it's safe for your dog before setting off
Know the early signs of heatstroke which include panting, difficulty breathing, tiredness, less keen to play, drooling and vomiting and take immediate action. Severe heatstroke can cause seizures, complete loss of consciousness, loss of coordination, confusion and vomiting and diarrhoea with blood. If untreated it can prove fatal
Ensure your dog has access to shade and fresh drinking water at all times
Use a cooling mat or wrap an ice pack or frozen water bottle in a tea towel for your pet to lie on
Never leave your pet in a vehicle, caravan, conservatory or outbuilding in the warm weather as they can quickly overheat, even if it doesn't seem particularly hot to you
Comments
Author

Georgia Petrie
Latest