Tiny Citroen AMI EV confirmed for UK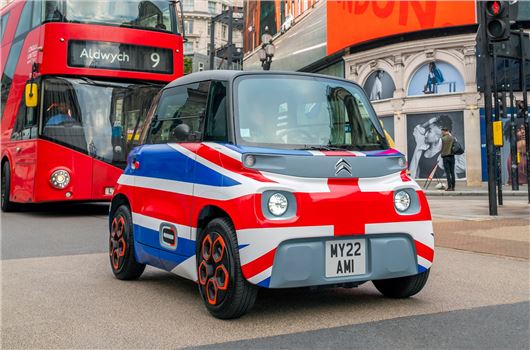 Published 23 September 2021
Range of up to 46 miles
Two-seater
Priced from £6000
The Citroen AMI electric city car will come to the UK in 2022 and is expected to cost from £6000.
The news comes after 12,000 potential buyers expressed an interest in the tiny electric car – they can pay a £250 refundable fee to secure one now. Everyone else can order from 27 September.
The Citroen is purpose-built for the city. At 2.41m in length, it's more than a meter shorter than a Volkswagen Up and has a 7.2m turning circle that will have a Black Hack weeping.
You get a top speed of 28mph and acceleration that makes your average mouse seem like Speedy Gonzales, though you'll still need a full UK car licence to drive it. The AMI's small 5.5kWh battery is only good for a range of 46 miles, but it takes just three hours to charge.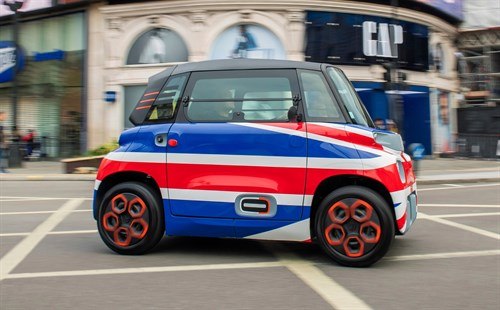 The whole thing has been designed to be cheap to make.
So the front and rear bumpers are identical as are the doors (which hinge on opposing sides) and you get windows that flip up like a 2CV's. The car is also left-hand-drive to cut down on development costs. Although, as Citroen helpfully points out, it does mean you get in and out on the kerbside.
Inside, it's spartan. Features are limited to a heater and a smartphone dock, with storage for a small item of luggage. At least you and your passenger sit side-by-side – so there's no need to straddle a la Renault Twizy – and you get a glass roof that lets in lots of light.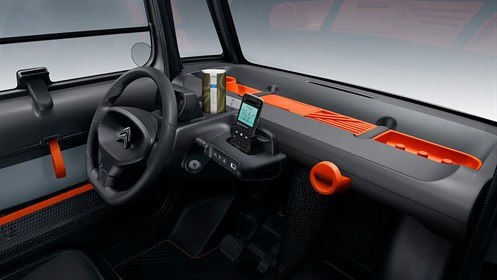 Personalisation is high on the agenda, and a range of customisation packs and accessories will allow you to do just that.
Expect to hear confirmed prices and specs in the next few months.
1
What size is the Citroen AMI?
The Citroen AMI is 2410mm long, 1390mm wide and 1520mm tall. 
2
Can you drive a Citroen Ami in the UK?
You can drive the Citroen AMI in the UK, although you'll need a full car licence to do it. 
3
How fast can a Citroen AMI go?
Erm... not very. Citroen quotes a top speed of 28mph and hasn't released acceleration figures. 
Ask HJ
Small car for short runs: advice please
I live in Dorchester and have decided to buy a little car to go to work in. The car will do a very short journey (about 1 mile) twice a day. I would walk to work except that I have to carry heavy items. I would use the car for occasional longer journeys for up to about 30 miles. I need your advice on what used car I should look for. I am conscious that the car will not have much of a run in especially in cold weather. The small car should be economical to run in total. I would prefer an automatic car, if possible. I would like to spend about £5000 - £6000 and have a car that can be bought and serviced in Dorchester town itself.
Basically, a petrol or diesel engined car is unsuitable for this sort of use. You need an electric car. You might be able to get hold of a used Citroen Berlingo Electrique. Try Jo Burge, of Drivelectric, tel: 01473 327411. Or consider a Reva Gee Wiz. Or a new Renault Twizy, which would be perfect for this sort of use.
More Questions
Ask HJ
Need a congestion charge friendly car - suggestions?
My wife needs a car that can travel through London's Congestion Charge Zone with no fee as it will be a daily journey, which will also be used for work post the commute racking up approx. 100 miles per day. What can you recommend?
There is only one proper new car: The latest model Toyota Prius on standard 15-inch wheels that qualifies by emitting 70g/k, CO2. Otherwise she has to go for a plug-in hybrid, such as a Mitsubishi Outlander PHEV, or a purely electric car such as a Renault Zoe or a Nissan Leaf or a Volkswagen eUp. The Zoe is reasonably affordable from £17,995 including battery but unfortunately the eUp is £25k. As a further alternative she could go for a Renault Twizy from £6,995 but would need to be able to plug it in somewhere to travel 100 miles. She could also look for a second hand G-Wizz. Or go all out and get a Tesla Model S 70 from £58,300.
More Questions
Comments
Author

Russell Campbell
Latest