Revealed: New Suzuki Across based on Toyota RAV4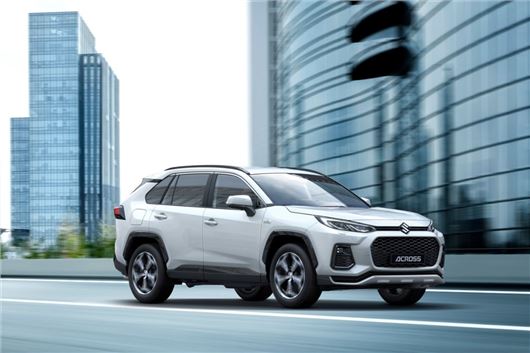 Published 01 July 2020
Suzuki has revealed a new, plug-in hybrid SUV - called the Across. It's the first Suzuki to gain a plug-in hybrid setup, and is based on the Toyota RAV4 following a partnership between the two manufacturers to collaborate on various new models.
The Suzuki Across is the first model to emerge from the collaboration, with Toyota saying last March that it would produce two electrified vehicles for the European market based on the RAV4 and Corolla estate - the latter of which will be produced towards the end of 2020.
The new Across certainly looks a lot like Toyota's RAV4, even on the inside. The Across features a largely identical interior layout with the RAV4's 9-inch touchscreen display features as standard. Apple CarPlay and Android Auto are available and there's a range of storage bins throughout the cabin. An electrical accessory socket is fitted in the SUV's 490-litre boot, too.
The electrified powertrain is the same as you'll see in the new RAV4 PHEV and comprises of a 175PS 2.5-litre petrol four-cylinder paired to two electric motors - one with 134kW on the front axle and another with 40kW at the rear. It claims a top speed of 112mph.
Combined, the system has an output of 180PS and 270Nm of torque – which Suzuki says will offer a maximum all-electric range of 47 miles. The Across also emits 22g/km of CO2 on the WLTP combined cycle, compared to the RAV4 PHEV's 29/gm. There are no economy figures available yet, though.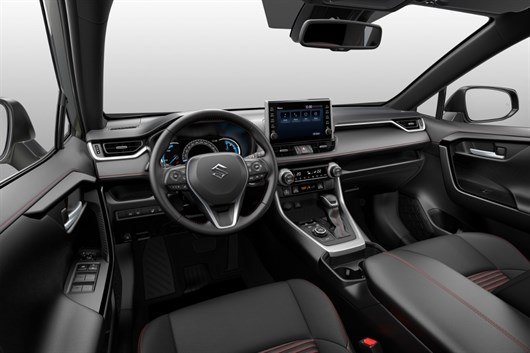 An electronic four-wheel drive system, called E-Four, features as standard too. It can split torque between the two axles in ratios - which Suzuki says provides "enhanced stability during take-off on slippery surfaces such as snow covered roads, and confident handling."
The Across is also equipped with a Trail Mode function that maximises grip on slippery surfaces by diverting power away from wheels that are losing grip towards wheels that have good traction.  
Safety features include a pre-collision system, lane-keep assist, road sign assist, dynamic cruise control, a blind spot monitor and Suzuki's eCall system - which alerts the emergency services in the event of an accident. 
LED headlights and daytime-running lights, and 19-inch alloy wheels come as standard - while paintwork colours include white, silver, black, red, grey and blue. 
Suzuki has confirmed that sales of the Across will commence in the UK this autumn, but prices have not been confirmed. However, we expect it'll start at a similar price to the Toyota RAV4: £33,450.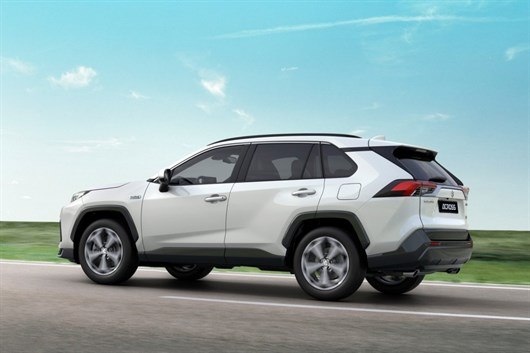 Comments
Author

Georgia Petrie
Latest