Electric autonomous vehicle revealed: could replace petrol and diesel cars within five years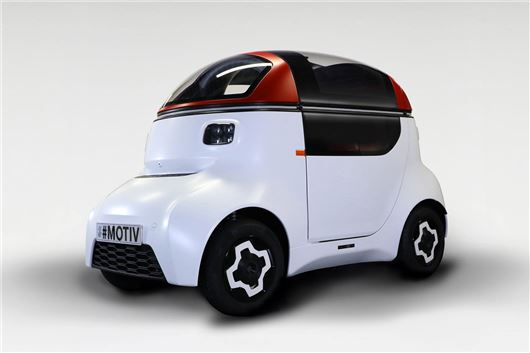 Published 11 February 2020
Gordon Murray Design has revealed pictures of an autonomous vehicle which could replace petrol or diesel cars in busy urban areas within the next few years.
The designer behind the 1990s' McLaren F1 road car has developed the autonomous pod as part of a consortium with Silverstone-based Delta Motorsport and mobility specialist ItMoves.
Part-funded by the UK Government, the Motiv is a cost-effective, lightweight quadricycle designed to meet full passenger-car crash safety requirements.
With its compact footprint, its designers say the 2.5m-long pod has the potential to reduce congestion in city centres while its electric powertrain will reduce emissions.
The Motiv uses a 17.3kWh battery pack to power a 20kW electric motor. Officially, it can provide a five-hour continuous run time and a range of 62 miles. Charging takes 40 minutes (from 20 to 80 per cent), while the electric pod tops out at 40mph. Acceleration from 0 to 39mph takes five seconds.
The platform also has the potential to be modified for different requirements - an extra seats could be fitted, for example, or space for a wheelchair. It could also provide a luggage capacity of more than 1100 litres for business users, making it an option for last-mile deliveries.
Ready to enter its final development phase, the consortium says it's looking to partner with autonomous technology providers to pilot its adaptation to driverless use. Following this, it could be ready for mass production within two to five years.
Comments
Author

Andrew Brady
Latest