10 things you need to know about the new Mercedes-Benz EQC
Published 29 May 2019
We've driven the new Mercedes-Benz EQC electric SUV and concluded that "it's relaxing to drive, has a superb interior and is loaded with clever technology." There's so much to learn about it, though, that we thought it was worth digesting into a handy little top 10...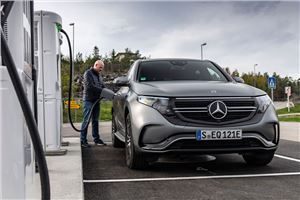 1
You can charge it in 40 minutes
The Mercedes-Benz EQC can handle being charged with a maximum output of 110kW. In plain English, this means it can't be charged in just 10 minutes like some upcoming electric cars - but neither can any of its rivals. It can, however, be charged from 10 to 80 per cent in around 40 minutes at a suitable fast charger (such as those found at motorway service stations). You can also charge it at home using a wallbox in around 11 hours, or using a domestic three-pin plug.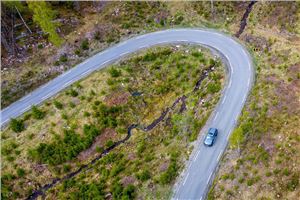 2
It will cover 259 miles from a single charge
Under official WLTP fuel economy tests, the Mercedes-Benz EQC will cover 259 miles between charges. That means you could drive from Birmingham to London and back again without having to stop, should you feel the need. Even in the real-world, with bad weather and a heavy right foot, it should still be good enough for more than 200 miles.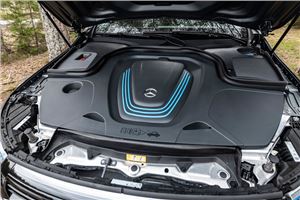 3
It has a combined 408PS
With two electric motors (one powering each axle), the EQC has 408PS and a generous 760Nm of torque - taking it from 0-62mph in 5.1 seconds. That's faster than the Audi e-tron but slower than the Jaguar I-Pace and Tesla Model X. Don't go thinking it's an off roader, either - while its four-wheel-drive system means it has plenty of grip in wet weather, it's not got much ground clearance for tackling anything more challenging than a grassy field.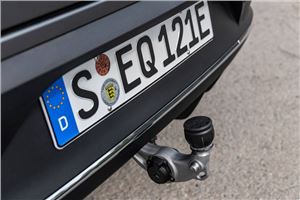 4
It can tow up to 1800kg
The Mercedes-Benz EQC weighs a hefty 2495kg before you add occupants and luggage - with the batteries alone tipping the scale at 652kg. The advantage of this is that it's rated to tow up to 1800kg. That's enough for a fairly bulky caravan.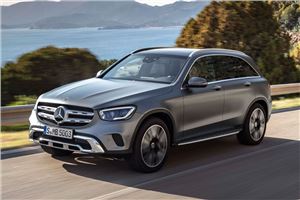 5
It's based on a Mercedes-Benz GLC
The Mercedes-Benz EQC might not look as futuristic as the Jaguar I-Pace or Tesla Model X, but that's partly because it's based on the Mercedes-Benz GLC. As well as a platform, it also shares a factory with the firm's C-Class-sized SUV.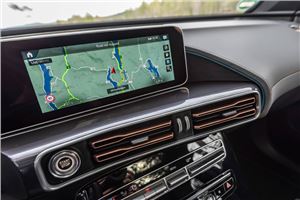 6
It's got the infotainment from an A-Class
Mercedes-Benz launched its fancy new MBUX media system with the A-Class, claiming buyers of the hatchback were 'digital natives' who wanted the latest tech. It's now being rolled out across the range, including the EQC. On the EQC, it's got some trick new features. The navigation can plot routes to help you avoid running out of charge - by stopping at charging stations or avoiding hills to preserve range.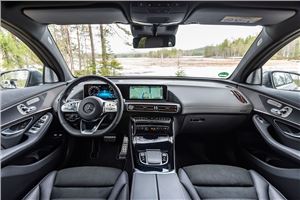 7
The dashboard is made from plastic bottles
Around 50kg of parts in the EQC are made from recycled or renewable materials, says Mercedes-Benz. The dashboard is made from recycled plastic bottles while hemp, kenaf, wool, cotton, paper, and natural rubber are all used in the upholstery. It feels very premium, of course, but you can drive the EQC with a clear conscience.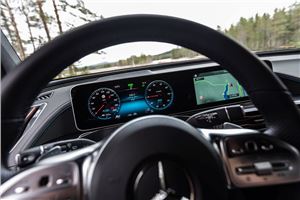 8
It has a clever 'maximum range' feature
There are five different driving modes available in the EQC: comfort, eco, max range, sport and individual. The 'max range' feature works with the car's cameras, navigation and speed-limit monitors, encouraging you to lift off the accelerator by providing haptic feedback through the pedal. Basically, the accelerator pedal will vibrate when it wants you to lift off and preserve range.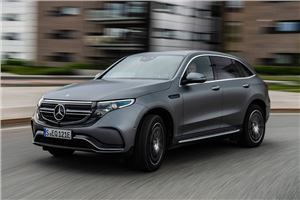 9
You can drive through town without touching the brake pedal
If you've driven an electric car before, regenerative braking will be nothing new - essentially, you can adjust the retardation from the electric motors. Ramp it up, and the EQC will slow down dramatically as soon as you lift off the accelerator, pumping energy back into the batteries in the process. Driving out of town? Turn it down and the EQC will coast along like a petrol or diesel car.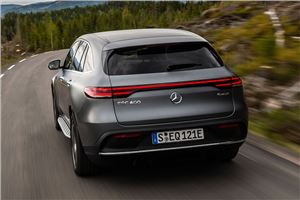 10
It can adjust the amount of regeneration automatically
It gets cooler. The Mercedes-Benz EQC offers a trick automatic recuperation mode which can crank up the regenerative braking when the car's systems detect that you need to slow down (entering a town, for example), or decrease it when you're happy to coast (e.g. on a motorway). Think of it as next-level adaptive cruise control - it will take some getting used to, but it feels like you're driving in the future.