Geneva Motor Show 2019: Honda e Prototype electric car revealed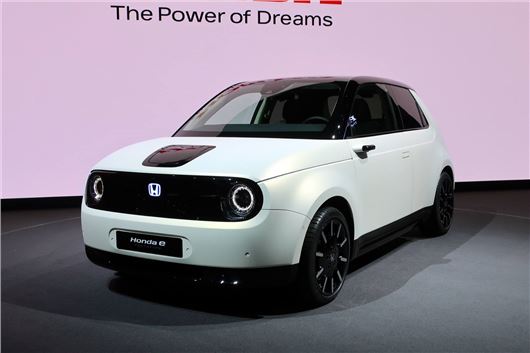 Published 05 March 2019
This is the electric Honda e Prototype. It's set to go on sale late-2019, will have a range of 124 miles and is so expensive that Honda won't tell us how much it'll cost.
Ahead of its debut at the Geneva Motor Show, we were given a preview of the Honda e Prototype before its covers are officially taken off on the show floor. Although still a prototype, it looks very much production-ready and is expected to go on sale, largely unchanged, before the end of the year.
While Honda is yet to confirm prices for its first electric car, the manufacturer is keen to emphasise that it definitely isn't a budget offering. Instead, engineers and designers have been given free reign to create the car they want, previewed by the Urban EV concept of the 2017 Frankfurt Motor Show.
Smaller than a Honda Jazz, the e Prototype is based on a new platform with an electric motor situated in the rear, driving the rear wheels. This means the electric car will have 'dynamic driving characteristics', says Honda, while the extra space up front means the front wheels can turn more, giving it a tiny turning circle similar to the Renault Twingo.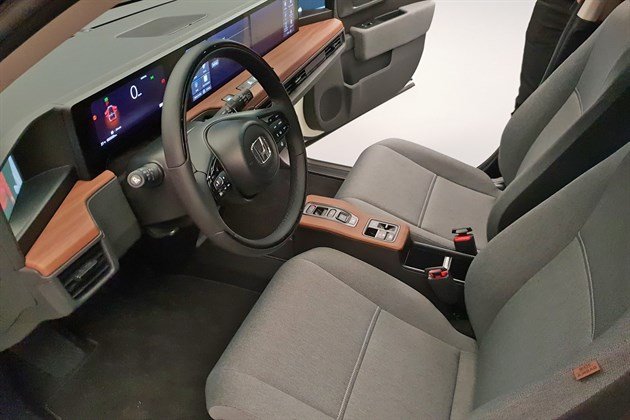 A charging port is situated in the middle of the bonnet, meaning you can easily drive up to chargers. Honda says it'll have a fast charge functionality providing an 80 per cent battery charge in just 30 minutes - perfect for most people's commutes.
A disadvantage of the rear-wheel-drive layout is that the electric motor eats into boot space. The boot floor is very high and the shape of the car also doesn't help with luggage space, although the rear seats can be dropped for more space. There are five doors (unlike the three-door concept), opened via flush pop-out door handles.
Although this isn't meant to be a family car, there's enough space for two adults in the rear and there's a surprising amount of hat room, while a flat floor also helps with the spacious feel.
Space aside, the interior feels very different to any Honda ever sold. Designers say they used the home environment for inspiration - so there are a lot of tactile materials and melange-style sofa fabric to create a relaxed environment. There's even a few strips of fake wood, which won't be to everyone's tastes - but it kind of works.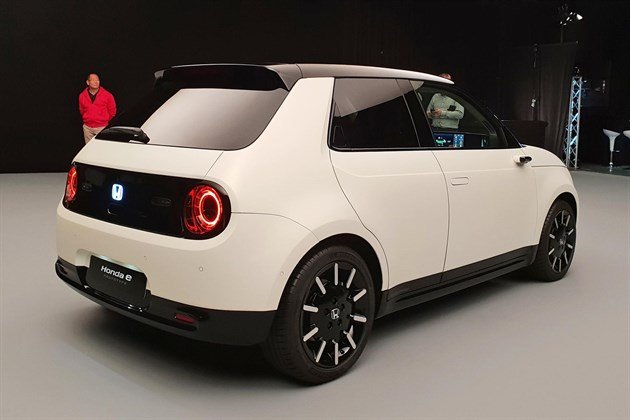 As you'd expect for an electric car, there's lot of technology including a dual screen display running along the width of the dashboard. Pleasingly, for those of us who still like buttons for important functions, there are still lots of switches scattered around the front of the car.
Other clever gadgets include digital mirrors in place of conventional door mirrors. Our experience of using digital door mirrors on the new Audi e-tron suggests they take a bit of getting used to - but in the Honda, they seem to be situated in a location that feels natural to glance at while driving.
Honda says a lot of work has gone into making these right - there were discussions between designers and engineers over their placement down to 1mm. Not only do they have to show you what's going on behind, they also have to look good without harming the car's aerodynamic qualities. They've even been designed so that raindrops will fall off naturally, without obstructing the camera view.
There's a digital rear-view camera, too - similar to that used on the new Range Rover Evoque. As well as working better than a conventional mirror in poor weather, it also helps if you're carrying things in the back which would ordinarily block your view.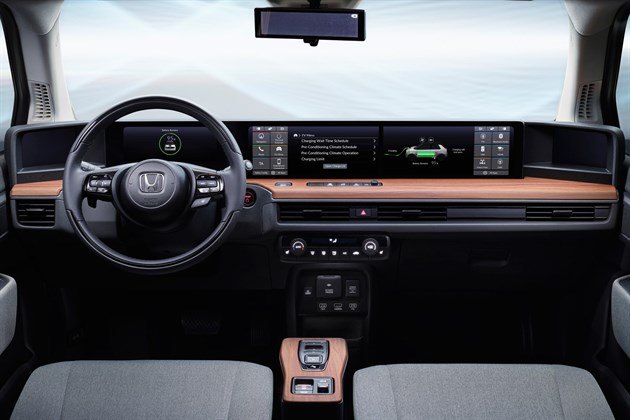 It's a miracle we've even seen this car. The team behind it say they faced a lot of opposition from within Honda. It'd have been much easier to create an SUV - the market for premium SUVs is huge, people are willing to pay more money for them, and there's more space for batteries (which could have seen Honda providing a headline-grabbing range from its electric car).
By going down the small car route, the range is limited by how much space there is for batteries. And as it's been designed from the ground-up as a brand new electric car with few limitations, a lot of money has gone into it - and that means it'll have a premium price tag.
But Honda compares the e Prototype to an iPhone or iPad. These products aren't affordable for many people, yet they're desirable objects that people are happy to save for. Or, more realistically, they get them on monthly contracts… just like a lease on an electric car. Will the Honda e - or whatever the manufacturer decides to call it - become this year's must-have car? It's certainly got potential.
The Honda e Prototype has been unveiled today at the Geneva Motor Show. A production version will go on sale by the end of 2019.
Comments
Author

Andrew Brady
Latest