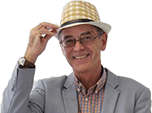 Smart creates the Forrail: an actual train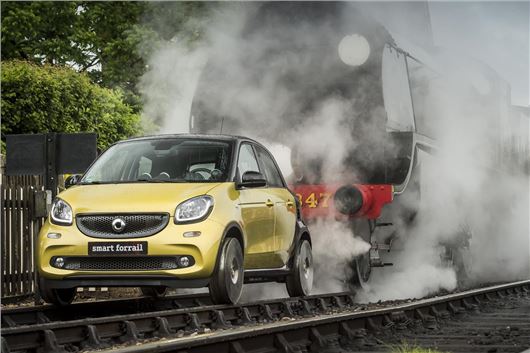 Published 29 June 2015
Smart has created a car that literally corners on rails. The Smart Forrail is based on the new Forfour, but equipped with 22-inch steel wheels each weighing 80kg. It is truly, actually, a working train. Check the date: it's not April 1st.
The Forrail is a publicity stunt, clearly, but Smart is trying to prove that the immense strength of the Forfour's tridion safety cell is enough to handle the immense task of turning a compact car into a locomotive.
It has done so successfully, you may concede, with the car taking to the track at the Bluebell Railway in Sussex last weekend, albeit working at low speeds along a ten-mile stretch.
Smart took the event seriously, tasking Derby based locomotive engineers Interfleet with engineering the Fortwo into a fully certified mini-train. It took the team six months, largely using computer modeling, to get the project on track.
To make sure that the Forrail didn't come off the rails, the steering wheel was disconnected and the wheels were locked in position with aluminium supports welded between each axle.
If you're wondering whether you can take a ride in the Forrail, we're sorry to inform you that Smart has already returned the car to its normal state. So, it's last stop Disappointment Parkway, pulling it at Bemusement Central and Bewilderment South along the way. Oh - and if you do own a ForFour, best not to try knocking something similar up in your shed...
Click here to read our review of the regular, tyre-equipped Smart Forfour
Comments
Author

Mark Nichol
Latest