Honda expands on new 'coupé-like' HR-V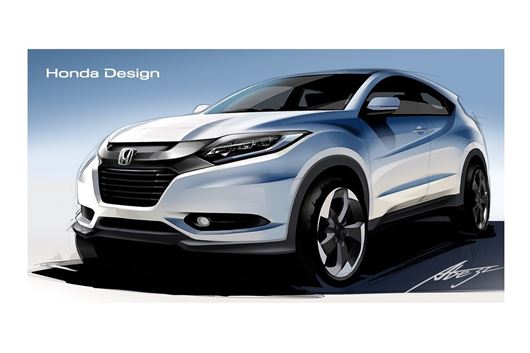 Published 15 May 2015
Ahead of the imminent arrival of the new and re-booted HR-V crossover, Honda has bolstered its style credentials with some insight into the design.
Along with the sketches you see above and below, the Japanese company has released a statement from head designer Masaki Kobayashi, who has explained the crossover's coupé-like inspiration.
"We didn't want to just create a downsized SUV," says Kobayashi. "Honda already has the CR-V, which combines the virtues of an SUV and a lighter, more nimble conventional car, so the HR-V needed to offer something different."
That difference, says the designer, is a fusion of all manner of conflicting and semi-meaningful phrases: "emotionality and toughness," and "personal cockpit and expansiveness," to name but two.
The car's target audience, says Kobayashi, are "active people who enjoy both their work and home life." If that's you, by all means express an interest in the new HR-V with your local Honda dealership.
Back in the real world, the HR-V is a small crossover that joins the ever-swelling ranks of that particular niche, which includes the Nissan Juke, Ford Ecosport and Renault Captur to name a few.
Getting its official debut at the Geneva Motor Show just gone, the HR-V will go on sale this summer priced from around £16,000.
And despite its coupé pretence it should actually be one of the most practical small crossovers around on account of its 'Magic Seats' setup, borrowed from the Honda Jazz and which allows the chairs to be easily folded to liberate cargo space.
The boot is a whopping 453 litres even without the chairs folded, though, which puts the HR-V's luggage capacity well into the family hatchback class.
Comments
Author

Mark Nichol
Latest