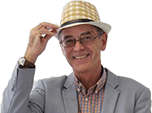 Revised Honda CR-V prices announced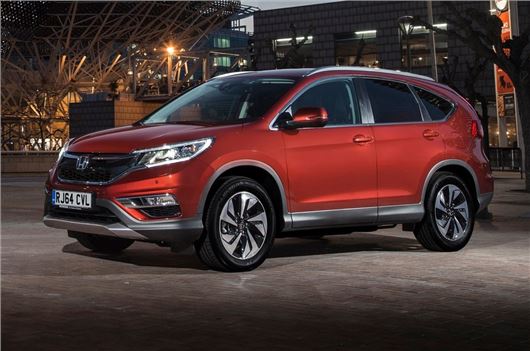 Published 10 February 2015
Prices for the revised Honda CR-V will start at £22,340 when it arrives in showrooms in March. That gets you the entry 2.0 i-VTEC petrol S model while the cheapest diesel will set you back £23,400.
We've driven the facelifted model here and while it doesn't look very different, there are changes under the skin with a more powerful 1.6-litre i-DTEC diesel and a new nine speed automatic. As before both two-wheel and four-wheel driver versions are available.
The new 1.6 i-DTEC replaces the 2.2-litre diesel. With 160PS it is exclusively mated to four-wheel drive. To achieve power that's 10PS better than the larger outgoing engine it has added an additional turbo, boosting not just output, but improving responsiveness, all while reducing CO2 emissions. CO2 falls from 149g/km to 129g/km with economy improving markedly from 42.8mpg to 57.7mpg.
The diesel is available with a new nine-speed automatic as well as the standard six-speed manual. Other new features include the i-ACC system, which comes as part of the optional Honda Sensing Pack, available on the EX trim. 
The system takes adaptive cruise control one step further, constantly scanning the road ahead to accurately predict the likelihood of drivers cutting in front when motorway driving, and will gently apply the brakes if necessary.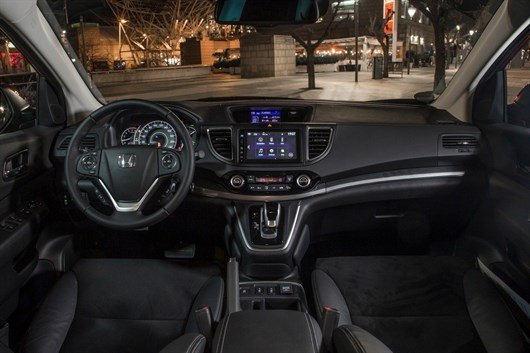 Full price list
Engine
Variant
Transmission
CO2 g/km

OTR price
Fuel economy mpg

Petrol engines
2.0 i-VTEC
S (1 CD) (2wd)
Man
168
£22,340
39.2
2.0 i-VTEC
S (Honda Connect with Navi) (2wd)
Man
168
£23,240
39.2
2.0 i-VTEC
SE (Honda Connect) (2wd)
Man
168
£24,510
39.2
2.0 i-VTEC
SE (Honda Connect with Navi) DASP (2wd)
Man
168
£25,680
39.2
2.0 i-VTEC
SE (Honda Connect) (4wd)
Man
173
£25,610
38.2
2.0 i-VTEC
SE (Honda Connect) (4wd)
Auto
175
£27,110
37.7
2.0 i-VTEC
SE (Honda Connect with Navi) DASP (4wd)
Man
173
£26,780
38.2
2.0 i-VTEC
SE (Honda Connect with Navi) DASP (4wd)
Auto
175
£28,280
37.7
2.0 i-VTEC
SR (Honda Connect with Navi) (4wd)
Man
177
£28,590
37.2
2.0 i-VTEC
SR (Honda Connect with Navi) (4wd)
Auto
179
£30,090
36.7
2.0 i-VTEC
SR (Honda Connect with Navi) DASP (4wd)
Man
177
£29,190
37.2
2.0 i-VTEC
SR (Honda Connect with Navi) DASP (4wd)
Auto
179
£30,690
36.7
2.0 i-VTEC
EX (Honda Connect with Navi) (4wd)
Man
177
£30,435
37.2
2.0 i-VTEC
EX (Honda Connect with Navi) (4wd)
Auto
179
£31,935
36.7
2.0 i-VTEC
EX (Honda Connect with Navi) DASP (4wd)
Man
177
£31,035
37.2
2.0 i-VTEC
EX (Honda Connect with Navi) DASP (4wd)
Auto
179
£32,535
36.7
2.0 i-VTEC
EX (Honda Connect with Navi) Honda Sensing (4wd)
Man
177
£31,935
37.2
2.0 i-VTEC
EX (Honda Connect with Navi) Honda Sensing (4wd)
Auto
179
£33,435
36.7

Diesel engines 120PS
1.6 i-DTEC
S (1 CD) (2wd)
Man
115
£23,400
64.2
1.6 i-DTEC
S (Honda Connect with Navi) (2wd)
Man
115
£24,300
64.2
1.6 i-DTEC
SE (Honda Connect) (2wd)
Man
115
£25,570
64.2
1.6 i-DTEC
SE (Honda Connect with Navi) DASP (2wd)
Man
115
£26,740
64.2
1.6 i-DTEC
SR (Honda Connect with Navi) (2wd)
Man
119
£28,495
62.8
1.6 i-DTEC
SR (Honda Connect with Navi) DASP (2wd)
Man
119
£29,095
62.8

Diesel engines 160PS
1.6 i-DTEC
SE (Honda Connect) (4wd)
Man
129
£27,570
57.7
1.6 i-DTEC
SE (Honda Connect) (4wd)
Auto
134
£29,350
55.4
1.6 i-DTEC
SE (Honda Connect with Navi) DASP (4wd)
Man
129
£28,740
57.7
1.6 i-DTEC
SE (Honda Connect with Navi) DASP (4wd)
Auto
134
£30,520
55.4
1.6 i-DTEC
SR (Honda Connect with Navi) (4wd)
Man
133
£30,625
55.4
1.6 i-DTEC
SR (Honda Connect with Navi) (4wd)
Auto
139
£32,275
53.3
1.6 i-DTEC
SR (Honda Connect with Navi) DASP (4wd)
Man
133
£31,225
55.4
1.6 i-DTEC
SR (Honda Connect with Navi) DASP (4wd)
Auto
139
£32,875
55.3
1.6 i-DTEC
EX (Honda Connect with Navi) (4wd)
Man
133
£32,470
55.4
1.6 i-DTEC
EX (Honda Connect with Navi) (4wd)
Auto
139
£34,120
55.3
1.6 i-DTEC
EX (Honda Connect with Navi) DASP (4wd)
Man
133
£33,070
55.4
1.6 i-DTEC
EX (Honda Connect with Navi) DASP (4wd)
Auto
139
£34,720
55.3
1.6 i-DTEC
EX (Honda Connect with Navi) Honda Sensing (4wd)
Man
133
£33,970
55.4
1.6 i-DTEC
EX (Honda Connect with Navi) Honda Sensing (4wd)
Auto
139
£35,620
55.3
Comments
Author

David Ross
Latest