Audi launches revised A6 range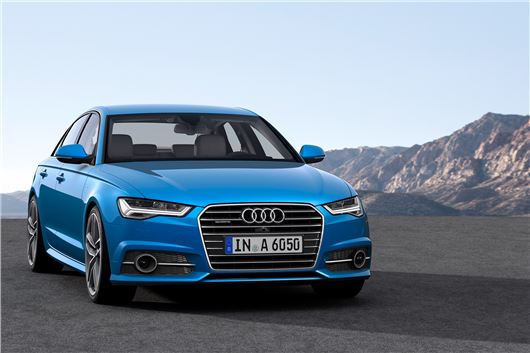 Published 05 September 2014
The Audi A6 range, including saloon, Avant, Allroad and S6 has undergone a mid-life revamp with enhancements throughout.
These include: styling revisions, xenon headlamps as standard for SE versions, LED headlights as standard for S line, Matrix LED lights optional for A6 and S6 and standard for RS 6 Avant; Interior decor improvements and upgraded infotainment system; EU6-compliant engine range benefits from emissions reductions of up to 22 per cent; Line-up includes 2.0 TDI ultra offering up to 64mpg with CO2 of as little as 114g/km; New S tronic twin-clutch transmission replaces multitronic CVT in front-wheel-drive variants. 
Ordering from September. Deliveries from late 2014. Prices from £32,000.
in Audi's words, "The sharp lines and taut surfaces which already create an impression of elegance delivered with meticulous precision in the A6 have been carefully honed as part of the model update. Revisions have been made to the Singleframe grille, the air inlets, the bumpers, the side sills, the rear lights and the tailpipes. One particular exterior highlight is the addition of xenon headlamps as standard for UK A6 SE models, and LED headlights with dynamic 'sweeping' rear indicators for S line versions and above. Matrix LED headlights, incorporating clusters of LED bulbs which can be individually dimmed when sensors detect oncoming or following traffic to automatically divert their beams around obstacles, are optional for all A6 and S6 variants and standard for the RS 6 Avant." 
"The sinewy style of the exterior is echoed in the car's spacious interior, which in the Avant is combined with a 565-litre load bay that can be expanded to 1,680 litres. Every detail attests to an uncompromising approach to quality, and the elegant colours and carefully selected materials emphasize the premium class ambiance. A new Lunar Silver upholstery and headlining colour choice for S line versions, which have until now been available finished exclusively in black, is one advantage offered by the new model, as are subtle detail enhancements, including an upgrade from dual-zone to deluxe four-zone climate control, new gear lever designs and additional chrome detailing."
There are upgraded infotainment options, which include new versions of the MMI navigation plus and Audi connect elements. Based around an eight-inch retractable colour monitor, MMI navigation plus is available as an alternative to the standard navigation system. It now uses a more powerful Tegra 30 graphics processor from Audi's partner Nvidia, and includes MMI touch, which enables the driver to scroll and zoom in lists and maps via a touchpad. Audi connect now brings tailored Internet-based services and new media streaming apps to the car via the latest LTE high‑speed data transmission standard for ultra-fast 4G click-through and download functionality.
Audi phone box option is also now available - it enables occupants to connect their mobile phones to the car's antenna for improved reception simply by placing them in the phone box compartment.
In the UK the engine line-up for the updated A6 and A6 Avant comprises four TDI engines with either four or six cylinders and either single or twin turbo charging. All engines comply with the limits of the Euro 6 emission standard, and their CO2 emissions have been reduced by as much as 22 percent. As before, the most efficient engine - the 2.0-litre TDI four-cylinder with 190PS - is reserved for Ultra versions of the saloon and Avant which combine strong performance, hushed refinement and the potential to return up to 60mpg with CO2 output from as little as 114g/km. Despite its sports styling, 18-inch alloy wheels and extensive specification, even the A6 2.0 TDI ultra S line Saloon with S tronic transmission achieves these exceptional economy and emissions figures.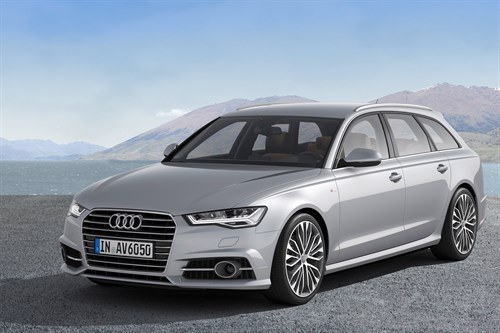 The trio of 3.0-litre six-cylinder TDI 'clean diesel' units starts with a single-turbo V6 with 218PS which replaces the existing 204PS version, and is followed by a 272PS variant, also with a single charger, which takes over from the outgoing 245PS unit. At the top of the range, the 3.0 TDI clean diesel biturbo produces 320PS, an increase of 7PS over its existing equivalent.
The high‑performance diesel is paired with an eight‑speed tiptronic automatic transmission. All other engine variants are linked to either a newly designed six‑speed manual gearbox that is particularly lightweight and low-friction, or a seven‑speed S tronic twin-clutch transmission. In the versions with front-wheel drive, a fully redeveloped dual-clutch transmission replaces the familiar eight-speed multitronic continuously variable transmission.
Quattro all-wheel-drive is available in conjunction with all engines bar the 2.0-litre TDI, and in versions with 272PS and above, the quattro permanent all‑wheel drive system can be supplemented with the sport differential, which actively distributes power between the rear wheels.
Sports suspension lowered by 20mm is standard for the A6 S line and optional for the SE model, and the former can be rooted to the tarmac even more firmly by S line sports suspension which lowers the body by a further 10mm. Alternatively, the cushioned comfort of electronically controlled adaptive air suspension is available in conjunction with both specification options. The Audi drive select dynamic handling system is standard.
The new Audi A6 allroad quattro, which is based on the A6 Avant, features a raised body accentuated by wheel arch extensions and stainless steel protectors that encapsulate the underside of the front and rear ends. It rides on adaptive air suspension with allroad-specific settings and is powered by three 3.0‑litre V6 TDI engines with outputs of 218PS, 272PS and 320PS.
The new Audi S6 and S6 Avant use the 4.0-litre TFSI petrol engine, a twin turbo V8 producing 450PS, which accelerates the Saloon from rest to 62mph in 4.4 seconds. The S6 Avant completes the sprint in 4.6 seconds. Combined fuel economy is an impressive 30.7mpg in the Saloon and 30.1mpg in the Avant, the equivalent of 214 and 219 grams CO2 per kilometre, respectively. This efficiency is due in large part to the cylinder on demand (COD) system, which only activates four of the eight cylinders when under part load.
Standard equipment in the new Audi S6 and S6 Avant includes quattro permanent all‑wheel drive incorporating the sports differential and the adaptive air suspension, which lowers the body by 20 millimetres. Matt black brake calipers grip the front discs mounted behind the 19‑inch wheels.
The figurehead of the new A6 family remains the RS 6 Avant. The Avant in the extreme accelerates to 62mph in a mere 3.9 seconds and can reach a top speed of 189mph. Its 4.0-litre TFSI engine produces 560PS, yet is also capable of up to 29.4mpg, corresponding to 223 grams CO2 per kilometre. The COD system is also largely responsible for this efficiency.
An eight‑speed tiptronic transfers the power from the twin turbo V8. The standard quattro drivetrain uses a centre differential with a higher locking rate and also features the sports differential acting on the rear axle. The RS adaptive air suspension lowers the body by 20 millimetres, but customers also have the option of conventionally sprung RS sport suspension with Dynamic Ride Control (DRC). The large brake discs feature a weight-saving wave design, and the wheels measure 20 inches in diameter. 21‑inch wheels are available as an option.
Comments
Author

Honest John
Latest