132 mile range Kia Soul Electric in UK by end 2014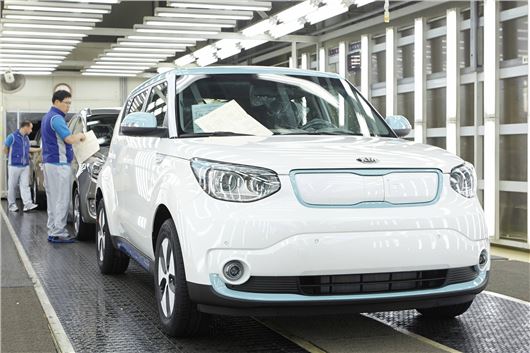 Published 12 June 2014
KIA's Soul EV, with a certified EC range of 212 kilometres (132.5 miles), is now scheduled to go on sale in the UK by the end of 2014. This 132 mile range is considerably greater than any other electric car at the same price level.
Production for export has now begun at KIA's Gwangju factory in in South Korea. The first Soul EVs off the production line are destined for select European countries and are scheduled to go on sale across the continent during the second half of the year. Output is expected to reach 5,000 cars.
Featuring a high-capacity 192-cell 27 kWh lithium-ion polymer battery pack, 212 km of the Soul EV's drive range is now certified for Europe. Key enablers for the Soul EV's outstanding drive range are industry-leading 200 Wh/kg cell energy density and a number of state-of-the art energy-saving features such as the new heat pump, smart air intake control system and a new individual ventilation system that ensure maximum driving range without losing energy for heating, ventilation and air-conditioning (HVAC).  The Soul EV also employs regenerative braking to capture and recycle into the battery the kinetic energy generated while the car is coasting and braking.
Power comes from an 81.4 kW (110 ps) electric motor, producing a generous and instantly available 285 Nm (29 kg/m) of torque, driving the front wheels via a single speed constant ratio gear reduction unit.
Acceleration to 100 kmh (62 mph) is predicted to take 11.2 seconds, while top speed is in the region of 145 kph (90 mph).
The battery pack is mounted beneath the cabin, ensuring a low centre of gravity and contributing to the car's accomplished ride, handling and refinement.
Charging is accomplished by plugging the Soul EV into any standard household electricity supply. Recharging times are up to five hours for a fully depleted battery using a 6.6 kW AC slow charger. An 80 per cent charge can be achieved in as little as 25 minutes with a 100 kW charger (if available) or 33 minutes using a 50 kW DC charger.
The new Soul EV has achieved the world automotive industry's first UL Environment Validation for containing 23,942 grams of bio-based plastic and 10 per cent bio-based organic carbon content. Soul EV's recyclable interior materials include Bio Plastic, Bio Foam, Bio Fabric and Bio PET Felt, together with low volatile organic compounds and newly developed antibacterial materials and paint.
The Soul EV will go on sale in the UK from late 2014.  Customers are able to register their interest in Soul EV, and stay up-to-date with the latest launch information, at: 
Comments
Author

Honest John
Latest