Alfa Romeo 4C on sale from October priced from £45,000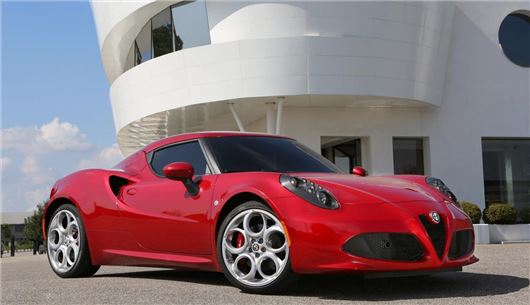 Published 18 September 2013
Alfa Romeo has announced that the 4C sports car will be available to buy from October 2013 and is to be priced from £45,000. Production is limited to 3500 cars worldwide. Like the Lotus Elise, the key to the 4Cs design is light weight rather than outright power – it has a 1.8-litre four cylinder engine which is also seen in the Giulietta hatchback. Transmission is a dual-clutch, seven speed TCT with paddle shifters mounted on the steering wheel.
Peak power is 240PS at 6000rpm but thanks to extensive use of carbon fibre the 4C has a dry weight of just 895kg – less than the entry-level Nissan Micra. That combination means a 0-62mph sprint time of 4.5 seconds and a top speed of 160mph. Maximum torque is an impressive 350Nm from 2100-4000rpm, so in-gear performance should be impressive. The weight of the 4C means good fuel economy and low emissions - on average it returns 45.1mpg and emissions are 157g/km.
Another characteristic typically imparted by a lightweight design is enjoyable handling and road holding, which Alfa Romeo promises the 4C will deliver. To that end suspension is performance tuned and the steering has a fast rack rate, which means most corners can be taken without letting go of the steering wheel.
The cabin is fairly basic, with a focus in the driving experience rather than on luxury. There's a multifunction display instead of traditional instrument dials and there are composite, lightweight bucket seats. The rest of the controls, for things like the TCT gearbox and traction control settings, are installed on the transmission tunnel. 
Comments
Author

John Slavin
Latest