Auto Shanghai 2013: Mercedes-Benz GLA breaks cover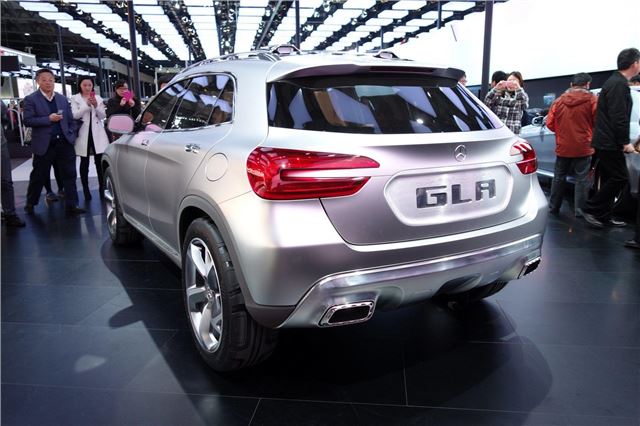 The Mercedes-Benz Concept GLA has been unveiled at the Auto Shanghai 2013 motor show. It's an important new concept that hints at an impending new arrival in the premium end of the compact SUV segment dominated by the Range Rover Evoque, BMW X1, and Audi Q3.

The production version of the Concept GLA is expected to hit the showrooms in 2014, and is based on the same underpinnings as the Mercedes-Benz A-, B- and CLA-Class cars. The styling is an interesting development of the smaller cars, with an Evoque-style gently sloping roofline, and sporting details, such as large wheels and a chunky, wide-tracked stance.
Being a concept car, it comes with interesting features that won't be destined for production. For the Concept GLA, that means projector headlamps that can double as a mobile drive-in film theatre. They incorporate laser projectors that can project media controlled by the integrated Comand Online infotainment system. As well as that, the system can work in real time to project sat-nav functions on the road ahead. Strange, and we'd love to see it in action for real.

It's a compact car, measuring 4383mm by 1978mm, and like the Evoque, it's not too tall, at 1579mm. The concept's power unit is the turbocharged 2.0-litre petrol engine used in the other compact Mercedes-Benzes, but in production form, it's likely to reflect the same petrol and diesel line-up as the other A-Class based cars sold in the UK. It will also be available in front-wheel drive and 4Matic forms. That means 1.6- and 2.0-litre petrols, 1.8- and 2.1-litre diesels.

Expect it to appear in UK showrooms in late 2014, with prices starting at a baseline of around £25,000.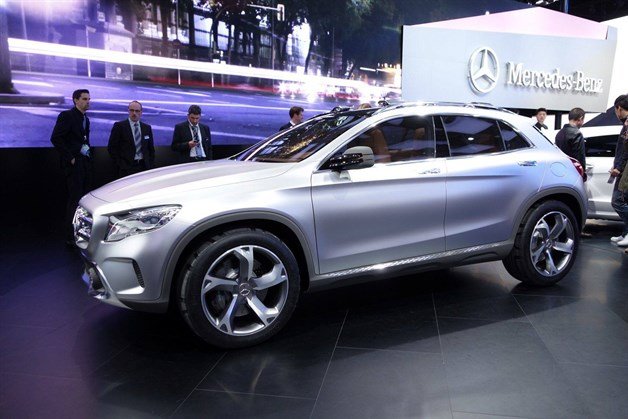 Comments