Volkswagen's new chassis explained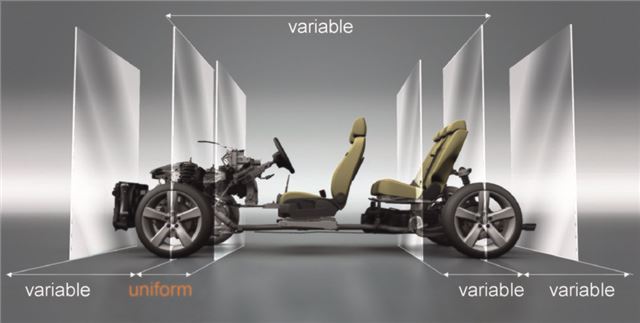 Volkswagen will introduce a new chassis this year - codenamed the MQB (it's short for Modularer Querbaukasten if you're interested). Not very interesting you'd think. But this new modular platform will form the basis of a huge number of new models from Volkswagen, Audi, SEAT and also Skoda.
It will be used first in the new Audi A3 which is set to be officially unveiled at the Geneva Motor Show in March and will be launched in the UK in May this year. The new platform will also form the base for the new generation Volkswagen Golf. In fact it's so versatile it could be used on future versions of everything from the Volkswagen Polo (and A1, Ibiza and Fabia) to the Beetle, Scirocco, Touran, Passat and the Volkswagen CC, despite the different wheelbases and lengths.
So what's so special about it? Well it represents a big change in the design and production of cars with transverse-mounted engines - this is the set up that the vast majority of modern front-wheel drive cars have.
The fact it's a modular platform means that models that use it can be built together - even if they're difference brands. This means that in theory models as diverse as the Volkswagen Polo, Audi A3 and SEAT Alhambra could be built at the same plant.
The MQB chassis has the engine positioned in the same place, regardless of what model it is the base for. There's also a modular engine system which uses a variety of petrol and diesel units ranging from 60PS to 190PS and includes the first four-cylinder engine with cylinder deactivation, first seen on the Audi A1 1.4 TSI we recently drove.
So in one fell swoop, the new engine series will reduce the Group's engine and gearbox variants in the MQB system by approximately 90 per cent. This means lower production costs which should (hopefully) mean lower prices for customers. 
As well as standardising the engine and gearboxes, the MQB has also been designed to take all the concept engines Volkswagen is working on, from natural gas and hybrids to electric drive. This will be seen in 2013 with the launch of the new Volkswagen Golf Blue-e-Motion.
Another advantage of the new MQB platform is a reduction in weight while Volkswagen is promising 20 innovations in safety and infotainment which up till now have only been seen on larger and more expensive cars.
These include a new multicollision brake system. After an initial collision, this helps to reduce the intensity of secondary collisions by automatically initiating braking. Very recently, the ADAC (the German version of the AA) awarded this system the 'Yellow Angel' award for innovations and it will be standard equipment in the next generations of the Audi A3 and the Golf.
Comments