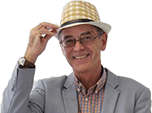 Volvo reveals prices for the new V60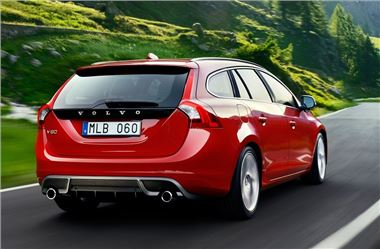 Volvo has announced prices for the new V60 sports wagon. Available in four trim levels and with a wide choice of petrol or diesel engines, the V60 will start from £23,145 for the 150bhp T3 ES model, rising to £37,895 for the flagship 304bhp T6 AWD SE Lux Geartronic Premium model. R-Design models, featuring more dynamic styling and chassis enhancements, will also be available from £25,695.
The new Volvo V60 features striking lines and a pronounced wedge shape that enhances the car's stance. Behind the wheel, the V60 feels every bit as taut as its design thanks to a chassis that has been tuned to match the expectations of enthusiast drivers.
Six engines will be available to UK customers at launch - two diesels and four petrols. Entry into the range will be the D3 model, which generates 163bhp and 400Nm torque from its 2.0 diesel powerplant. Fuel consumption on the combined cycle is a claimed 51.4mpg for the manual version (46.3mpg in Geartronic) while CO2 emissions are 144g/km (manual).
Further up the range is the 205bhp D5 with 420Nm torque. Also available with either manual or Geartronic transmission, the 2.4-litre unit delivers a top speed of 143mph and can sprint from 0-60mph in 7.5 seconds. This performance is matched to impressive claimed fuel economy of 52.3mpg on the combined cycle (manual version) with CO2 emissions of 142g/km.
Petrol engines enter the range with the 1.6-litre T3, featuring 150bhp and 240Nm torque and Start/Stop technology. Available only with a six-speed manual gearbox, the T3 will return up to a claimed 42.2mpg on the combined cycle and emits 156g/km CO2.
Next up is the 1.6-litre T4 variant, which is available with either six-speed manual or Geartronic transmission. The 180bhp, 240Nm torque engine will take the manual V60 from 0-60mph in 8.0 secs and on to a top speed of 137mph, while keeping CO2 emissions down to 156g/km and delivering up to 42.2mpg. The T4 also features Start/Stop technology on manual gearbox only.
A 2.0-litre petrol engine powers the T5 variant, boasting 240bhp and 320Nm torque. The T5 emits 189g/km CO2 in manual guise (194g/km Geartronic) and will return up to 34.9mpg claimed on the combined cycle.
The flagship version is the all-wheel-drive T6 petrol model with Geartronic gearbox. Featuring a 304bhp 3.0-litre engine, the high-performance T6 returns a claimed 28.5mpg on the combined fuel economy cycle and has CO2 emissions of 237g/km. It can reach 60mph from a standstill in under six seconds and will continue on to a top speed of 155mph.
Standard equipment on all new Volvo V60 models starting with the new ES variant includes Electronic Climate Control, Cruise Control, 5-inch colour screen as part of the new Infotainment system, Information Centre, floor mats, Passenger Airbag Cut-Off Switch, steering wheel remote audio controls, alloy wheels and leather steering wheel and gear stick. In addition six-speaker Performance Sound Audio System, 16-inch alloy wheels and charcoal trim are also standard.
The SE trim level starts from £25,145 for the T3 engine and maintains all the standard equipment in the ES alongside Tylosand T-Tec upholstery, Shimmer Graphite aluminium trim, watch dials, Auto Dimming rear view mirror, Autofolding Power Door Mirrors with Puddle Lights, rain sensor, High Performance Sound System, Bluetooth, Rear Park Assist and 17-inch alloy wheels.
Starting from £26,945 (T3), the top-of-the-range SE Lux combines the ES and SE specifications and incorporates Power Drivers Seat & Memory, leather-faced upholstery, Active Bending Lights and headlamp cleaning.
To further enhance these already comprehensive specifications, a "Premium Pack" upgrade is available on SE, SE Lux and R-Design trim levels which adds leather-faced upholstery, satellite navigation system, DAB Digital Radio and High Performance Multimedia audio system to the car.
The UK is expected to be one of the largest markets for Volvo's new S60 and V60 R-Design. The R-Design models feature enhanced styling and more dynamic driving characteristics than the standard cars. R-Design is available across both the S60 and V60 range - not just the higher-spec variants.
Exterior upgrades include unique five-spoke 18-inch Ixiom alloys, a front strut brace and revised dampers that result in a stiffer chassis for enhanced driver enjoyment, plus a 15mm lowered chassis, redesigned front valance and specially developed rear diffuser incorporating twin exhaust tailpipes.Inside, the driver and front passenger sit in sports seats featuring a special leather/textile upholstery trimmed in off-black and ceramic light, or in an all-black variant, both with contrasting stitching. The interior also features an R-Design steering wheel, gear selector, sports pedals and floor-mats. R-Design models are priced from £25,695.All-new Volvo
V60 Prices (OTR)
ES
DIESEL
D3 (163 PS) ES £24,960
D5 (205 PS) ES £27,115
PETROL
T3 (150 PS) ES Start/Stop £23,145

SE
DIESEL
D3 (163 PS) SE £26,960
D3 (163 PS) SE Premium £28,960
D5 (205 PS) SE £29,115
D5 (205 PS) SE Premium £31,115
PETROL
T3 (150 PS) SE Start/Stop £25,145
T3 (150 PS) SE Premium Start/Stop £27,145
T4 (180 PS) SE Premium Start/Stop £28,675
T5 (240 PS) SE Premium £30,470
T6 AWD (304 PS) SE Geartronic Premium £36,845

SE Lux
DIESEL
D3 (163 PS) SE Lux £28,760
D3 (163 PS) SE Lux Premium £30,010
D5 (205 PS) SE Lux £30,915
D5 (205 PS) SE Lux Premium £32,165
PETROL
T3 (150 PS) SE Lux Start/Stop £26,945
T3 (150 PS) SE Lux Premium Start/Stop £28,195
T4 (180 PS) SE Lux Premium Start/Stop £29,725
T5 (240 PS) SE Lux Premium £31,520
T6 AWD (304 PS) SE Lux Geartronic Premium £37,895
R-DESIGN
DIESEL
D3 (163 PS) R-DESIGN £27,510
D3 (163 PS) R-DESIGN Premium £28,760
D5 (205 PS) R-DESIGN £29,665
D5 (205 PS) R-DESIGN Premium £30,915
PETROL
T3 (150 PS) R-DESIGN Start/Stop £25,695
T3 (150 PS) R-DESIGN Premium Start/Stop £26,945
T4 (180 PS) R-DESIGN Premium Start/Stop £28,475
T5 (240 PS) R-DESIGN Premium £30,270
T6 AWD (304 PS) R-DESIGN Geartronic Premium £36,645
Comments