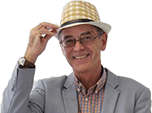 First Drive: Infiniti FX30d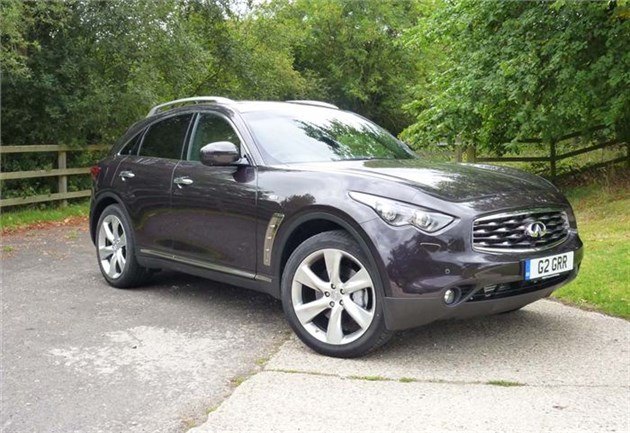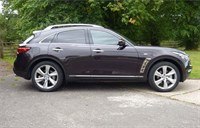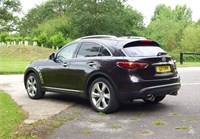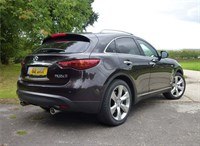 You may not have heard of Infiniti yet, but the chances are you soon will. It's the premium Japanese brand that started selling cars in the UK at the end of 2009 and is actually owned by Nissan - in a similar way that Toyota owns Lexus. It's ever expanding range of high quality cars includes the stylish G saloon and the EX crossover, but what it's lacked is a diesel engine - up until now that is.
That's all changed with the launch of the FX30d. Not only is it Infiniti's first ever diesel engine but it's also crucial for the brand as the majority of premium car buyers - and company car driver's - choose diesel power, something which before now, Infiniti didn't offer. The launch of the 3.0-litre V6 diesel in the FX will make it a far more attractive choice for those who want performance combined with useful economy and Infiniti expects 8 out of 10 buyers to go for the diesel version.
It's easy to see why. The FX30d is no slouch thanks to the 3.0-litre engine which delivers a hefty 550Nm of torque - more than the 5.0-litre V8 FX50. But the key comparison is with the FX's rivals - the likes of the Porsche Cayenne and BMW X6, both of which are crucially available with diesel engines. The FX30d has more torque than the BMW, and also a higher top speed, and can match the Porsche for both power and torque.
It sounds good too and just because this is a diesel, it doesn't mean you don't get an enjoyable sporty note when accelerating, yet it's incredibly quiet at low revs, making it ideal for the motorway where at 70mph it's barely touching 1900rpm. On more demanding roads the V6 feels incredibly muscular and all that torque comes into its own for easy overtaking or when pulling away from a slow corner. Like the rest if the Infiniti FX, it's very refined and never sounds coarse, even when you really push it.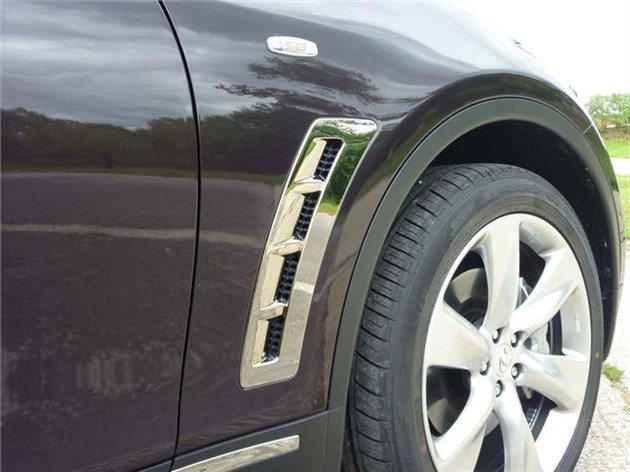 From a standstill, the 238bhp FX30d will hit 62mph in a competitive 8.3 seconds but what's more impressive is the acceleration from 50-70mph which is far more useful in everyday driving, for instance when joining fast flowing motorway from a short slip road. This is helped by the standard Adaptive Shift Control seven-speed automatic gearbox which delivers smooth and rapid changes with no turbo lag inbetween. Having seven ratios may seem over the top, but the Infiniti system works well and doesn't 'hunt' for the right gear plus it responds well when you ask it to kickdown a gear.
But what about the all important fuel economy figure? The FX30d returns an average of 31.4mpg while CO2 emissions of 238g/km but it in Band L for car tax, currently £425 a year. That's not bad but it's put into the shade by the BMW X6 XDrive30d and the Porsche Cayenne Diesel both of which average an identical 38.2mpg and emit 195g/km, meaning annual VED is a more reasonable £235.
But where the Infiniti claws things back is with standard equipment levels. The FX30d is available in two trim levels, both of which are highly specified. There's the GT with the emphasis on luxury, and S with a more sporting focus. Both are available in a Premium grade which are expected to be the most popular.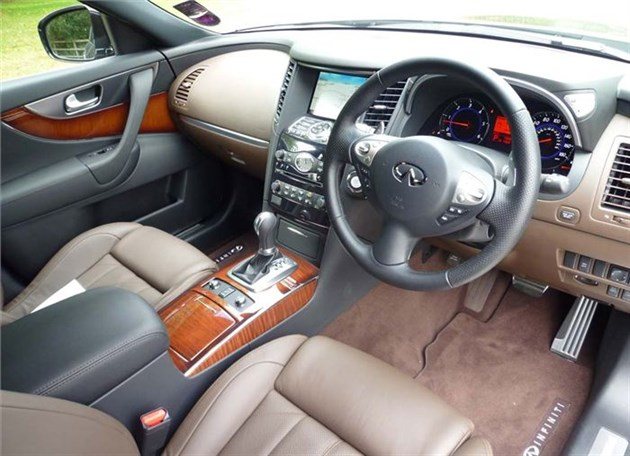 All models come with a seven-speed automatic transmission, intelligent all-wheel drive, leather upholstery, heated and cooled front seats, xenon cornering headlights, a rear view camera and parking sensors, electric front seat adjustment, electric reach and rake adjustment for steering wheel, a glass sunroof, 20-inch light alloy wheels, cruise control, Scratch Shield self-healing paint and the standard Connectiviti package of a 2GB music hard drive and a seven-speaker audio system with USB/iPod connectivity.
With prices starting at £45,150 for the FX30d GT rising to £51,730 for the top FX30d S Premium model, the Infiniti is right in premium 4x4 territory, but most of the standard kit items are optional extras on rivals and Infiniti claims the FX30d has a 26 per cent price advantage over the BMW X6 and Porsche Cayenne.
The FX30d S models get more sporting features with electric front sports seats, Continuous Damping Control (CDC) shock absorbers, 21-inch alloy wheels and Rear Active Steering (RAS), a system which enhances both stability and agility and has only been available the flagship FX50 until now.
Infiniti buyers can also expect top quality levels of customer service as the brand looks to emulate the reputation Lexus has gained. This includes a free collection and delivery service (up to 150 miles) when your car requires a service. Currently there are two dealerships - the flagship showroom in Reading and one in Picadilly, London which opened in August 2010. A further two in Birmingham and Glasgow will be opened before the end of 2010 and there are more planned for 2011 including Stockport, Leeds and two more in the capital.
The new diesel engine is also available in the smaller EX30d and will feature in the forthcoming Infiniti M model, due here in October 2010. But surprisngly, there are no plans to put it into the G saloon, G Coupe or G Convertible.
Reviewed: The full Infiniti FX range