Mercedes-Benz updates the CL63 Coupe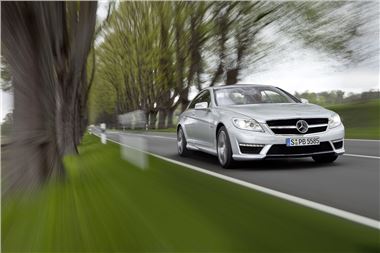 The Mercedes-Benz CL63 has been upadated for 2011 with a new look and added technology.
The AMG 5.5-litre V8 biturbo engine with a peak output of up to 571 hp and a torque of up to 900 Nm, is combined with the unique AMG SPEEDSHIFT MCT 7-speed sports transmission, which contributes towards a considerable increase in driving dynamics, while at the same time guaranteeing an improvement in fuel consumption and a reduction in emissions. With a fuel consumption of 26.9 mpg, the new high-performance coupé is also 38 per ent more economical in terms of its fuel consumption than the previous model with naturally aspirated V8 engine.
The new CL 63 AMG marks the start of a new chapter in the "AMG Performance 2015" drive strategy: Mercedes-AMG is continuing this impressive story and is meeting its promise to continuously improve fuel consumption and reduce emissions of new models with the new engine/transmission combination - while reaching new heights with the central AMG brand value of "performance".
According to Ola Källenius, head of Mercedes-AMG GmbH: "We are heading into a new era with the CL 63 AMG: for the first time we have combined spray-guided direct petrol injection with biturbocharging and the stop/start system. Together with the AMG SPEEDSHIFT MCT 7-speed sports transmission, we have improved fuel consumption and reduced emissions significantly - while at the same time increasing output and torque."
Together with the AMG SPEEDSHIFT MCT 7-speed sports transmission, the new AMG 5.5-litre V8 biturbo engine will play a significant role in the Mercedes-AMG model strategy over the coming year. The new engine/transmission combination marks a further milestone in the successful history of Mercedes-AMG, which began back in 1967.
Direct petrol injection and twin turbocharging
Designated internally as the M157, the new V8 engine is a prime example of efficiency and features a whole host of impressive technological highlights: for the first time Mercedes-AMG is taking advantage of direct petrol injection with spray-guided combustion and piezo injectors. This technology enables improved fuel economy thanks to higher thermodynamic efficiency, which in turns leads to lower exhaust emissions. AMG has combined the spray-guided combustion with biturbocharging. Other highlights of the innovative, original eight-cylinder engine from Affalterbach include full aluminium crankcase, four-valve technology with variable intake valve timing, air/water charge air cooling, generator management and also standard start/stop function. Compared with the AMG 6.3-litre naturally aspirated V8 engine with a displacement of 6208 cc, the new AMG 5.5-litre V8 biturbo engine achieves all this with a displacement of 5461 cc.
This high-tech package leads to a high output and torque yield, together with fuel consumption figures that are unrivalled in the competitive line-up. The AMG 5.5 litre V8 biturbo engine develops a peak output of 544 hp and maximum torque of 800 Nm. In conjunction with the AMG Performance package these figures are increased to 571 hp and 900 Nm. A look at the performance diagrams shows that no other engine in this output class achieves the figures delivered by the new AMG biturbo. The major difference between the two performance classes is an increase in the maximum charge pressure from 1.0 to 1.3 bar. In addition, the engine cover of the CL 63 AMG with the AMG Performance package comes with high-quality carbon-fibre applications.
Fuel consumption improvement of 38 per cent
With an fuel consumption of 26.9 mpg, the new CL 63 AMG is 7.4 mpg more economical than the previous model powered by the naturally aspirated AMG 6.3-litre V8 - despite an increase in maximum power of 19 hp and 46 hp respectively, and in torque of 170 and 270 Nm. Engine specialists consider this achieved fuel saving of more than 25 percent to be nothing less than a quantum leap. CO2 emissions have also been significantly reduced: at 244 grams per kilometre, the figure is 29 percent lower than for the previous model. Both performance variants have identical fuel consumption and CO2 figures.
With figures like these, the new CL 63 AMG is not only considerably better than all its competitors, but also more fuel-efficient than much less powerful cars in this segment.
Sports car-level performance
At the same time the CL 63 AMG delivers superior performance at sports car
level: the Coupé accelerates from 0-62 mph in 4.5 seconds, and has an electronically limited top speed of 155 mph. The 62 mph mark is reached in just 4.4 seconds with the AMG Performance package, with the top speed increased to an electronically limited 186 mph.
It is not only the unrivalled torque delivery of this turbocharged eight-cylinder that makes the heart beat faster, as the agile responsiveness with no irritating charger delay also leads to an effortlessness and dynamism previously unknown in this output class. All perfectly matched by the characteristic and powerful, sonorous engine note. Moreover, this AMG high-performance engine naturally meets all
the requirements with respect to smooth, quiet running and the comfort on long journeys that is to be expected of a Mercedes.
Key data at a glance :
CL 63 AMG
Displacement
5461 cc
Bore x stroke
98.0 x 90.5 mm
Compression ratio
10.0:1
Output
544 hp at 5500 rpm
571 hp at 5500 rpm*
Max.torque
800 Nm at 2000 - 4500 rpm
900 Nm at 2250 - 3750 rpm*
900 Nm at 3750 rpm*
Engine weight(dry)
204 kg
Power/weight ratio
0.41 kg/hp 0.39 kg/hp*
Fuel consumption NEDC combined
26.9 mpg
CO2 emissions
244 g/km
Acceleration 0 - 62 mph
4.5 s
4.4 s* (Performance Pack)
Top speed**
155 mph
186 mph* (Performance Pack)
* with AMG Performance package; ** electronically limited
Comments