Audi unveils latest model - the A7 Sportback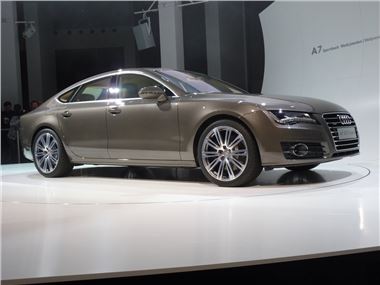 Audi has revealed its latest creation in the form of the Audi A7 Sportback. It's described as a four-door coupe - admittedly a slight contradiction in terms - but it's designed to be a more practical alternative to the Audi A8 and a rival to the likes of the Mercedes-Benz CLS.
The German brand says its newcomer is designed to bridge the gap between the A6 and A8 in order to offer something more versatile than the executive saloon or the luxury class, but with similar levels of quality and refinement. At almost five metres long it's no surprise that there is an impressive amount of interior space, especially for those in the back who get to enjoy the acres of legroom, but it hides its length well and is slightly shorter than the BMW 5 Series Gran Turismo.
The A7 Sportback actually has five doors - one being the hatchback tailgate which immediately helps differentiate it from the normal saloons in Audi's line-up. It also adds to practicality, making this Audi a perfect grand tourer with a boot that's bigger than the A8 but slightly less than a Jaguar XF.
There are four engines available, all existing Audi units. The entry-level model is the 3.0 TDI SE with 204bhp - the only model that is front-wheel drive. Amazingly, this emits just 139g/km of CO2 - a remarkably low figure considering the size of the A7 Sportback, while fuel economy is an exceptional 53.3mpg. But the most popular engine, which will make up seven out of every 10 cars, is the 3.0 TDI quattro. This has 245bhp and 500Nm of torque plus comes with the seven-speed S tronic dual-clutch gearbox rather than the Multitronic CVT on the standard 3.0 TDI.
The two petrols aren't expected to be as popular but there's a 2.8 FSI quattro with 204bhp along with the top 3.0 TFSI quattro which delivers 300bhp. All the engines come with start/stop technology which helps keep emissions down and economy up, so even the powerful 3.0 TFSI only emits 191g/km of CO2 and can average 35.2mpg.
In terms of styling, the A7 is quite a departure. It's unmistakably an Audi, but far more daring that the brand's usual designs, which tend to be rather understated. The newcomer is far more distinctive, particularly at the rear, although the rather unadventurous brown hue of the car used in the unveiling, isn't perhaps the most flattering. But what's instantly apparent is that it has a far sleeker profile than the BMW 5 Series Gran Turismo which seems bloated in comparison.
New innovations include a head-up display plus there are LED lights for the headlights and rear light clusters. Standard equipment on the SE includes 18-inch alloys, an electric tailgate, heated front seats, sat nav, DAB digital radio, cruise control, Bluetooth, leather upholstery and adaptive air suspension. A sportier S line model is available which adds larger wheels, a bodykit and lowered sports suspension as a no cost option.
The A7 Sportback will officially arrive in UK showrooms on January 8 2011 with prices starting at just under £44,000 for the lower power 3.0 TDI engine - taking into account the increase in VAT to 20 per cent. We'll get the chance to drive one in September, when we'll bring you a full in-depth review. Audi also revealed that an all-new Audi A6 is due to be launched next year.
So who will you buy one? Well it's certainly not cheap, but if you're after an executive car with a bit more versatility and style, it fits the bill perfectly. Think of it as an A8 hatchback and you've hit the nail on the head. You're unlikely to see large numbers on the road, but its exclusivity will be part of its appeal and mean it's less likely to look like a limo or some sort of private hire car.
There's been no official word on a higher performance S7 Sportback, but given than there's an S5 Sportback, it's more than likely to be in the pipeline and should be powered by the same 3.0-litre supercharged engine, no doubt giving it storming performance.
Prices:
2.8 FSI quattro - 204bhp and 280Nm, 189g/km of CO2 and 35.6mpg -£45,210
3.0 TFSI quattro - 300bhp and 440Nm, 191g/km of CO2 and 35.2mpg - £48,060
3.0 TDI - 204bhp and 400Nm, 139g/km of CO2 and 53.3mpg- £43,745
3.0 TDI quattro 245bhp and 500Nm, 164g/km of CO2 and 45.6mpg - £47,990
Comments