Paris Motor Show 2014: New Mazda MX-5 gets more legroom
Published 02 October 2014
In an exclusive interview, designer Masashi Nakayama today showed us how the 2015 Mazda MX-5 offers more legroom despite a shorter overall length.
What he has done is move the two seats inwards slightly, giving both driver and passenger more elbow room and allowing them to sit absolutely straight. The seats are also located slightly lower and fore and aft movement now provides sufficient legroom for six footers to drive the car comfortably.
The boot of the show car was sealed and Mazda was coy about an increase in size, but was able to tell us that the loadspace is "more practical", which we take to mean will accommodate items like golf clubs better.
The new MX-5 will have chain cam, manifold in head 1.5 litre and 2.0 litre turbo petrol engines and 6-speed manual transmissions.
It has the same alloy 'ladder' connecting transmission and rear axle and will share its platform with a new Alfa Romeo roadster to be built by Mazda at Hiroshima.
That car will have its own unique styling and will use Alfa Romeo engines.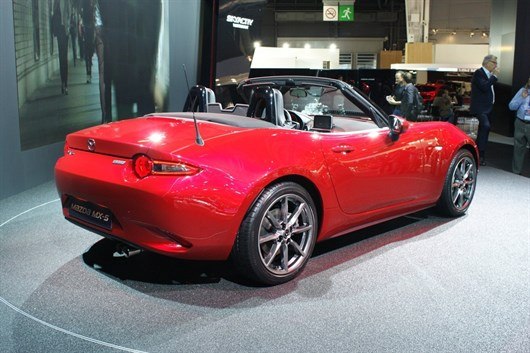 Comments
Author

Honest John
Latest