Honest John's Deals of the Week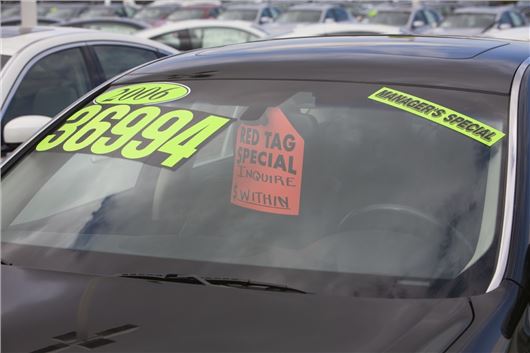 Published 26 January 2016
Need to save some cash after overindulging over Christmas? Don't worry, we've got the latest and greatest deals and discounts to save you money on everything from car insurance to fuel.
Visit this page regularly or bookmark it for January to stay up to date with the latest offers and discounts. 
Top 10 tips to saving £££££s on car insurance / Fuel cost calculator 
Thursday 28 January 
£2000 minimum part-exchange on all MG3s. The offer guarantees at least £2000 off when you swap in your old car no matter what make or age it is.
Wednesday 27 January 
Free mobile tyre fitting with KwikFit when you order two or more tyres. The tyre fitter will also waver the call out change and fitting fee.
Tuesday 26 January 
Reader offer: Save up to 15 per cent off airport parking. Save 15 per cent on London Heathrow airport parking and 10 per cent at Gatwick, Stansted, Manchester, Birmingham and Southend airport parking. 
Monday 25 January 
Bag £1000 worth of extra kit for just £70 when you buy a new Volkswagen Up. The Up is now available in 'Look Up' trim, which gets 15-inch Fortaleza alloy wheels, unique interior trim and black exterior styling details and more equipment compared to the Up in Move trim.
Friday 22 January 
Triple your Tesco Clubcard points at Halfords. For every £10 in Clubcard vouchers, you'll receive £30 worth of Halfords Autocentre tokens to spend on your MoT or service.
Click for more info
Thursday 21 January 
Ford Fiesta Studio now available with £1500 discount, bringing the entry-level price down to £8745. The offer applies to the three-door Fiesta Studio powered by the 1.25 petrol engine.
Wednesday 20 January 
Save 50 per cent on jump starters with Halfords. You can get a Phaze 4-in-1 Jump Starter for £39 – it was previously £80.
Tuesday 19 January 
Get £50 shopping vouchers when you take our car insruance with the Co-op. The offer is for new customers only and you must buy your insurance direct from the Co-op to qualify. 
Monday 18 January 
Reader offer: Need GAP insurance? You can save 10 per cent with ALA. Simply enter the promotional code, HJ65 to receive an exclusive discount
Friday 15 January 
Save up to £40 on a Karcher pressure washer. Homebase is offering the K2 system for £82.99 – was £119.99 - while the K4 can be picked-up from £139.99 – previously £179.99. 
Thursday 14 January 
Reader offer: save 20 per cent on an RAC car history check. Normally priced at £14.99, Honest John readers can get the UK's most comprehensive car check for just £11.99
Wednesday 13 January 
Breakdown cover is free with Be Wiser insurance. You also get free legal service and handbag/wallet and gadget cover. 
Tuesday 12 January 
Free Amazon gift card when you order RAC breakdown cover online. New RAC customers can get up to £100 in vouchers when they order their cover via the RAC website and pay via a continuous direct debit payment. 
Monday 11 January 
Save up to 15 per cent on a car warranty with Warranty Direct. Call 0800 731 7001 and quote "Honest John" to claim your discount.
Friday 8 January 
Get up to 30 percent off Sainsbury's car insurance customers with a Nectar card. You can also get double points on premier cover for up to two years on Sainsbury's shopping and fuel. Terms apply. 
Thursday 7 January 
Save on your next MoT with ATS Euromaster. The firm is offering a standard 50 point service and class 4 MoT from £99 when you get both done at the same time.
Wednesday 6 January 
Save more than £2000 on a new Hyundai. You can get the i30 1.4 in S trim from £12,995 – a saving of £2300 – or save £1000 on an i10 S 1.0 which starts from just £7995.
Tuesday 5 January 
Get diesel for £1-per-litre. Morrisons, Asda, Tesco and Sainsbury's have all slashed the price of diesel. 
Monday 4 January 
Get £500 free fuel with Vauxhall. The manufacturer is offering free fuel with selected new models, along with 20 per cent off all approved accessories. 
Comments
Author

Dan Powell
Latest