Sainsbury's cuts fuel prices to under £1 per litre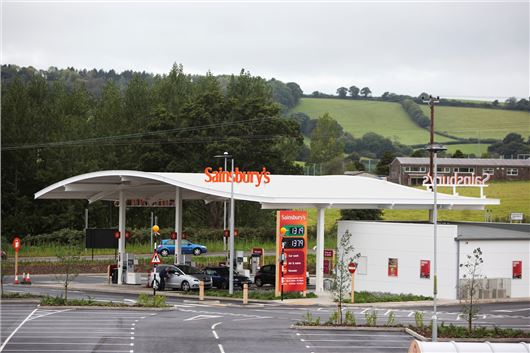 Published 25 February 2015
Supermarket giant Sainsbury's has launched a money saving deal that will allow motorists to fill up for less than £1 per litre.  The offer - which runs from 26 February until 4 March – will give shoppers 10p off a litre of fuel for every £30 spent in store or online.
The offer applies to petrol and diesel, with each customer receiving a 10p voucher for every transaction in store or online. The voucher can then be used at any of Sainsbury's 300 forecourts.
Fuel prices are already at a five year low, saving motorists an average of £200 a year, with the average price of unleaded falling from 130 pence-per-litre to 109 pence-per-litre. The cost of diesel has also fallen from 138 pence-per-litre to 116 pence-per-litre, thanks to the global collapse in the price of oil.
Since the summer of 2014, the wholesale cost of Brent crude oil has fallen by almost 50 per cent, the longest-running reduction in 20 year, with overproduction and slowing demand behind the historic decline.
However, with 76 per cent of the price of unleaded made up of tax, it's thought that few retailers will be able to offer petrol bellow £1 per litre on a long term basis.
Professor Stephen Glaister, director of the RAC Foundation, said: "An astonishing 70p in every pound we spend at the pumps is now destined for government. These numbers will reinforce in many drivers' minds the idea that the current system of fuel taxation is disproportionate and simply about raising as much cash as possible."
Want to cut your fuel bills? Use the HonestJohn.co.uk Fuel Calculator to compare models and find out which are the cheapest to fuel. Plus, don't forget to submit your real world fuel economy figures in the Real MPG section. 
Comments
Author

Dan Powell
Latest