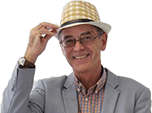 36% OF UK MOTORISTS DRIVING WITH DANGEROUS TYRES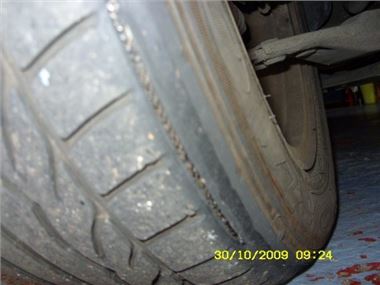 (Photo shows typical damage to tyre inner shoulders caused by speed cushions.)
Michelin's 2009 Fill Up With Air campaign results have shown that an alarming 36 per cent of drivers in the UK are driving with dangerous or very dangerously under-inflated tyres*.

The Fill Up With Air tyre safety roadshow, now in its sixth year, took to the roads this summer, visiting 24 cities including Dundee, Manchester and Birmingham to offer drivers a free tyre pressure check and a free fill-up for those with under-inflated tyres.

More than 4,500 cars were checked during the three-month campaign, more than ever before, and only 34 per cent were found to be driving with correctly inflated tyres, while a shocking 6 per cent were driving with punctures.

Michelin's head of communications, Peter Snelling, said: "Tyres are the only thing keeping a car on the road and it's all too easy for drivers to take them for granted and not treat them with the utmost care and attention that they deserve.

"This year's Fill Up With Air campaign figures have, as we predicted, shown a slight deterioration from 2008 which even then positioned us as one of the worse offenders for tyre safety in Europe. We believe this downward trend could be partly due to the economic climate as drivers try to save money wherever they can.

"However, this is a false economy in terms of safety and fuel costs. Incorrectly inflated tyres, bald tyres and damaged tyres are dangerous and can lead to fatal crashes and lives must not be sacrificed for the sake of saving a few pounds. Also, under-inflated tyres have a serious impact on the environment as cars consume more fuel to overcome the increased rolling resistance."

The results were revealed at the Road Safety Expo 09, the premier road safety conference in the UK, attended by the Road Minister Paul Clark MP and the Chairman of the Global Road Safety Partnership, Patrick Lepercq.

Mr Snelling added: "The Michelin message to Fill Up With Air needs to get through. With petrol prices hurting everyone and the overall cost of motoring rising, it makes so much sense to regularly attend to this simple task. Checking and correcting tyre pressures once a month and before long journeys can save lives as well as money."
Honest John Adds: "Don't forget to check the inner shoulders of your car tyres for damage caysed by straddling speed cushions. This could kill you and other people as easily as underinflated tyres."
*Tyre pressure classifications

* Acceptable: up to 4psi under-inflated

* Temporarily acceptable: between 5 - 7 psi under-inflated

* Dangerous between: 8 - 14psi under-inflated

* Very dangerous: more than14psi under-inflated
More at Michelin
Comments