Smart Motorway dangers to be reviewed by Transport Secretary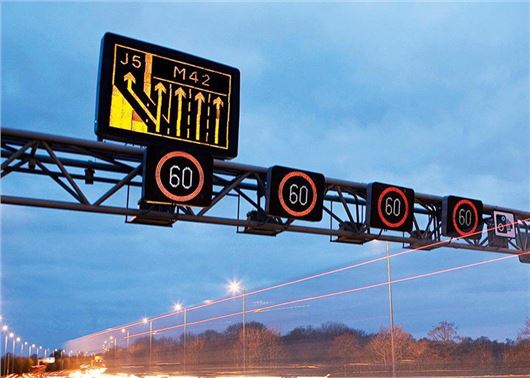 Published 24 October 2019
The Government has launched a review into the safety of Smart Motorways.
The Transport Secretary, Grant Shapps, has pledged results within a "matter of weeks", amid concerns that Smart Motorways are putting drivers at risk. 
There are more than 400 miles of Smart Motorway in the UK and the majority are designed to relieve congestion by making the hard shoulder available for use of traffic. On some motorways the hard shoulder is opened at busy times while others use it permanently - known as all lane running (ALR).
Speaking to the Commons Transport Select Committee, Shapps admitted that "people are dying on Smart Motorways" but more research was needed to understand how safe they were in comparison to traditional motorways with a permanent hard shoulder. 
The announcement comes after the chief executive of Highways England, Jim O' Sullivan, told the Committee he will not expand the network any further because drivers found them too complicated to understand. He also admitted that some drivers were confused by the ALR aspect of Smart Motorways.
During 2017 and 2018 there were almost 20,000 vehicle breakdowns in live lanes on Smart Motorways and Highways England currently has no system in place to automatically detect stopped vehicles and close live lanes. 
The Coroner for West Midlands has already raised concerns to Highways England about the safety of ALR on motorways after an eight-year-old child died when the car he was travelling in was involved in an accident on lane one of the M6 in 2018. At the time of the accident the child's grandfather had stopped with the hazard lights on in a live lane, but the car was struck by a lorry travelling at an estimated 56mph.
RAC head of roads policy Nicholas Lyes "welcomed" the commitment to review Smart Motorway safety, but said new technology was needed to protect road users.
"We welcome a commitment from the Secretary of State to review smart motorway safety. We know from our own research that drivers feel the permanent removal of the hard shoulder compromises safety. 
"Drivers must have confidence that they will be protected from traffic in the event they suffer a breakdown in live lane, particularly where the hard shoulder has been permanently removed.
"We reiterate our calls for the latest stopped vehicle detection technology to be retrofitted on all sections of smart motorway as a matter of urgency."
Comments
Author

Dan Powell
Latest