McLaren 570S now 'just' £995 per month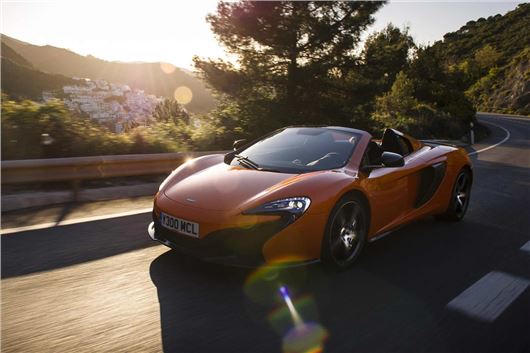 Published 10 June 2015
McLaren has launched a financial services division, and the headline is that a new 570S Coupé - due to debut at this year's Goodwood Festival of Speed - can be yours for £995 per month. Optional final payment - a mere £90,000.
In addition, the deposit you'll have to put down is £39,500, plus a £295 acceptance fee – a mere £98.34 per letter in order for McLaren to say "yes" to you.
The 36-month finance deal makes the total amount payable for the McLaren 570S £166,020.20 exactly, at 7.9 per cent representative APR. The cars lists at just over £144,000. In fairness to McLaren, the APR is competitive in the grand scheme of things, and means that the company will pocket some of those interest payments itself, instead of a bank or Wonga getting it. Ferrari offers a similar service.
The company has partnered with JBR Capital to provide the finance, which is available on every one of its cars – including the P1, the average transaction price of which is said to be over £1m, with most customers asking McLaren's Special Operations division to personalize their cars in some way.
The deal includes a 10,000-mile annual allowance, which is actually quite generous for a car such as this, but the penalty is 55p per mile for the first 5,000 miles over the limit, then £1.10 per mile thereafter. On that basis the penalty for going 7,500 miles over is £5,500.
Those interested in taking up McLaren's offer of an offering, which is also offered on its used offerings, can visit any one of McLaren's five UK dealerships: Ascot, Birmingham, London, Manchester and Glasgow. 
Click here to read about what McLaren will be taking to the Goodwood Festival of Speed
Comments
Author

Mark Nichol
Latest