Mega Offers on Mazdas Until 30th September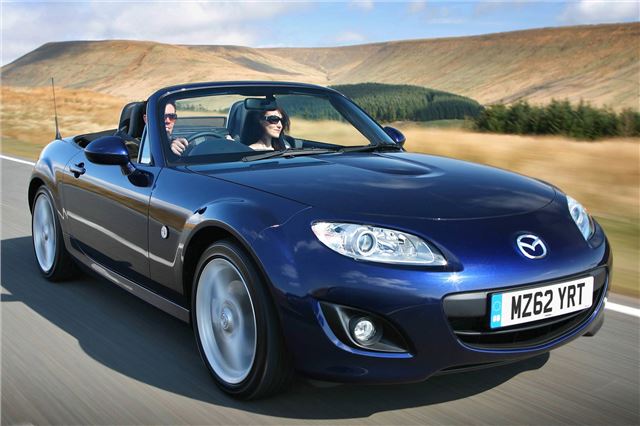 Mazda is offering MX5s, outgoing Mazda 6s and some Mazda 3s and Mazda 2s at discounts equivalent to 0% VAT until the end of September.
"96 percent of MX-5 models manufactured since 2005 have remained completely fault-free," says  Peter Allibon, Sales Director, Mazda UK. "So it's no surprise that it has attracted so many loyal customers,"
The Mazda MX-5 sportscar range features eight Soft-top or Roadster Coupe models (with a powered retractable hardtop), priced from just £15,051 (OTR) for the MX-5 SE Soft-top model - including Mazda's current 0% VAT saving, plus 0% APR and 5.9% APR finance packages.
Mazda is also offering both hatchback and estate Mazda6 TS, TS2 and Sport models with a 0% VAT saving and with 0% APR finance over three years with a 30% deposit, while stocks last.
With 0% VAT on some models, prices of Mazda2s start at £8,755, prices of Mazda3s at £13,361, prices of 7 seater Mazda5s at £15,201, prices of Mazda6s at £19,754, and prices of Mazda MX-5s at £15,051 until 30 September 2012.  
For full details of the latest promotions and finance offers visit www.mazda.co.uk/showroom/offers
Deals are for Retail sales only, subject to availability at participating dealers only on vehicles registered before 30 September.Terms and conditions apply. 0% VAT saving on selected models only and is the equivalent to 20% VAT applied to original base price and includes dealer contribution. The 0% VAT saving excludes road tax, first registration fee, dealer fitted and factory fitted options, VAT at the current rate of 20% still applies to the discounted price.
0% APR finance requires a minimum deposit and is repayable over a three year period (50% deposit on Mazda2 Tamura and Venture models only, all Mazda3 models excluding TS and Tamura, all Mazda5 and all Mazda MX-5; 30% deposit on all Mazda6).  ~5.9% APR finance is available on all new Mazda models.
Comments