August Offers From Citroen for the Next 3 Weeks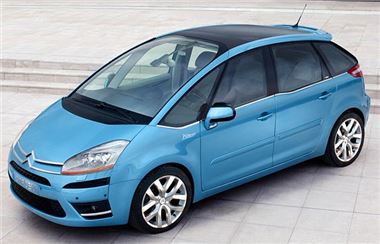 Citroen is having no trouble selling its desirable DS3. No fewer than 10,206 were sold in the first 7 months of 2012, making it by far Citroen's best seller.
To keep the sales coming in, for the next three weeks Citroen is offering:
Citroën DS3from just £199 per month on Elect 4 Personal Lease
Up to £1,500 deposit contribution on selected models with Elect 3 PCP & Elect 4 finance
3 years' free servicing & roadside assistance    
And, as for the rest of the range, affordable finance deals and 'Citroen Rewards' that amount to discounts of as much as £2,954. 
The New Citroën C1 available from just £6,995, including a £1,000 Citroën Reward
From £99 per month on Elect 4 Personal Lease
One year's free insurance for customers aged 21 to 75 on VTR & Connexion models when funded using Elect 3 or Elect 4 finance
Citroën C3 available from just £9,995 OTR, including a £1,995 Citroën Reward
From £129 per month with Elect 4 Personal Lease
No VAT plus 0% APR for 3 years representative with 30% minimum deposit available on VTR+ & Exclusive models
3 years' free servicing & roadside assistance package on all models ordered between 1 August & 7 September and delivered by 30 September 2012
Citroën C3 Picasso available from just £11,200 OTR, including a £2,000 Citroën Reward 
From £169 per month with Elect 4 Personal Lease
No VAT on VTR+ models plus 0% APR for 3 years representative with 30% minimum deposit available on VTR+ & all other diesel C3 Picasso models
3 years' free servicing & roadside assistance package on all models ordered between 1 August& 7 September and delivered by 30 September 2012
Newly enhanced Citroën Berlingo Multispace available from just £11,795 OTR, including a £1,000 Citroën Reward 
From £215 per month with Elect 4 Personal Lease
0% APR for 3 years representative with 30% minimum deposit available on VTR, XTR & Plus Special Edition models
3 years' free servicing & roadside assistance package on all models ordered between 1 August & 7 September and delivered by 30 September 2012.
Citroën C4 available from just £12,995 OTR, including £1,000 Citroën Reward
From £219 per month on Elect 4 Personal Lease  
No VAT on VTR+ models plus 0% APR for 3 years representative with 30% minimum deposit or 4 years representative with 40% minimum deposit available on VTR+ & Exclusive models 
3 years' free servicing & roadside assistance package on all models ordered between 1 August & 7 September and delivered by 30 September 2012
Citroën C4 Picasso available from just £14,996 OTR (includes £2,954 Citroën Reward)
From £279 per month with Elect 4 Personal Lease
No VAT plus 0% APR for 3 years representative with 30% minimum deposit available on all Edition & Platinum models
3 years' free servicing & roadside assistance package on all models ordered between 1 August & 7 September and delivered by 30 September 2012
Citroën DS4 available from just £229 per month on Elect 4 Personal Lease 
3 years' free servicing & roadside assistance
0% APR for 3 years representative with 30% minimum deposit or 4 years representative with 40% minimum deposit available on all models
Up to £1,000 deposit contribution on selected models with Elect 3 & Elect 4 finance
Citroën DS5 available from £349 per month on Elect 4 Personal Lease 
3 years' free servicing & roadside assistance
More at: Citroen Offers
Follow Citroen on Twitter at: www.twitter.com/citroenuk
Find Citroen on Facebook at: www.facebook.com/citroenuk
Comments