New Renaults From Just £6,795 For September 61 Reg.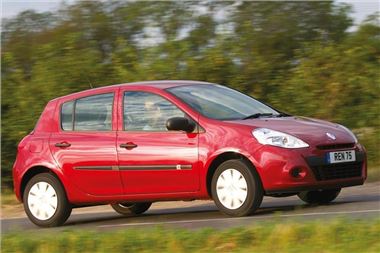 Two new limited editions, Pzaz and I-Music are available now across several models in Renault range 
Customer savings of £1,000 to £1,600 available on selected Pzaz models at participating dealers. £6,795 on Twingo, from £7,795 on Clio and £9,995 on Mégane
I-Music available on Clio, Mégane and Scénic ranges, starting at £11,405 on-the-road
Renault has come up trumps again with the introduction of its two latest limited editions, entry-level Pzaz, and the ever-popular I-Music, with prices starting at £6,795.
The Pzaz range is the most affordable way into a new Renault, with prices for the Twingo 1.2 16V 75 starting at only £6,795, thanks to a current £1,000 customer saving at participating dealers. The Twingo Pzaz comes with 4x20W RDS CD MP3 audio system and electric windows, sports style front bumper, height adjustable steering wheel and remote central door locking. There's also the option of paying for three years' servicing upfront for just £199.
Moving up in size, the Clio Pzaz is available in either three- or five-door guise with the same 1.2 16V 75 engine, priced at an equally palatable £7,995 or £8,595, again, given the current customer saving of £1,000 at participating dealers. The Clio Pzaz comes with everything needed to enjoy stylish, practical and affordable motoring, including 4x20W CD MP3 player with fingertip control, AUX input and front electric windows. It also has striking 15-inch wheel trims, front side airbags, white interior touches and remote central locking.
The last of the four models in the Pzaz line-up is the Mégane Hatch. Powered by the 1.6 100 engine, it features 15-inch wheel trims, 4x15W radio CD MP3 player with AUX input, air conditioning, ESC (Electronic Stability Control), electrically adjustable heated door mirrors, front driver and passenger airbags, all for less than £10,000. £9,995 to be precise, once more due to a healthy customer saving, this time £1,600. That is a very low price for a Focus sized 'C' class hatchback.
For customers seeking even more equipment and style, Renault has also brought back its desirable and attractively priced, I-Music limited edition range. A hit with price-conscious buyers several months ago, the tempting mid-range offering features air conditioning, alloy wheels, front fog lights, Bluetooth™ and MP3 connectivity across several models, where it is not already standard fitment: three- and five-door versions of Clio, Mégane Coupé and Hatch, and Scénic and Grand Scénic.
In keeping with its current Va Va Voom ad campaign featuring Rihanna, the Clio I-Music 1.2 16V 75 is priced at just £159 per month on Renault Selections, with £159 deposit. Prices start at £11,405 for the three-door 1.2 16V 75, rising to £13,800 for the five-door 1.5 dCi 88.
The Mégane Hatch I-Music 1.6 100, costing £16,010 on-the-road, comes brimming with 17-inch alloys, radio with multi-functional tunepoint/USB input and Bluetooth™ connectivity, plus the must-have hands-free keycard. It is also available for an enticing £229 per month with £229 deposit, based on 44 months. Its curvaceous Megane Coupé sister, is priced from £16,815, or £249 per month with the same deposit.
Last, but by no means least, the I-Music range extends to the family-friendly Scénic range. Starting at £17,115, it comes specified to the same high equipment levels, with 17" alloy wheels, extra tinted windows and tailgate, with prices rising to £21,200 for Grand Scénic fitted with the award-winning new 1.6 dCi 130 Stop-Start engine. Finance offers for the Scénic I-Music range start with the 1.6 VVT 110 available at £289 per month, with only £289 deposit.
As Renault continues to be recognised for its reliability and quality strides, the brand has not lost sight of the appeal of its affordable cars, especially in the current economic climate, making the French marque the first choice for many considering their "61" plate car.
More at Renault
Comments