Autofarm to sell classic to late used Porsches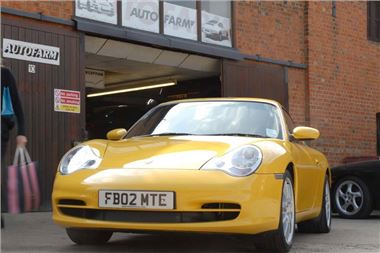 Lifelong Porsche enthusiast Andrew Maude has joined long established Porsche specialists Autofarm to head up its car sales activity.
Conveniently located next to the A34 and M40 near Bicester, the respected Porsche specialist is growing its sales business for all Porsches, from classic 911s right through to current 997, Boxster and Cayman models.
Maude, a long standing customer of Autofarm, leapt at the opportunity to join Josh Sadler build up the sales, notably to include more of the contemporary models. "Josh's knowledge of the classic 911 and the bewildering number of variants, blended with my own insight into the later cars ensures we have an eye for detail and can source the best cars, whatever the era," says Maude. "This knowledge will help potential customers make the right choice, whether it's their first Boxster or a latest in a succession of 911s."
Confirming the range of Porsches that Autofarm plans to offer, its current stock list comprises a late race 997, a 1972 911 S and a 993 Carrera 4S.  The firm is keen to add to this list and offers 'sales or return' for owners looking for support to sell their car.
For buyers, Autofarm will also source a car or inspect a potential purchase. "Autofarm has, in the last 37 years seen many of these cars when they were new," adds Maude. "This is particularly useful for authenticating cars and ensuring they are the correct period specification."
The growth of the sales business coincides with considerable and exciting activity at Josh Sadler's company in the first half of 2011. First, the firm announced the restarting of its Autofarm 911 recreation programme, its demonstrator receiving widespread acclaim from journalists in the sports car press for its driving experience and craftsmanship. Secondly, Autofarm's service department has also expanded; a new reception area greets owners of all ages of Porsches using the workshops for servicing, mechanical and body repairs. 
"We are enhancing the experience of visiting Autofarm," concludes Maude. "Our free collection, or taking customers to Bicester Village, as well improvements to the reception area are all part of our focus on customers. A decent coffee machine is also on our list."
Based in Weston on the Green, Oxon, Autofarm www.autofarm.co.uk is a leading independent Porsche specialist. Founded by Josh Sadler, Autofarm has over 35 years' experience of maintaining, preparing, racing, restoring and selling Porsches of all ages.  The Oxfordshire based workshop offers servicing using accredited diagnostics equipment, sales, parts, race preparation, restoration and engine rebuild capability.  Its extensive road, race and rally engine experience led the company to develop Silsleeve, an innovative and cost effective method of repairing damaged Porsche cylinder blocks. Autofarm enjoys close links with Porsche and the leading Porsche owners' clubs.

Comments