Spotted in the classifieds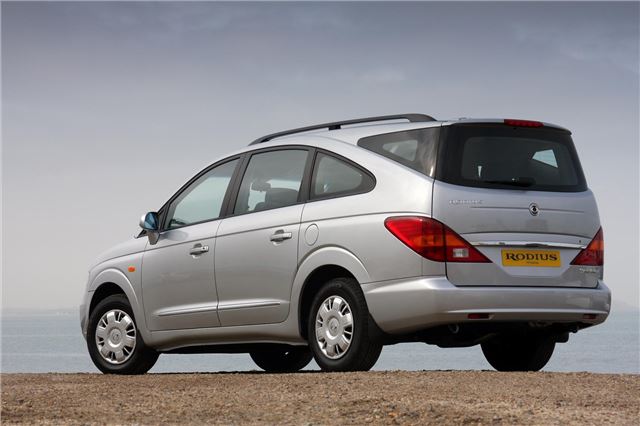 When buying a car there are so many factors to take into consideration. Will there be room for the children? Will the engine be up to long motorway cruising? What about the fuel economy? They're all things that you'll take into account, and that's before you think about styling and value for money.
But some people are a little bit different. Some people ignore every one of the typical criteria used to select the best car and go for something alternative. Maybe something out of the ordinary that's still a sensible choice, or maybe something completely oddball.
We've had a look through the cars for sale section, so if you're the kind of person who wants to select an off-the-wall vehicle for your next purchase, then read on.
City cars and superminis are amongst the most popular vehicles on sale, so there are huge numbers of them available from a variety of manufacturers. Some of the most popular models in the Top Ten section are the Hyundai i10, Fiat Panda and Kia Picanto.
But if they seem far too sensible and you want to do something a little different, then how about a used Microcar MC2? The MC2 is a French car built by a boat manufacturer. It's powered by a 21bhp 500cc two-cylinder engine. The fuel economy isn't exceptional, nor is the top speed of 72mph. The price of £6,000 would also land you a vastly superior Hyundai i10 of similar age and with similar mileage.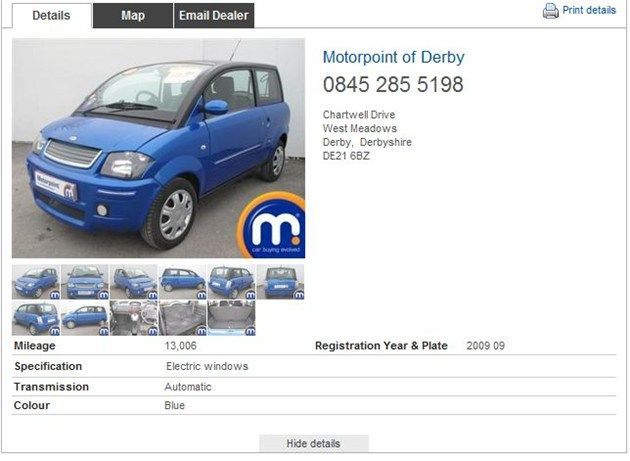 But this is, after all, supposed to be an outside choice, so if you really want to stand out then it's worth a thought despite its negative aspects. The MC2, though, does have one plus point – it can be driven by motorcycle license holders. So if you're a biker and you want four wheels, then this is, perhaps, the car for you.
If you've got a full drivers license though, there are far more vehicles for sale. But you'll still have your own ideas about what's important when buying. Fuel economy is high up on everyone's list at the moment, and alternatives like hybrids and electric vehicles are increasingly popular.
But there are those who deny the problems caused by fossil fuels, and relics remain from a time when petrol could be frivolously burned. Relics like this 1968 Pontiac Firebird.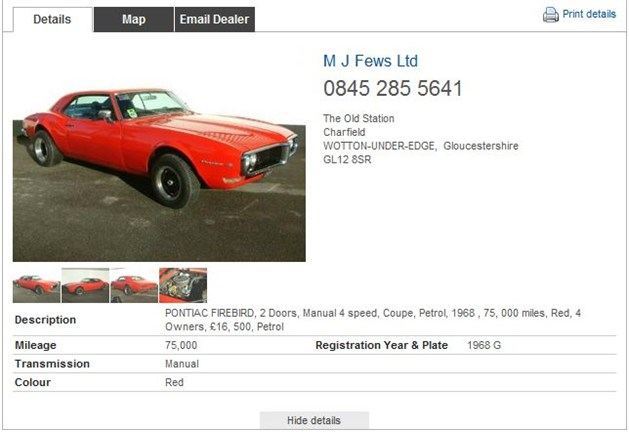 1968 saw the engine displacement increase in the Firebird from a paltry 5.3-litres to a much more impressive 5.7-litres. This big, thirsty V8 produces about 260bhp, with fuel economy in the teens. A Mazda3 MPS has the same amount of power and manages twice the mpg.
In the Pontiacs defence, it is a classic and it will almost certainly make an amazingly wonderful sound, so it's not a completely insane choice. £16,500 and it's yours...
Looks aren't at the very top of every buyers list. In fact, to many people looks are utterly unimportant, certainly on MPVs like the Ford Galaxy or Chrysler Voyager.
But no matter how unimportant looks are to you, it would take a tremendous amount of bravery to purchase a Ssangyong Rodius. Some would argue that it's no uglier than a Fiat Multipla, but that car at least had a certain charm about its looks. The Rodius, however, is just plain horrible.
According to the design blurb it was styled after a yacht, though it is somewhat difficult to see any nautical themes in the Rodius. But nightmarish styling aside, the Rodius is enormously spacious, with room for seven passengers and plenty of luggage, as well as a decent specification and a reasonable price.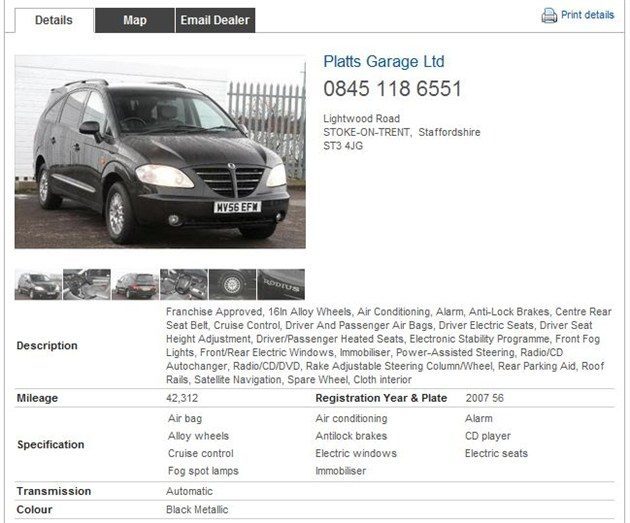 So if you're extremely thick skinned, here's your car. This 2007 example would set you back £10,995.
Of course, if you're more sensible than most you'll almost certainly find something more reasonable and useable for sale, but whether you're after a sensible city car or a high-performance hypercar, there's almost certainly something in our deals section, whether you want to buy used or new. 
Comments