Peugeot launches 'just add fuel' 60-plate deals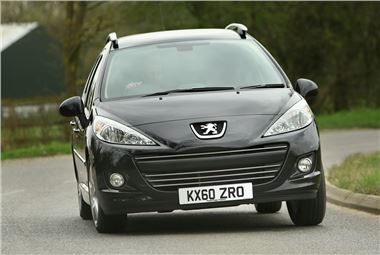 Peugeot has announced a range of deals aimed at buyers looking for a new 60-plate registration in September.
Peugeot's 'Just Add Fuel' offer is designed to help first-time drivers get behind the wheel. It provides a single monthly payment that covers all major motoring costs, including comprehensive motor insurance, road fund licence, vehicle servicing, roadside assistance and warranty all in a three year finance package with one single monthly payment.
It should appeal particularly to younger drivers (21+) looking to trim insurance costs. A quick trawl through the many insurance internet web sites reveal that a 21 year old first time driver in a new Peugeot 107 will pay on average £235 a month in London, £259 in Birmingham and £433 in Manchester just for insurance alone.
Under the 'Just Add Fuel' programme, a 21 year-old driver can get behind the wheel of a new Peugeot 107 Millesim for just £197, less than the cost they would pay for insurance alone.
Peugeot 107, 207 hatchback, 207 SW, 207 CC are also available with Peugeot's PCP programme Passport. A range of contracts is available with an APR of 5.9% and periods of 25, 31 and 37 months and deposits from zero to 40%.
Customers looking for a larger family car can get behind the wheel of a 308 hatchback via Peugeot's Passport programme with a 4.9% APR over 25, 31 and 37 months and deposits from zero to 40%.
The 407 Coupé and the 407 saloon and SW and Peugeot 807 are available with four years 0% standard finance and a 25% deposit.
Finally, all cars registered in September will also get a free Nokia Smartphone with in-built satellite navigation, and free of charge future updates, reducing journey times and optimising fuel usage.
Comments