Worthwhile Discounts on new VWs via Drivethedeal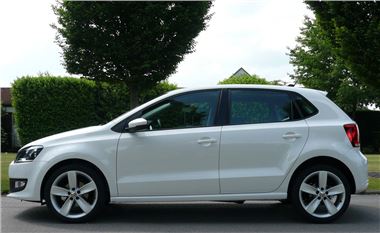 Drivethedeal has some excellent deals on brand new VWs, all supplied by UK main dealers, including Road Tax and free delivery to your door.
With lead times on Golf extending to December already, hurry to order your VW Golf
now to beat the VAT increase in January. With typical savings off Golf list prices
exceeding £2,000, and typical Polo savings of over £1,000, these deals are too good
to miss.
VW Beetle Hatch 1.4 Luna 3dr £12,075 Saving £990
VW Beetle Cab 1.4 Luna 2dr £14,910 Saving £1,305
VW Polo 1.4 SE 5dr £11,888 Saving £1,082
VW Polo 1.2 TSI 105 SEL 5dr £13,964 Saving £1,346
VW Polo 1.6 TDI 90 SEL 5dr £14,346 Saving £1,394
VW Golf 1.4 TSI Match 5dr £16,343 Saving £1,916
VW Golf 1.6 TDI 105 BlueMotion 5dr £16,715 Saving £2,000
VW Golf 1.6 TDI 105 Match 5dr £17,059 Saving £2,041
VW Golf 2.0 TDI 140 Match 5dr £18,117 Saving £2,193
VW Golf 2.0 TDI 140 GT 5dr £19,065 Saving £2,315
VW Jetta 1.6 SE TDI CR 4dr £16,137 Saving £3,033
VW Golf Plus 2.0 TDI 140 SE 5dr £17,844 Saving £3,587
VW Golf Estate 1.6 TDI 105 SE 5dr £17,394 Saving £2,076
VW Scirocco 2.0 TDI 170 GT 3dr £21,288 Saving £2,103
VW Scirocco 2.0 TSI 210 GT 3dr £21,514 Saving £2,101
VW EOS CC 2.0 TDI CR SE 2dr DSG £20,993 Saving £3,034
VW EOS CC 2.0 TSI 210 Sport 2dr DSG £23,716 Saving £3,344
VW Passat Saloon 2.0 Highline TDI CR DPF 4dr £19,223 Saving £2,461
VW Passat Estate 2.0 Highline TDI CR DPF 5dr £20,294 Saving £2,635
VW Passat CC 2.0 TDI CR 4dr [5 seat] £20,988 Saving £2,186
VW Passat CC 2.0 GT TDI 170 4dr [5 seat] £23,030 Saving £2,439
VW Tiguan 1.4 TSI BlueMotion Tech Match 5dr [2WD] £19,460 Saving £2,577
VW Tiguan 2.0 TSI Match 5dr £20,853 Saving £2,707
VW Tiguan 2.0 TDI BlueMotion Tech Match 5dr [2WD] £20,444 Saving £2,702
VW Tiguan 2.0 TDI Match 5dr £20,969 Saving £2,764
VW Tiguan 2.0 TDI Match 170 5dr £21,756 Saving £2,861
VW Tiguan 2.0 TDI R Line 170 5dr £23,897 Saving £3,126
These deals and many more at Drivethedeal
Comments