Up to £10,500 Off New Volvos via Drivethedeal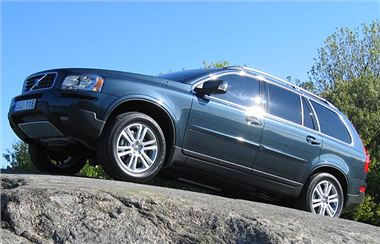 Drivethedeal has some excellent deals on brand new Volvos, all supplied by UK main dealers, including Road Tax and free delivery to your door.
With savings of up to £5,800 off a new XC60 and up to £10,500 off a new XC90, these deals are not to be missed. Order now to beat the VAT increase.
Volvo C30 DRIVe [109] ES 3dr £16,357 Saving £1,638
Volvo C30 DRIVe [109] SE 3dr £17,936 Saving £1,834
Volvo C30 D2 [115] R DESIGN 3dr £18,359 Saving £1,886
Volvo C30 DRIVe [109] SE Lux 3dr £18,960 Saving £1,960
Volvo C30 D4 [177] R DESIGN 3dr Geartronic £21,290 Saving £2,238
Volvo V50 DRIVe [109] ES 5dr £19,222 Saving £2,223
Volvo V50 DRIVe [109] SE 5dr £20,198 Saving £3,022
Volvo V50 DRIVe [109] SE Lux 5dr £21,299 Saving £3,171
Volvo V50 D3 [150] ES 5dr Geartronic £21,463 Saving £2,515
Volvo V50 D4 [177] R DESIGN Premium 5dr Geartronic £24,135 Saving £3,543
Volvo V70 DRIVe [109] ES 5dr £21,389 Saving £3,895
Volvo V70 D3 [163] SE 5dr [Lthr] £24,289 Saving £4,564
Volvo V70 D3 [163] R DESIGN 5dr £24,509 Saving £4,594
Volvo V70 D3 [163] SE 5dr Geartronic [Lthr] £25,579 Saving £4,738
Volvo V70 D3 [163] SE Lux 5dr Geartronic [Sat Nav] £26,972 Saving £5,596
Volvo XC60 D3 [163] DRIVe ES 5dr £24,506 Saving £2,916
Volvo XC60 D3 [163] DRIVe SE 5dr £25,113 Saving £4,334
Volvo XC60 D3 [163] DRIVe R Design 5dr £25,971 Saving £4,451
Volvo XC60 D3 [163] DRIVe SE Lux 5dr £26,748 Saving £5,225
Volvo XC60 D5 [205] SE Lux Premium 5dr AWD Geartronic £31,634 Saving £5,861
Volvo XC90 2.4 D5 Active 5dr £25,089 Saving £7,005
Volvo XC90 2.4 D5 SE 5dr £26,219 Saving £9,111
Volvo XC90 2.4 D5 Active 5dr Geartronic £26,409 Saving £7,136
Volvo XC90 2.4 D5 SE 5dr Geartronic £27,520 Saving £9,260
Volvo XC90 2.4 D5 R DESIGN SE 5dr Geartronic £29,122 Saving £9,408
Volvo XC90 2.4 D5 SE Lux 5dr Geartronic £29,479 Saving £9,500
Volvo XC90 2.4 D5 Executive 5dr Geartronic £32,245 Saving £10,535
These deals and many more at Drivethedeal
Comments