New FIAT Bravo Tour Special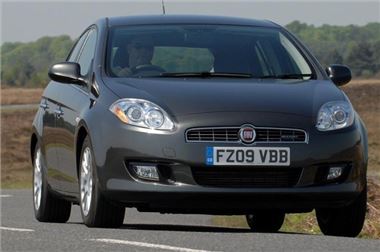 A new special edition Fiat Bravo has just been announced to coincide with an International charity driving tour which will take these cars from capital cities across Europe to Turin, Italy.
The new Bravo MSN Special Series is the result of a collaboration between Fiat and internet giant MSN, bringing together all the quality, safety and value of a leading mid-sized family hatchback with the most advanced radio navigation and infomatic systems such as Instant Nav and Blue&Me.
Based on a Bravo 1.4 16V, the new special edition version is also fitted with some of the latest Sony Ericsson mobile phone technology, custom-made for this car, which will allow direct access to the MSN portal.
The Bravo MSN Special Series costs £13,255 OTR – the equivalent of a standard 1.4 16V Active, but it offers customers £2,700 in free extra equipment. As well as the navigation and communications kit, the specially-badged car also gets distinctive Tempesta Grey pearlescent paint, 17-inch alloy wheels and a leather steering wheel.
The new car is linked in with the Bravo Tour, a three-day drive in Bravo MSN Special Series cars to Fiat's Balocco test track near Turin, from European starting points including Lisbon, Madrid, Berlin, London, Rome and Brussels.
Starting on 26 June, teams consisting of two MSN users and an MSN selected journalist will drive their own routes, equipped with a digital video camera and other communications tools. They must report on their tour, solve given tasks along the route, visit places nominated by MSN users and broadcast their tour experience on MSN. All the teams will end their tour with a final event at Fiat Group's Balocco private test facility.
Each participating team can win up to 10,000 Euros (£8,500) for their nominated charity, courtesy of Fiat Group Automobiles, and the team that achieves the highest eco:Index – showing greatest care for the environment and fuel use – will win an equivalent of 30,000 Euros (£25,600) for their nominated good cause.
Additionally, Fiat Group Automobiles UK will donate £20 for each of the first 250 test drives taken in a new Bravo MSN Special Series, to its chosen charity, Barnado's (registered charity 216250 and SC03760).
"The Bravo Tour is a great way to showcase the new Bravo MSN Special Series, which is an interesting car," says Andrew Humberstone, managing director, Fiat Group Automobiles UK. "And the fact that our chosen charity will also benefit from this makes it an even more worthwhile exercise."
There is still time to apply to be part of the UK team driving to Balocco. To learn more about the Tour and the campaign click on:
events.uk.msn.com/cars/fiat-bravo-tour
.
Comments