Citroen C5 Aircross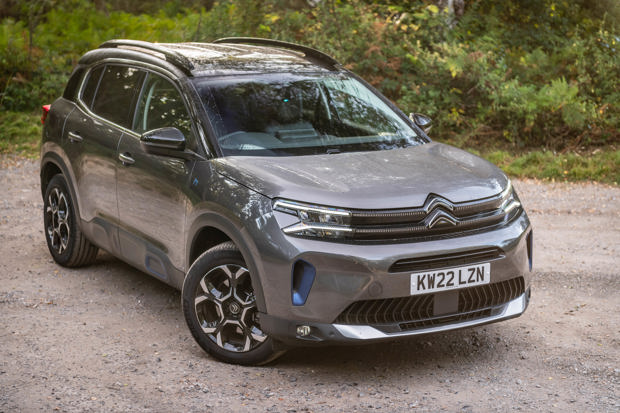 Specifications: Citroen C5 Aircross PHEV
Run by: Phil Hall since October 2023
Price when new: £35,935 (£38,250 including options)
Engine: 1.6-litre plug-in hybrid
Power: 225PS
Torque: 360Nm
Claimed economy: 222.3mpg
CO2 emissions: 29g/km
Insurance group: 26
Report 1: We welcome Citroen's C5 Aircross to the fleet
We get our hands on Citroen's family SUV, the C5 Aircross PHEV. What do we think of it so far?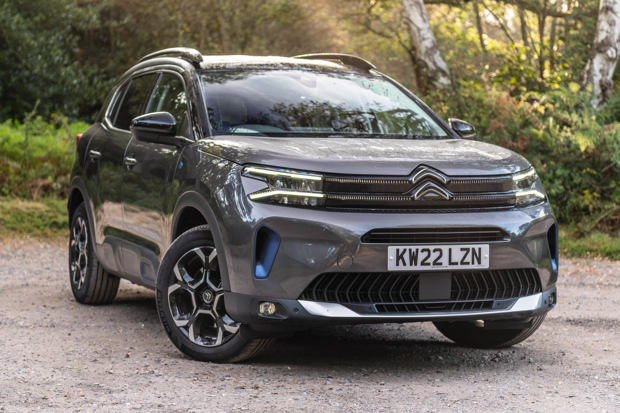 Date: 2 October 2023 | Current mileage: 8321 miles | Claimed economy: 222.3mpg | Actual economy: 58.1mpg
I've always had a bit of affection for Citroens that harks back to my dad owning two GS models back-to-back when I was small, so it seems apt now that I'm going to be running Citroen's latest family car for the next three months, the C5 Aircross.  
While many family SUVs will make a big thing of their sportiness, the C5 Aircross refreshingly swims against the tide and makes a big thing of its comfort and practicality. While we'd probably hate to admit it, while a car that we can chuck into corners is the car we think we want, the reality is that we want something that's as stress-free as possible when ferrying children round and we'll be delving into that in more detail in later update. 
First though let's have a look in more detail of our C5 Aircross long-termer. It comes in Shine trim which sits in the middle of the C5 Aircross range and comes with an awful lot as standard. This includes a reversing camera, front/rear parking sensors, keyless entry/start, electric folding door mirrors, adaptive cruise control and Advanced Comfort Seats with Alcantara upholstery. There's also 18-inch alloy wheels, a 10-inch touchscreen with both Apple CarPlay and Android Auto as standard (though it's a wired connection).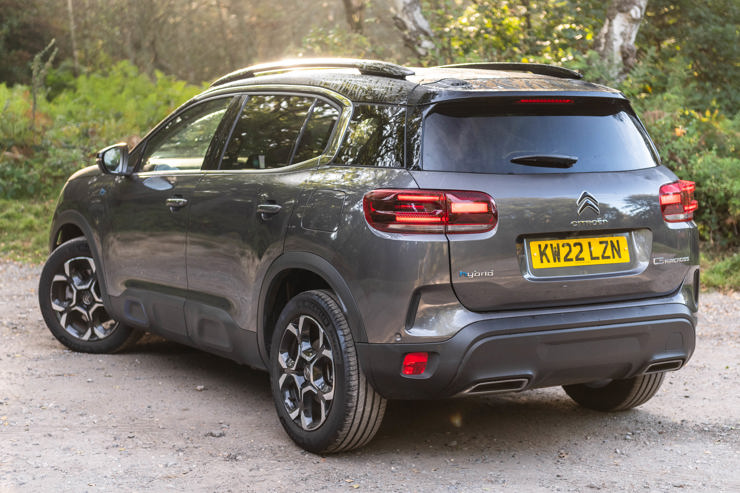 Our Citroen C5 Aircross also has a couple of optional extras as well. It's finished in Platinum Grey metallic paint that's a £595 extra, an 'Energic Blue' colour pack (£180), a black roof (£250), a motorised electric tailgate (£790) and Highway Driver Assist (£500). 
While the 1.2-litre PureTech engine is a popular choice with the C5 Aircross, we're going to be running the 225PS plug-in hybrid. It'll hit 62mph in 8.7 seconds and has an electric-only range of 41 miles from a fully-charged battery. Fuel economy is a claimed 157.2 to 222.3mpg (provided the battery is kept topped up), while the petrol tank is 43 litres - some 10 litres less than the 1.2 PureTech. 
The Citroen C5 Aircross is 4.5 metres long and a smidge over 2.0 metres wide (that's with the wing mirrors out) and has a kerb weight of 1890kg - some 400kg more than the 1.2 PureTech car.  
It's front-wheel drive only, so it's going to be interesting to see how it copes with some of the more rural roads where we live as the weather deteriorates. We're also going to miss creature comforts like heated seats now the mornings are getting colder. 
All in our Citroen C5 Aircross PHEV costs £38,250 - considerably less than something like the new Honda CR-V PHEV, but comparable in price to a Ford Kuga PHEV. And after living with a couple of family-orientated PHEV SUVs in the last couple of years, including the Ford Kuga and Suzuki Across (see also Toyota RAV4), I'm looking forward to seeing how the Citroen C5 Aircross stacks up. 
Report 2: Comfort with a capital C
Inside our C5 Aircross and you'll have to go a long way to beat it for comfort.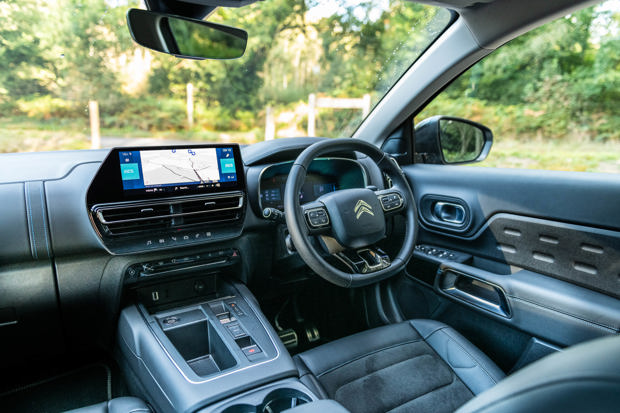 Date: 16 October 2023 | Current mileage: 8533 miles | Claimed economy: 222.3mpg | Actual economy: 45.2mpg
I touched on it in my first update, but I wanted to expand on just how comfy and easy to live with our C5 Aircross is turning out to be. 
Let's start with the bits you can't see. The C5 Aircross is kitted out with progressive hydraulic suspension that Citroen reckons should give you a 'magic carpet' ride. The result is that the Citroen C5 Aircross delivers one of the plushest and smoothest rides you're likely to find this side of an S-Class. Drive along and it's completely unfazed by the mish-mash quality of Britain's roads, soaking up any lumps and bumps with ease. 
Citroen hasn't stopped there. Upping the comfort stakes even further are the rather aptly-named 'Advanced Comfort' seats. These seats benefit from an extra layer of 15mm thick foam to make the seats even more comfortable, while the seats also have high-density foam at their core to bring extra support on those longer journeys.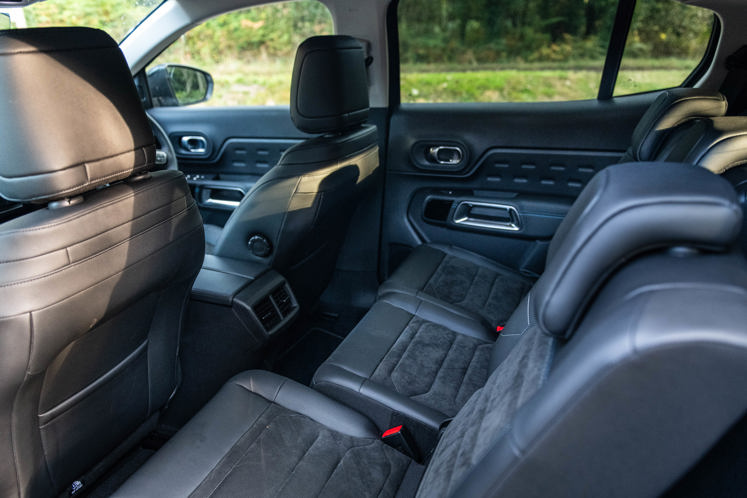 The steering is also incredibly light, and while it can be pretty vague on windy roads, it excels round town. It's easy to park considering its size and the turning circle makes you feel like a black cab driver.
It's a combination of these separate elements all coming together to make the C5 Aircross a very relaxing drive. Whereas some cars encourage you to take them by the scruff of the neck, the C5 Aircross somehow manages to put you in a more calm state-of-mind. 
It's easy to find yourself driving along and ignoring some of the selfishness of fellow road users as you glide to your destination. You'll certainly feel fresh after a long journey, while my two girls haven't uttered the three words that strikes fear into any parent on a long journey of "I feel sick". They've both happily say in the back watching the world go by.
There's a lot to be said about a car as comfy as the C5 Aircross. While there's times I've missed being in something a bit more focused, for most of the time when all in the car together, comfort beats sportiness. 
Report 3: Just how practical is the Citroen C5 Aircross?
It might major on comfort, but does that come at the expense of practicality?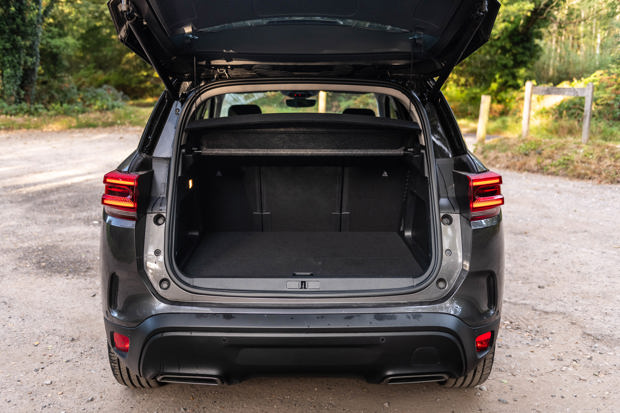 Date: 30 October 2023 | Current mileage: 8718 miles | Claimed economy: 222.3mpg | Actual economy: 35.4mpg
We've talked a lot about how comfy there Citroen C5 Aircross is, but how does it stack up when it comes to practicality? Despite some frustrations that I'll come onto in a bit, it's fair to say that the C5 Aircross is very practical indeed.
We already know how sumptuous the seats are, but if you've got young kids they're incredibly versatile as well. Not only do the two outer rear seats come with ISOFIX fittings, but the front passenger seat does as well. 
Each of the three rear seats is on sliders, with each one moving independently of the other should you need a bit more room in the boot. Speaking of which, boot space is pretty good on the C5 Aircross. Our PHEV version looses out on some 120 litres with the seats pushed back compared to the standard car (blame it on those batteries), which results in a boot capacity of 460 litres, which increased to around 600 litres with the seats pushed forward.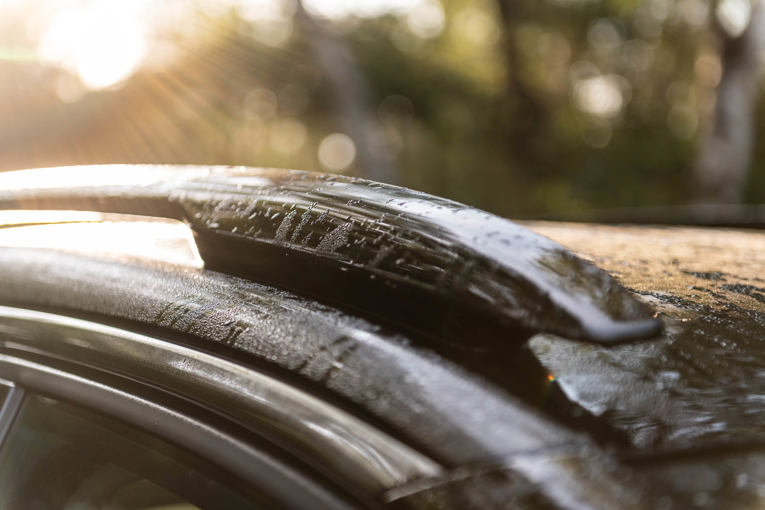 It's a pretty versatile size, though it would be nice to have some hooks for shopping. It also passed my little test of squeezing two kids bikes in the boot, though it did require the central seat to be folded down (not like the more practical boot of the Suzuki Across that easily swallowed them up without the need to flip a rear seat down). 
If you want more space, then the C5 Aircross comes with some rather funky looking roof rails. While the design might standout, it was frustrating to discover that my Thule WingBar Evo roof rack system wasn't compatible.
You could put this down to bad luck, but this popular roof rack system will fit rivals (you might need to change the footers), but the Citroen C5 Aircross is only compatible with Thule's top of the range WingBar Edge. 
To be fair though, other brands of roof rack systems are compatible, while Citroen itself will sell you a set of roof bars for under £200. And when I did need to get a adult-sized bike in the back, the rear seats folded down flat and I could shove the bike easily in there with space to spare.