Mercedes-Benz G-Class (2010–2018)
Model History
February 2010
G-Class returned to UK
After ten years absence from the UK market the Mercedes-Benz G-Class returned to UK roads from Autumn 2010, with a choice of diesel or supercharged petrol engines. The G-Class celebrated its 30th birthday last year and still retains it robust classic design twinned with the very latest Mercedes-Benz technology – and peerless off-road credentials.
4,662mm long x 1,760mm wide (2,055mm with mirrors) x 1,931mm high.
Standard wheel and tyre size is 16" with 225/55 R16 tyres.
Customers can choose between the G350 CDI which produces 221bhp and returns 25.7 mpg, and the range topping G55 AMG KOMPRESSOR, which produces 500bhp and reaches 0-62 mph in 5.5 seconds.
Both the G350 CDI and the G55 AMG will feature a wealth of standard equipment including: Automatic climate control, automatic transmission, with high and low gear ratios, Bi-Xenon headlamps, heated seats with memory, leather upholstery (including the dashboard) as well as COMAND, a reverse parking aid and a Harman Kardon Logic 7 Sound system.
As well as the standard equipment that features on many Mercedes-Benz road cars, constant innovation in the G-Class range offers high-performance driving dynamics, but, also supreme off road ability. ESP and 4ETS both ensure maximum traction, handling and stability on any terrain and the 100 per cent locking differentials, permanent all-wheel drive and off-road ratios prove their worth off the beaten track, making the G-Class world class in any off road condition.
There will also be a commercial G 300 CDI Professional, ideal for tough working conditions in hard-to-reach locations. It will feature equipment levels ideal for it to carry out its labours in a reliable, safe, go-anywhere package. This entry model to the G-Class range will be available from £57,975 OTR. The G350 CDI will be available from £79,975 and the G55 AMG KOMPRESSOR will cost £114,975 OTR.
The G-Class is one of a small and elite band of high quality products that has resisted the influences of fleeting stylistic trends, and as such has become a trendsetter itself. The low volume G-Class is hand built in Graz and in 1983 won the gruelling Paris-Dakar rally reinforcing that it is not only a design icon, but also boasts true go anywhere capabilities which are still winning new admirers today.
Whether traversing tough terrain or cruising down the King's Road, the new G-Class is set to become one of the UK's most desirable luxury vehicles. The G350 CDI and G55 AMG KOMPRESSOR will be exclusively available from the Specialist Products Division at Mercedes-Benz World at Brooklands as will the G300 CDI Professional.
April 2012
G-Class upgraded
Mercedes-Benz has once again significantly upgraded the G-Class, re-emphasising its position as the leader among off-road vehicles. The interior is characterised by high-quality appointments finished with exquisite materials. The instrument cluster and centre console have been completely redesigned. The driver's field of vision now encompasses a colour screen, between two new round dials. The car features the sophisticated COMAND Online infotainment system, including a navigation system and internet access as standard.
New LED daytime driving lamps and new exterior mirrors bring a few discreet changes to the exterior appearance of the luxury off-roader. The range of safety features can be optionally enhanced with the addition of Blind Spot Assist, the parking aid PARKTRONIC and the adaptive cruise control system DISTRONIC PLUS. New to the range are the G 63 AMG with an eight-cylinder biturbo engine and the ECO start/stop system as standard.
A comprehensive range of measures ensures that this classic cross-country vehicle remains in a class of its own in the off-road sector. These measures include new engines, a significantly extended range of appointments, a new, even more luxurious interior and a few discreet external modifications that nevertheless manage to preserve the timeless, classic design – virtually unchanged since 1979 - that has made the G-Class a true automotive style icon.
The external modifications include LED daytime running lamps and new exterior mirrors for all engine variants. TheAMGversions also feature a new, characteristic AMG radiator grille with double louvres, plus distinctive new bumpers with large air intakes. Red brake callipers and 20-inch wheels, available here for the first time, complement the emotive appeal of its exterior.
The instrument panel and centre console have been completely redesigned to include new controls and generously proportioned, exclusively designed trim elements. These give the interior of the car a fresh and classy look. Drivers will now find a TFTcolour display in the instrument cluster between the two round dials. A further large colour screen, conveniently positioned in the centre, is part of the COMAND Online system and incorporates a DVD changer and the COMAND Controller, which are standard on all G-Class models.
This new infotainment generation offers, amongst other features, a navigation system with special additional off-road functions, the LINGUATRONIC voice-operated control system and Bluetooth wireless connectivity. In order to ensure that the G-Class nevertheless does not lose any of its character, certain specific design elements in the interior have been preserved. The G-Class thus retains the grab handle on the front-passenger side, the switches for the three differential locks – clearly aligned within the driver's field of vision and highlighted in silver-coloured trim – and the redesigned shift lever in the lower section of the centre console.
New optional extras include safety features such as DISTRONIC PLUS, Blind Spot Assist and the parking aid PARKTRONIC with reversing camera. The ESP system has been completely revised and now includes Trailer Stability Assist and a HOLD function.
The G 350 BlueTEC long-wheelbase station wagon will be available with the V6 diesel engine and a displacement of 2987 cc.
The four-valve per cylinder engine has an output of 211 hp at 3400 rpm and has available torque of 540 Newton metres across an engine speed range of 1600 to 2400 rpm. The BlueTEC technology developed by Mercedes-Benz minimises its emissions, in particular of nitrogen oxides (NOx). The G 350 BlueTEC works to even better effect with the addition of AdBlue, an aqueous urea solution that is injected into the flow of exhaust gases. Refilling with AdBlue is conveniently done from the outside of the vehicle.
The G 350 BlueTEC will feature the 7G-TRONIC PLUSautomatic transmission as standard. This sixth generation of the stepped automatic transmission that has been developed and produced by Mercedes-Benz since 1960 has once again been thoroughly revised, and optimised with regard to both consumption and comfort.
New to the range is the G 63 AMGwith V8 biturbo engine (544 hp and 760 Nm of torque), which features the ECO start/stop system as standard.
The technical qualities of the G-Class continue to be highly prized. The tremendous torque of its engines makes the luxury off-roader an excellent vehicle for towing, while its three electrically controlled 100-percent differential locks, ladder frame and rigid axle characteristics make it an unrivalled proposition in rough, off-road terrain.
August 2012
2012 Mercedes G Class prices and specification announced
Priced from £82,945 OTR for the G 350 BlueTEC, the new G-Class has increased levels of standard equipment including new LED daytime running lights and a reworked interior that, for the first time, is fitted with COMAND Online. Also fitted as standard is Parktronic, an audio and visual parking aid and new leather upholstery in conjunction with heated front and rear seats. A new design of 18-inch five-spoke alloy wheels, electric folding and heated mirrors, instrument cluster with colour display and a mighty Harman Kardon Logic 7 surround sound audio system complete the changes.
The 3.0 litre V6 engine fitted to the G 350 BlueTEC model delivers 211 hp (a 1 hp gain) and retains the same fuel consumption and CO2 emissions of the model it replaces – 25.2mpg and 295g/km respectively.
The new G 63 AMG is priced at £123,115 OTR. Its hand built, bi-turbo 5.5-litre V8 AMG engine delivers 544 hp and 760 Nm of torque – an improvement of 37 hp and 60 Nm over the outgoing G 55 AMG. Despite these gains, the new V8 sees combined CO2 emissions reduced by 13% to 322g/km and combined fuel consumption improved by 15% to 20.5mpg.
Distinguishing the G 63 AMG from the rest of the G-Class range is a unique AMG radiator grille with twin chrome fins running through the black mesh grille. The changes extend to a set of AMG wheel-arch extensions finished in the vehicle colour, a bespoke AMG sports exhaust system with chromed twin tailpipes and a new 20" five-twin-spoke alloy wheel design in Titanium Grey high-sheen finish.
Inside, the G 63 AMG now features single-tone designo leather trim, an AMG selector lever with leather insets and an embossed AMG emblem, AMG stainless steel illuminated door sill panels complete with AMG lettering and an AMG instrument cluster with colour display. Finally, a powerful Harman Kardon® Logic 7® surround sound system and COMAND Online with Media Interface and DAB radio ensure the G 63 AMG is fitted with the latest in-car enhancements.
In addition, the G 63 AMG comes with the Chrome Package and Exterior Styling Package as standard (optional on the G 350 BlueTEC - £765 and £1,515 respectively).
Despite its focus on performance the G 63 AMG, in common with every new G-Class, is fitted with permanent all-wheel drive, fully engageable differential locks, four wheel Electronic Traction System (4ETS) and a low-range gear reduction to ensure it remains a viable and adept off-road vehicle.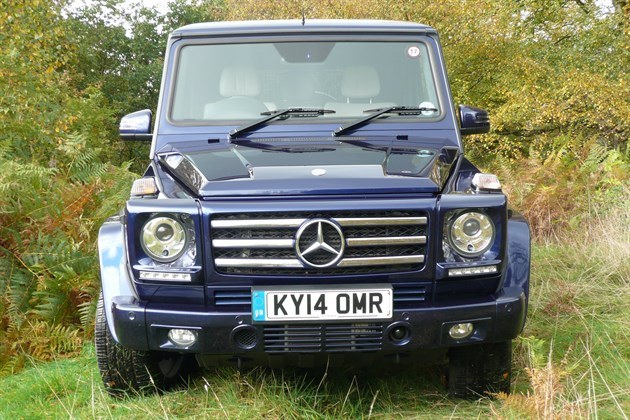 What does a Mercedes-Benz G-Class (2010 – 2018) cost?
Contract hire from

£1,167.67

per month
Buy a used Mercedes-Benz G-Class from £99,850