Mazda 6 (2013–)
What's good
Nimble, agile handling makes the Mazda 6 good fun to drive on curvier roads.
Refinement is a strong point thanks to little in the way of engine, road or wind noise at any speed.
Spacious cabin is very well made and the Tourer estate has one of the most generous load bays in its class.
Mazda 6 Skyactiv awarded 5 Stars by NCAP: 92% adult occupant protection; 77% child occupant protection; 66% pedestrian protection and 81% 'safety assist'.
What to watch out for
The suspension can feel too firm at lower speeds, which mars the overall driving manners of the Mazda 6.
Rear headroom in the saloon model is limited for adult passengers.
20-11-2012: Report from Australia of same DPF problem with Skyactive 2.2 diesel resulting in rising engine oil level and contamination. Later proved unfounded as merely a problem with a badly calibrated dipstick.
3-9-2013: A few complaints of graunchy changes from 1st to 2nd both from readers and on a long-term test car. Reader told that has been noted and will settle down after about 4,000 miles.
1-10-2013: While driver's seat squab of Sport models will rock, this is not adjustable on the SE and SE-L and can lead to numb thighs if you don't adjust the seat further back to drop your thighs onto the squabs.
Also, the iPod connectivity is such that whenever you start the engine, your iPod resets, and goes back to the start, rather than where you had got to. Reader overcame it by using Aux input instead.
26-10-2013: Reader quoted an eye-watering £549.48 inc VAT for a spacesaver. That includes a jack, and new trunk boards fitted in the vehicle wheel well.
12-2-2014: Apparently the Mazda 6 Sport on 225/45/19 tyres is very bad in snow, even with the traction control system turned off.
2-7-2014: Report of a Mazda 6 Skyactiv D175 Sport automatic run for 27,000 kilometres in France: Front brakes and pads replaced FoC with different discs due to warping under a 'customer complains' TSB. Another TSB for exhaust pressure sensor swap. Takes 20 minutes. Symptoms: engine management light comes on, no loss in power or adverse effect on driveability. After initial problems with the satnav, Tomtom replaced the 8gB card with a new 4gB one (apparently this was done for all 6 and CX5 with Tomtom satnav in France). That card subsequently died. Bridgestone Turanza tyres lasting well with potential life of 50,000km.
18-7-2015: Report of rear door seals melting in recent 35-40C heat, sticking to the metal and ripping out of the clips. Also, first report of warped front discs after 12k miles on a Sport model with 19-inch wheels.
14-8-2015: Complaint that over 5,300 miles from April to August 2015, a new Mazda 6 Skyactiv diesel suffered a rise in engine ol level to between 'max' and the X mark on the dipstick. Oil drained and replaced, but now rising again. Car used for driving distances, but no mention of type of fuel used.
26-9-2015: Complaint that 60k mile 2014/63 reg Mazda 6 Skyactiv diesel suffered problem of duel constamination by diesel at 60k miles, 2k miles before it was due a service.
30-10-2015: Complaint of drivetrain vibration from 2014 Mazda 6 2.0 Skyactiv 165PS petrol manual, mainly in 4th gear and was very pronounced but was also occurring in 3rd and 6th but to a lesser extent. Dealer changed gearbox, but there is still residual noise/vibration in 3rd gear at about 2500rpm – only noticeable when for example going uphill or coming off a roundabout. Might be an engine or gearbox mount. Might be from trying to run the ultra high compression engine on 95Ron petrol when it really needs 99Ron.
3-5-2016: Report of problems with 2013/63 Mazda 6 SE-L 2.2 Skyactiv Diesel estate, bought used in July 2015 art 34k miles from a Mazda franchise. Before owner could pick it up, it had the vacuum servo pump replaced on a recall. At 51K miles, needed a complete engine rebuild: turbo and camshafts at least, but it was in the garage for 5 weeks, all under warranty. Only getting 43mpg.
20-5-2016: Oil change service indicator of 2015 Mazda 6 2.2D 170ps Sport Nav came on at 6,300 miles. Probably because the oil has become contaminated from switching the engine off before an active regeneration of the DPF has completed. This will have dumped diesel fuel into the oil, raising its level. If not attended to the engine could start to run uncontrollably on its sump oil.
2-6-2016: Low oil pressure reported in engine of 2014 Mazda 6 SE-L 2.2d 9,000 miles after a service. No mention of how car used or of total mileage. Closest Mazda garage said oil had deteriorated and needed an oil change. Car should not be driven until this is fixed. I think the trouble (and the trouble with other active DPF regenerations) comes from drivers switching the engines off while the DPF is actively regenerating. Volvo owners have been warned about this. If you get out of the car and can smell heat, that's the DPF actively regenerating in a cycle where the ECU feeds extra fuel into the engine. If that extra fuel isn't burned, it sinks into the sump and reacts with the sump oil to congeal and block the sump strainer. It also raises the level of the sump oil and if that gets beyond a critical point, a compression ignition engine will simply run on its sump oil uncontrollaby until it seizes.
15-7-2016: Crucial to change oil and filter of a Mazda Skyactiv D engine regularly, preferably every 10,000 miles because of possibility of sump strainer becoming blocked, and also to regularly check the engine oil level because problems with active regeneration of the DPF can lead to a rise in the level leding to the engine running uncontrollably on its sump oil. This happened to a 2013 2.2 Skyactiv D at 94,000 miles after missing a service and cost of a new engine was quoted at £9,477.60.
26-7-2016: Report of owner of 2015 (presumably facelift) Mazda 6 losing satnav SD card and being asked £700 for a replacement SD card. Not clear if this car had the original TomTom based system or the later Samsung system. Later transpired that it was a 'crossover' model fitted with TomTom, not the more expensive Samsung, so an SD card to get it going was only £76. In the meantime the owner found the original, slipped down the edge of a seat.
5-8-2016: Mazda dealers now have a TSB to deal with Skyactiv diesel suffering rising sump oil levels due to malfunctions of active regeneration of the DPF.
5-8-2016: Reference for Mazda 6 problems in USA: www.mazdaproblems.com/tsbs/MAZDA6/2014/
29-11-2016: Low oil pressure light reported on 2013 Mazda 6 skyactiv 175 diesel auto. Owner sensibly stopped driving immediately and got towed to his Mazda dealer. Dealer changed the oil and said it was contaminated with diesel fuel from too many failed active DPF regens. Car does a lot of short runs from cold starts and is not driven far enough for passive and active regeneration to occur properly.
7-12-2016: Report of turbo failure on 2013 Mazda 6 Skyactiv D 175 auto at 36k miles.
7-12-2016: Another unconnected case of turbo failure on a used Mazda 6 estate just 5 weeks after purchase. Dealer still has the car after two weeks.
12-1-2017: Report of Mazda 6 2.2 Skyactiv D Tourer going in for 3rd service. Dealer told owner car could not be driven and a hire car was provided while warranty repairs were carried out. Apparently one of the exhaust valves had collapsed and swarf from it had got into the turbo and wrecked it. Owner told by the dealer that a small batch of 2.2 Skyactive D engine are having the same problem and Mazda is footing the bill. Car was back on the road after twenty days and performing as new. (This may be a bit mixed up. May mean inlet manifold swirl flaps) See: 7-12-2016.
18-1-2017: Report of 2013/62 Mazda 6 2.0 Skyactiv petrol, bought at 3k miles in Australia, starting to judder when pulling away in first gear from a cold start. Once a few miles have been covered this disappears completely. There are no other issues and it has been faultless during my ownership. Serviced every year at the local Mazda dealership. Always run on Shell V-Power Nitro Plus petrol.
19-9-2017: Same Australian reader as 18-1-2017 has found that his 2013/62 Mazda 6 2.0 Skyactiv petrol runs better without any hesitation on BP Ultimate petrol, but both fuels are probably a different composition from the UK in Australia.
30-10-2017: Report of warning message "Battery Management System Inspection Required" on 34,000 mile 2013 Mazda 6 2.0 Skyactiv G SE estate. Since then, the message sometimes appears, sometimes doesn't. Car has always started fine. Local Mazda dealer says "Tech has carried out a code read and has identified that a new sensor is required" at £175. This is probably the capacitor for the i-ELOOP system. Mazdas have a separate capacitor for stop start so frequent re-starts do not drain the main 12 volt battery. L ess than one year latewr (24-9-2018), "Battery Management System Inspection Required" message returned on 2013 Mazda 6 2.0 Skyactiv G SE Estate. In October 2017 the dealer said it was the current sensor. It was replaced. The error message is sporadic. Car back to the dealer next week. Reader wrot again a year later to say dealer re-set it again: " Code p0a8d stored, battery ok."
19-11-2017: Constant GPS & electronic system problems reported with March 2017 Mazda 6. Dealer does not know how to fix it. Owner thinks on board computer is faulty.
13-12-2017: On an 88,000 mile 2015 Mazda 6 2.2 Skyactiv D, report of an auxillary drive belt tensioner failing costing £432. Then the heater stopped working. Driver took it to the Mazda dealer who said the cylinder head gasket had failed and also the radiator needs replacing, and the cost is £2,585.11. Driver complained bitterly to the dealer, Mitchell Mazda in Ellesmere Port who contacted Mazda and eventually got 80% off the labour cost. The final bill was £611.
3-1-2018: Reader reported low oil pressure light coming on in 2013 Mazda 6 2.2 Skyactiv diesel tourer. Might indicate contaminated oil, oil level too high, blocke sump oil strainer or failed oil pump.
9-1-2018: Report of sump oil degredation in 2014 Mazda 6 Skyactiv diesel 6 months after an oil service. DPF muat not be actively regenerting properly, despite car being driven distances.
25-1-2018: Report of multiple brake caliper failures on 2013 Mazda 6 Skyactive 2.0 Sport Tourer. The car has done just over 60,000 miles and has been serviced regularly. 2 years ago a rear brake caliper siezed, which was repaired under warranty. Last October a front caliper siezed, in November the other rear caliper did the same and today the remaining original caliper has also siezed. In each instance it's the same problem; the caliper siezes leaving the brake jammed on which 'cooks' the brakes, requiring a new caliper plus brake discs and pads for the rather costly repair. Owner complained to Mazda UK about the 3rd caliper failure and they covered 60% of the repair costs but wouldn't admit to any fault with the calipers.
26-1-2018: Report of creaking from front suspension of June 2016 Mazda 6 automatic. Dealer cannot identify what is causing it. We guess worn anti-roll bar sleeve bushes.
31-1-2018: Report of Mazda 6 2.2 Skyactiv diesel engine head gasket failing at 104,000 miles. Needed a new engine and it was replaced under warranty. 15,000 miles later, the head gasket of the new engine failed. This indicates that there must have been a fault in the cooling system elsewhere than the engine that caused both engines to lose coolant.
14-3-2018: Report of 2014 Mazda 6 requiring new discs and pads all round at 24,000 miles. First service at 7,200 miles noted 8mm on the pads; second service at 15,800 miles noted 7mm wear; a year later grinding noise from rusted rear brake discs and rust on the alloys.
17-3-2018: "Loss of power" reported on 23k mile 2016 Mazda 6 2.2 Skyactive D manual on upshifts from from 1st to 2nd 2nd to 3rd 3rd to 4th 4th to 5th but not from 5th to 6th. Revs rise when clutch is depressed. Could be rising oil level because DPF is not actively regenerating properly.
3-4-2018: Report of injector seal failure on three injectors on a 2013 Mazda 6 Skyactiv 2.2 diesel Sport Tourer, exclusively Mazda dealer serviced, ahead of schedule due to frequent DPF oil contamination issues. The car again showed a service warning "oil change needed" and was brought to the dealer who advised to bring the car back another day But to only drive it slowly and not use the motorway". On return the diesel injector seals were diagnosed to have failed on 3 cylinders at 57k miles though not scheduled to be inspected until 75k miles, NOT the 75K service due in August. The blow-by of combustion gases caused the engine oil to turn into jelly blocking the oil strainer to the oil pump and resulted in low oil pressure causing the engine to go into limp mode. Owner immediately turned off engine and recovered it to the dealer. Now the dealer is advising approx. cost of £750 to replace seals and oil strainer, then only when running again can they check for further engine damage. Mazda has offered 50% to the repair cost. Owner eventually got 80% off the labour cost bringing the final bill down to £611.
4-8-2018: Report of turbo failure on 2013 Mazda 6 Skyactiv D, unfortunately "serviced by a friend" so Mazda may or may not offer £1,000 towards the cost of replacement. This issue is usually caused by switching off the engine when the turbo is too hot, causing the oil in the turbo bearing oil feed and oil return pipes to carbonise, partially blocking the pipes and cutting off the oil supply to the turbo bearing. It is imperative that these pipes are replaced or the new turbo might not last 1,000 miles.
19-10-2018: Report from reader with 2015 4dr Saloon Manual (2015): "Thought I would let you know about my osf headlamp fault that goes out with the handbrake on. The main beam bulb doubles as a day light running bulb, so changing the main beam bulb cured the problem."
10-12-2018: Report of 2013 Mazda 6 with ieloop system needing a new capacitor for the ieloop at 35,000 miles. Mazda contributing 10% towards the cost, but cost still £650.
17-12-2018: Report of Smart Brake Support malfunction in 2016/66 Mazda 6 Skyactiv at 50k miles. " Twice now car engine dies around 30mph 2-3 miles from journey start, once daytime, once night time, warning wording in dash with hazard sign 'SBS forward malfunction'. 2k miles between problems. Will not re-start immediately, engine keeps turning itself off. After 5 minutes, will start. No cars in front or hazards, both times clear road in front. Mazda dealer could not find fault after first time, second time only last night.
29-12-2018: Report of 2015 Mazda 6 2.2 Skyactiv D Tourer called in for a sofware update to the ECU in September 2018. Then, 2 days ago, the orange wrench warning light came on saying "Oil Change Required". Since the last service in May it has only covered 8,000 miles and the vast majority of those have been long distance journeys. The car has only done 31,200 miles and has a full Mazda service history and owner runs it on Superdiesel. Mazda dealer said there has been a spate of problems with these engines and that a possible reason for the warning is that the oil is thin, caused by various things, but could be carbon build up. The car is booked in for an investigation on the 4th January but may then have to go in again for two days for rectification work. Morte likely to be contamination by post-injected diesel from switching off the engine during mid-active-regeneration.
15-2-2019: Report of Mazda dealer requiring £1,300 (including £54 for the bulb) to change a front lightbulb on a 2013 Mazda 6. Apparently replacement headlight requires removal of front 'bumper' + some complication with steering.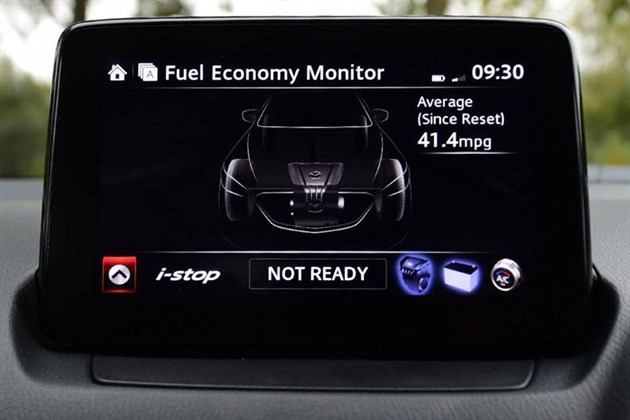 23-2-2019: Helpful reader report: "For Mazda diesel drivers, there is actually a way to see when the DPF is actively regenerating. In Mazda infotainment system, there is a page for "Fuel Economy Monitor" and "i-stop" system. It essentially tells you that there are three criteria that need to be fulfilled before the "i-stop" can be functional: engine, battery, and aircon. During most of journeys, all three criteria would be almost always be shown in a "ready" stated (with their respective icon being highlighted), but when active regen is on, the engine would be shown as not ready (for stop & start), the other scenario when engine may not be "ready" is when you just start the journey, and the engine is still cold. So if drivers check this page at the end of their journey (I used to always leave the infotainment system on this page), they would be able to know for sure if the active regen is still on-going."
26-4-2019: Report of SCBS and vehicle inspection light appearing on 2014 Mazda 6 2.2 Skyactiv D automatic at 127,000 miles. Initial diagonsis by independent garage: "Checked turbo actuator all ok. Removed map sensor and intake temperature sensor to find inlet manifold full of carbon. Requires new mass airflow sensor and removal of intake manifold to clean out carbon. Remove clean and refit intake manifold, removal of sump to check oil pick up for contamination." This did not rectify the issue and it went into a Mazda dealer for full diagnosis. Turns out a rivet in the turbo has failed/broken ("Initial diagnosis checked turbo actuator".) Dealer went to Mazda UK for any goodwill gesture and this was refused given the mileage and service history. Dealer can replace the turbo and complete the work for £1,900. Turbo may have failed due to blocked turbo bearing oil feed and oil return pipes from the engine being switched off instead of idling when the turbo was too hot. These pipes need to be replaced or the new turbo will fail.
11-6-2019: Report of oil pump chain snapping in 2.2 Skyactiv d engine of March 2016 Mazda 6 at 66,000 miles despite regular servicing. Needs a new short engine, gaskets, oil pump and chain costing £5,500.
5-7-2019: Report of 2013 Mazda 6 Skyactiv D Tourer with 65,000 miles being recalled over DIESEL ENGINE CONCERNS whereby the following was carried out: Revised fuel injector tighten, replaced vacuum pump and carried out software update. Within days and very little use/mileage there was an issue with turbo kicking in affecting acceleration in each gear, and warning lights for: SCBS INSPECTION REQUIRED and ENGINE INSPECTION REQUIRED. A vehicle health check was also carried out whereby NO issues or concerns were raised other than worn pads/discs and tyres to be changed in near future. This has now been back into the Mazda dealership to investigate. They have informed me that Turbo has failed and requires replacing at an estimated cost of £2k plus. After being in for recalls, the car was used a handful of times and minimal mileage.Reader suspects recall and turbo problem are linked as never had issues with engine or turbo up until now (But see 26-4-2019.)
7-9-2019: Report of clearcoat lacquer on the alloy wheels of a 2015 <azda 6 Sport Tourter flaking off in large patches despite only 14,000 miles on the car. Mazda paid 70% of the cost of replacement leaving owner to find £228.
19-9-2019: Report of worn crown wheel and pinion in 2015 Mazda 6 Skyactiv diesel at 59k miles with full service history. Owner heard noise. Turned out to be swarf in the crown wheel and pinion.
30-10-2019: Significant Court Action Filed Against Mazda in Australia. AUSTRALIAN COMPETITION AND CONSUMER COMMISSION v MAZDA AUSTRALIA PTY LIMITED. "This proceeding concerns unconscionable conduct and false or misleading representations by the Respondent (Mazda) to the individual consumers identified at Annexure A (the Consumers) who purchased faulty Mazda motor vehicles (the Vehicles) and attempted to exercise their rights under the consumer guarantee provisions of the Australian Consumer Law (the ACL) to obtain a refund or replacement vehicle, but were repeatedly refused refunds or replacement vehicles and pressured to accept lesser offers made by Mazda only after multiple failures of the Vehicles and repeated attempted repairs." Specifically: repeated engine warning light on 2014 Mazda Neo (Mazda 2); repeated adaptive headlight failure on 2016 Mazda CX-5 4WD; repeated power loss in 2013 Mazda CX-5 diesel; repeated low oil pressure warning in 2013 Mazda 6 2.2 diesel SW; engine problems with 2017 Mazda BT50 pickup; jerking and loss of power from 2015 Mazda CX-3 4WD; repeated rough iding and multiple warning lights in 2014 Mazda 2 Neo. Full Concise Statement here: https://www.accc.gov.au/system/files/ACCC%20v%20Mazda%20Australia%20Pty%20Ltd_Concise%20Statement.pdf
29-11-2019: Report of diminishing performance from 2016 Mazda 6 2.2 Skyactiv D at 50,000 miles. Then orange engine light came on and Mazda dealer offered a goodwill carbon clean. We warned to be careful because soon after this process the turbo of another rerader's 2.2 Skyactiv D failed.
44 faults reported since 20-11-2012
Recalls
25-3-2013: R/3013/043: Precautionary Recall of Mazda 6 Skyactiv due to electrical glitch. Mazda Motor Corporation has announced a recall for certain all-new Mazda6s to rectify a potential quality issue with the vehicle's electrical system. Mazda continually tests, develops and improves its products for the benefit of its customers and the issue was identified as part of this ongoing product development and improvement programme. The recall will eliminate a potential fault with a component in the DC/DC convertor. The component is there to suppress electrical interference with the audio system. The likelihood of there being a fault is very small so this recall is a precautionary measure. But where there is a fault it may cause overheating of the unit and in a worst case scenario, a fire may result. A total of approximately 15,000 Mazda6s globally are subject to the recall including 502 in the UK, the cars affected are diesel Mazda6s and 165ps Sport petrol models. Mazda is committed to having all affected vehicles repaired as soon as possible and is contacting owners to arrange a convenient time to have the DC/ DC convertor replaced free of charge. In order to minimise inconvenience, Mazda is providing all Mazda6 owners affected by this recall with alternative transport while the repair is performed. For all customers who are awaiting delivery of their new Mazda6 these cars will have the modification made before delivery which, in the short term, may result in a slight delay. All customers will be contacted by their dealer to update on the expected delivery date.
2-6-2014: Just-Auto.com picked up an American recall for Mazda 6s built between October 25, 2012, through May 9, 2013. This recall involves 18,592 vehicles. It is possible to refuel beyond the fuel tank capacity. If over-fueling is followed by a large temperature change, the fuel volume may expand and potentially enter the charcoal canister. With this condition, the malfunction indicator light may illuminate, and if the fuel exceeds the canister capacity, fuel leakage could occur. Mazda dealers will install an adapter in the fuel tank to reduce the possibility of overfilling during refueling. The canister will be inspected and replaced if necessary. In addition, an addendum containing a caution about overfilling the fuel tank will be sent to affected customers to be attached to their Owner's Manual. No incidents of fire or injuries have been reported.
21-10-2014: R/2014/134: Mazda 6 and Mazda 3: Engine may not restart when customer expects after i-stop operation. Although check engine light on dashboard will illuminate. Recall the vehicles that are likely to be affected and re-programme the engine Power Control Module (PCM) with a modified calibration. VINS: JMZGJ***21 154313 to JMZGJ***21 169715 and JMZBM5476 21 124994 to JMZBM5476 21 140892. Build dates: 30-10-2013 to 28-2-2-14
(Unknown date): TSB or recall for brake vacuum servo of diesels.
31/5/2017: R/2017/163: Mazda3 (BL), Mazda5 (CW), Mazda6 (GH) Mazda6 Est (GH & GJ), Mazda CX-3 (DK) and Mazda CX-5 (KE): TAILGATE MAY DROP DOWN WITHOUT WARNING. Water may penetrate the tailgate strut cylinder. This may cause corrosion which may affect the strut's attachment. Fix: Replace both tailgate struts on affected vehicles. Mazda statement: "During routine quality checks it has been found that the rustproof coating on the tailgate support struts, one found on each side of the tailgate, on a number of Mazda vehicles may be insufficient. The resultant corrosion could ultimately cause the struts to break during operation of the tailgate causing it to drop suddenly, leading to potential injury". Repairs are supposed to take around an hour, it's free of charge, and the usual take care until the repair has been completed. VINs: JMZCW******100041 to JMZCW******159564; JMZGH******102007 to JMZGH******509238; JMZBL******100118 to JMZBL******575554; JMZGH******116434 to JMZGJ******345447; JMZDK******100043 to JMZDK******143515; JMZKE******100107 to JMZKE******482452. Build dates: 16-6-2010 to 1-4-2015.
14/12/17: R/2017/327: CORROSION MAY FORM AROUND THE PARKING BRAKE ACTUATING SHAFT AND CAUSE REDUCED HANDBRAKE PERFORMANCE. On the subject vehicles, corrosion may form around the parking brake actuating shaft within the rear brake caliper. This could cause the handbrake to become difficult to operate (greater force required at the lever), or in some cases prevent the parking brake assembly from applying sufficient force at the rear wheels and cause a failure to hold the vehicle. Insufficient force to hold vehicle stationary, causing unintentional and unexpected movement of the vehicle. Fix: Inspect the parking brake actuation lever. If no corrosion is found, replace the protective boot with a modified assembly. If corrosion is found on the actuating shaft, replace the brake caliper. VINS: JMZGJ******100083 to JMZGJ******195260. Build dates: 01-08-2012 to 18-11-2014.
17-9-2018: R/2018/235: Mazda CX-5, Mazda 6, Mazda 3 diesels: The brake vacuum pump may wear prematurely. The brake vacuum pump may wear prematurely, meaning that in some applications where the brake pedal is pressed quickly whilst at low engine speed – the servo assistance provided by the vacuum system in decreased. This could cause a momentary decrease in braking performance. Braking assistance available to the driver can be reduced. FIX: Vehicles affected will be fitted with a modified Vacuum pump. VINS: JMZBM******100061 to JMZBM******325865; JMZKE******109955 to JMZKE******485502;
JMZGJ******105981 to JMZGJ******347652. Build dates: 26-1-2012 to 21-1-2016.
17-9-2018: R/2018/289: Mazda CX-5, Mazda 6, Mazda 3 diesels: INJECTOR MOUNTING NUTS TIGHTENING FORCE MAY BE INSUFFICIENT. The tightening force of the injector mounting nuts may be insufficient. This could cause combustion gas to leak from the injector and contaminate the engine oil within the cylinder head. This in turn could cause the engine oil strainer to become blocked. This could cause the engine to stall. Engine Pressure Oil Light appears along with the engine malfunction indicator Possible Engine Stall without Warning/ FIX: Vehicles affected will have the engine / oil checked for contamination and replaced if necessary. The Fuel injectors will also be re-tightened to the appropriate torque. VINS: JMZKE******109955 to JMZKE******485502; JMZGJ******105981 to JMZGJ******347652;
JMZBM******100061 to JMZBM******325865. Build dates: 26-1-2012 to 21-1-2016.
17-9-2018: R/2018/288: Mazda CX-5, Mazda 6, Mazda 3 diesels: FUEL INJECTOR SOFTWARE DOES NOT CONTROL THE ELECTRIC CURRENT CORRECTLY. The Software controlling the fuel injectors does not control the electric current correctly. This may cause the injector control circuit to short circuit and cause the engine to stall. Results in possible Engine Stall without Warning. FIX: Vehicles affected will have the injector control software re-programmed. VINS: JMZKE******109955 to JMZKE******485502; JMZGJ******105981 to JMZGJ******347652; JMZBM******100061 to JMZBM******325865. Build dates: Build dates: 26-1-2012 to 21-1-2016.
25-07-2019: R/2019/187: Soot may accumulate around the intake shutter valve on the inlet side of the engine. Fix: check, clean or replace the intake shutter valve and update software. VINs: JMZGL******500020 to JMZGL******551030; JMZGJ******105981 to JMZGJ******548761 . Build dates: 26-01-2012 to 30-06-2018.
We need your help with our latest Satisfaction Index, so that we can help others make a smarter car buying decision. What's it like to live with your car? Love it? Loath it? We want to know. Let us know about your car - it will only take a few minutes and you could be helping thousands of others.
Help us with the Honest John Satisfaction Index now