Land Rover Discovery 3 (2004–2009)
What's good
Stylish and capable of-roader.
Handles well and drives well for such a big, tall vehicle. Jaguar V8 version obviously much faster than Turbodiesel V6.
Superchips can re-programme the 2.7-litre TDV6 diesel to a maximum power gain of 36 bhp and boosting torque by 71 Nm. The conversion costs £511.13 including VAT and has no adverse effect on fuel economy. The most impressive power and torque gains kick in from around 2,500 rpm, with the greatest power increase of 36 bhp achieved at 3,802 rpm and the biggest torque boost of 71 Nm at 3,427 rpm. Visit www.superchips.co.uk or call 01280 816781
01280 816781.
Euro NCAP 4 star adult safety, 1 star pedestrian safety, 4 star child safety.
Satnav updated mapping CDs and DVDs now available regularly, quickly and reasonably cheaply from www.navigation.com/landrover in the native languages for customers in the UK, Germany, France, Italy, Spain and the United States with other countries to follow. Pan–European and North American DVDs are being sold at £129 – with CDs of individual countries at £99.
Can re-start towing 3,500kg on a 12% slope. Won Best 'Towcar over 1900kgs' at Practical Caravan, What Car? and the Camping & Caravanning Club Towcar awards 2007.
Dual mass flywheel and clutch failures at low mileage and under 3 years old being fixed under warranty, even if the vehicle has been towing.
Jaguar and Land Rover brands achieved the 1st and 5th highest scores among Luxury brands in J.D. Power and Associates 2009 Sales Satisfaction Index (SSI) StudySM. The study is a comprehensive analysis of the new-vehicle purchase experience and is based on responses from over 48,000 owners and lessees of new vehicles registered in May and June of 2009. Overall customer satisfaction is measured based on five factors: dealership facility; salesperson; paperwork/finance process; delivery process; and vehicle price.
18-1-2014: No DPFs on 2.7 TDV6.
What to watch out for
Dscovery 3 needed but never got Range Rover's 3.6 litre twin turbo TDV8 diesel with 272PS and 640Nm. In the Range Rover, despite more power and torque than the TDV6, fuel consumption figures are the same or better at 19.6mpg urban, 31.2mpg extra-urban, 25.1mpg combined. Cuts 0-60 by 4 seconds to 8.5 seconds.
All steel and huge, so very heavy. Good for towing, but not for fuel economy.

Very little luggage space when all seven-seats are in use.
Underslung spare wheels vulnerable to theft unless a protection kit is fitted that fits over the spare wheel and costs £ 233.50 inc. VAT.

Problems with electric parking brake occurs due to a build up of brake dust and dirt that needs cleaning off with an airline.

Best info on problem areas at: www.disco3.co.uk

When passenger airbag activates, the flap over it can break the windscreen sending small slivers of glass into the car.

Oddball fact: Discovery IIIs sold in Japan with RHD have 4.0 litre Ford V6 engines, as in the Ford Explorer.

One owner found the positions of the jacking points described in the handbook very confusing, and damaged his air-suspension compressor by jacking on its bracket after thinking it was a jacking point.
Squealing and sticking rear brakes can be caused by premature corrosion of the rear brake back plates. Several complaints of this in 2010, at first denied by dealer and manufacturer, then accepted by both of them.
Driver's cloth seats prone to creasing. The cause from the dealer is: "The seat cushion cover is secured to the cushion foam by two rows of securing rings on the first and second panels, but in order to accommodate the seat heater mat, none are installed at the rear of the cushion, which can lead to the above complaint. A revised cushion design incorporating a different seat heater mat (where installed) allows the cover to be secured to the cushion in the critical area. Should a customer express concern regarding the above, refer to the service procedure detailed in the bulletin to renew both front seat cushion covers.". Latest or updated Disco 3s are fitted with four panel seat squabs that don't have the creasing problem. Three panel seats squabs do crease.
Air suspension compressor may fail.

Sunroofs may leak.

Terrain response system can fail.

Satnav screens can fail.

Bizzarely, if the engine pre-heater does not work, you can get it to by leaving the radio switched on the previous night. Software and wiring problem apparently.

Lots of suspension problems, mainly due to wiring faults.

Failures of 2.7 V6 diesels quite common, possibly due to failure of single turbo oil seals. (LandRover fits a single turbo version rather then the twin turbo in Jaguars, Citroens and Peugeots.)

One reader's saga from December 2005 to June 2006. Clutch failed, Suspension failed, Brake problems replaced twice and adjusted a third time, Transmission failed, rear screen wiper unit replaced twice, passenger seat sensor replaced.

Complaints of driver seat wear and leg pain from something metal under the seat cover.

Problems continue. I purchased an 'approved used' Land Rover Discovery 3 in December 2006. It was delivered with faults (a flat tyre, faulty engine which loses power at 60mph in the outside lane - very scary, numerous electrical faults, etc ad infinitum). It has never been repaired satisfactorily and I returned the vehicle to the dealership recently and will be claiming a full refund. The appalling level of customer service that I have received beggars belief. What is the point of paying a large sum of money for a prestige car that doesn't work? I believe that there is a growing bubble of discontent amongst consumers that have purchased the Discovery 3 and the Range Rover and have been left short.
One owner had four steering boxes fail in four years, though did not qualify this with a reason, such as oversized wheels and low profile tyres.

It seems that on some Range Rover Sports, some supercharged Range Rovers and some Discovery 3s, LandRover has not recorded the security codes. So if a fault occurs such as heated screen, heated seats, lights, screen and light washers packing up due to a a fuse board problem (new fuse board £280+ VAT), the security code will be lost, necessitating replacement of ECU and all door locks at a cost of thousands.
Factory fit removable towbar requires regular maintenance (cleaning and greasing) because it is vulnerable to water and road salt ingress that can eventually seize the log and also penetrate the chassis member that bears it, leading to corrosion and failure of the chassis member.
11-4-2011: Severe problems with manual drivetrain emerging. Typically, "In the three years since new, the vehicle has had two clutch changes, two flywheel changes and one clutch centre bearing replaced. The XYZ switch has been recalibrated 12 times and recently failed for the 13th time."
4-6-2011: 55 reg 27,000 miles Disco 3 required new front wishbones at a cost of £800 because the rear bushes had developed play.
15-6-2011: SuperPro has released a timely solution for all owners of the Discovery 3: precision-manufactured Front Lower Control Arm Bushes. Land Rover's chassis engineers designed part of the bushing system to be 'hydraulic', i.e. oil filled, to improve compliance and ride quality. This design of bush is vulnerable to failure – often as a result of impacts. (There is a tendency amongs drivers of 4x4's such as the Discovery to believe that as an off-roader it can cope with speed bumps and mounting kerbs at a pace not attempted in a 'Normal' car.) In addition, the deterioration of the rubber outer casing can in time allow leaks of the hydraulic fluid to develop. The net result is excessive movement in the lower arm. Imprecise at best – and dangerous at worst. The new bush kit from SuperPro includes some unique design features to replicate the flexibility of the original hydraulic bush, but whilst taking advantage of the SuperPro material's durability and high levels of resilience. The SuperPro engineers selected an innovative design previously developed for Australian manufactured Holdens with three pieces of polyurethane including a central section with deep cutaway sections in the polyurethane. These 'voids' are key in allowing the material the opportunity to flex and move in line with Land Rover's original parameters and not creating Noise Vibration and Harshness. The materials resilience ensures that the suspension regains its alignment. And, because it delivers this without the hydraulic features of the original, is less susceptible to damage and wear. In common with all SuperPro products, these bushes are supplied with a three year/36,000 mile warranty. Three kit options are available: SPF3456K – Front Lower Control Arm Front Bush - £95.04 plus VAT SPF3459K – Front Lower Control Arm Rear Bush - £84.48 plus VAT KIT5299K – Front Control arm kit including SPF3456K & SPF3459K - £149.00 plus VAT. For more details on SuperPro bushes, please click to www.superpro.eu.com
23-12-2011: Report of engine oil pump casing that the timing belt tensioner is bolted to shearing off and timing belt coming off and trashing the engine of 2007 2.7 TDV6 with 60,000 miles. (Ths was a Range Rover Sport, but same engine in Discovery III.)
21-1-2012: Warning: Stick to OEM (Girling) brake and clutch parts. 'Pattern' versions of these parts are often poor quality and frequently fail.
30-1-2012: EGR failures of 2.7 TDV6 becoming increasingly common (there are two).
2-2-2012: Steering wheels become unpleasantly soft and sticky under the leather cover. Sometimes LR will raplace under goodwill. Other times, not.
2-4-2012: Electromechanical parking brake actuator failure is common. An E-clip retaining a powerful spring (in the over-torque clutch assembly) is mounted into a thin plastic hollow shaft, with resulting failure allowing the spring to press against the housing and cause terminal damage to the gears. The material is too soft and the groove too near the end. Made in steel, brass of phosphor-bronze, this item would be robust. Made in plastic it must fail with the repeated hammering intrinsic to any operation of the over-torque slip-drive. If the system "screams" LR's standard dealer instructions are to try to merely adjust the the brakes at the shoe/drum interface, unaware that the "screaming" noise from the actuator box results from the friction between terminally damaged gear-wheels and the gear-box housing.
15-8-2012: Another electromechanical parking brake failure on a 2005/55. £1,100 to replace.
21-8-2012: Spasmodic failure of crankshaft sensor can lead to engine cutting out.
24-9-2012: Greatest number of warranty claims on Warranty Direct policies of any used car by a European manufacturer.
17-1-2013: Automatic transmission judder becoming increasingly common. First check that coolant is not getting into the transmission via the transmission heat axchanger in the radiator. If all the joints are sound, then have a member of FedAuto drain the transmission fully by dialysis (this has to be done at the right temperature and pressure and is not a DIY job). The it's worth adding a couple of tubes of Dr Tranny Lubeguard Instant Shudder. This is used widely in the States and Australia. Costs £10 for two tubes and seems to cure the issue.
23-1-2013: Elbow between fuel tank and filler neck can fracture.
4-2-2014: Timing belt tensioner bearing failed on 88k mile 2006 Discovery III 2.7 TDV6 wrecking the engine, so this is a warning to replace belt, tensioner, all small pulleys and waterpump (if driven by timing belt) at no more than 6 years or 60,000 miles whichever comes first.
9-9-2014: Report of Land Rover Discovery 3 spontaneously combusting only 2 days after taking it in to the Land Rover dealership in Sheffield for a £114 "Healthcheck". Car totally destroyed to the extent that forensic examination was not possible.
15-5-2015: Report of two sudden alternator failures in two different 7 and 8 year old Discovery 3s, each at about 100,000 miles, and each leaving the drivers and passengers vulnerable.
10-9-2015: Email from reader: " The Land Rover Discovery is surely one of the best vehicles in the world for driver performance, versatility and for comfort, but our family experience on reliability is a long chapter of expensive and frustrating problems. The Discovery 3 list includes engine management systems, warning lights and endless suspension problems, including compressor and valves. Recent repair bills have added up to around £5,000 and there are still faults. Is this quite normal in your experience, are more recent models more reliable and does the manufacturer care? The family were due to replace two Discoverys this year, but unreliability will force them to consider other options."
10-1-2017: Automatic transmission of LandRover Discovery 3 failed at 115,000 miles. Land Rover state in its service schedule that the oil in the automatic gearbox should be changed at 150,000 miles or 10 years. Gearbox experts told owner that ideally the oil in that gearbox should be changed every 30,000 miles and will rarely last more than 70,000 miles without causing damage.
17-3-2017: Numerous problems with recently purchased 2006 Discovery III 2.7TDV6 HSE auto, paid £8,500: E verything went dead the engine cutting out, power steering then failing, assisted breaking etc. Owner selected Park, restarted the car and it ticked over beautifully. Selected Drive and the same thing happenned time and time again.

18-12-2018: Report of electyromechanical parking brake repeatedly becoming jammed in a 190,000 mile 2005/55 LandRover Discovery III: It has cost in excess of £3,000 in repairs and still cannot be trusted. Once it became jammed whilst attempting a hill start while towing a horsebox with 2 Hunters aboard. The hill in question is steep and narrow. The AA were called and did something with the jack handle and, removed a fuse. Land Rover said that the problems were probably caused because owner had recently been driving the car off road in muddy and wet conditions. The handbrake has subsequently become jammed for no obvious reason but now owner can unjam it himself and disable it exactly as the AA did until it can be taken for the necessary repairs.
9-4-2019: Report of 2007 Land Rover Discovery 2.7TDV6 suffering "catastrophic engine failure. The Land Rover master tech who inspected it before owner bought it said it's "bad luck" as the oil pump snapped the tensioners and messed up the engine. But owner told by another expert that the oil pump on a 57 must be upgraded when cam belts are changed to stop this happening. The master tech didn't bother to check cam belt paperwork BTW - just looked. See: 4-2-2014; 23-12-2011.
15-4-2019: Report of used 2007 Land Rover Discovery 2.7TDV6 sold by an independent Land Rover specialist not having had timing belts, tensioner and vulnerable oil pump upgraded as promised. Result was tensioner sheared off, timing belts loosened and catastrphoic engine failure.
11-9-2019: Report of further spate of thefts of underslung spare wheels from LandRover Discovery 3s, Discovery 4s, Discovery 5s, Range Rover Sports and Range Rovers. The design had been changed so that the wheel was now held on a winch only accessible from inside the vehicle. So now the thieves simply cut this winch resulting in an increased cost to replace this as well as the wheel. Owner found that a number of people have paid to replace the wheel and winch, only to have it stolen again. This is confirmed by her insurance company who told her that they have a lot of claims for this, and many of them are repeat ones. The answer might be this locking through-bolt sold in Thailand to prevent theft of spare wheels from pick-up trucks: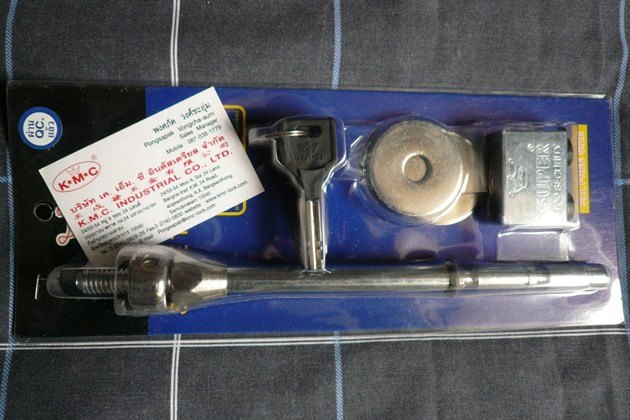 24-10-2019: Sad story of Discovery 3 automatic suffering a "rumble" underneath, then losing power. Turned out the oil pump housing had fallen off taking the timing belt with it. Estimate for replacement engine £8,500 - £9,000. (Probably less via a member of http://www.fer.co.uk)
Recalls
Unknown date TSB to renew front seat cushion covers if creasing occurs.
9-11-2005 Safety Recall R/2005/144: vehicle may become unstable if jacked VINs SALLAAA185A320952 to SALLAAA176A357812.
30-11-2005 Safety Recall R/2005/154: seatbelt buckle may not be retained, build dates 21-8-95 to 12-9-05.
30-11-2005 Safety Recall R/2005/156: parking function of automatic transmission may not operate correctly, build dates 2-7-2004 to 30-4-2005.
7-6-2006 Safety Recall R/2006/069: on petrol versions fuel may leak, build dates 2-7-2004 to 20-5-2005.
19-3-2007 Safety recall R/2006/226: on petrol versions possibility of fuel leakage, build dates 3-5-2005 to 28-9-2005.
We need your help with our latest Satisfaction Index, so that we can help others make a smarter car buying decision. What's it like to live with your car? Love it? Loath it? We want to know. Let us know about your car - it will only take a few minutes and you could be helping thousands of others.
Help us with the Honest John Satisfaction Index now