Ford Fiesta (2013–2017)
What's good
Club for owners of all Fords, old and new: www.fordownersclub.com
Five Star Euro NCAP rating: 91% adult protection, 86% child protection, 65% pedestrian protection and 71% for safety assist.

Fiesta 1.0 Ecoboosts with 5-speed manual transmissions do not have Dual Mass Flywheels.
What to watch out for
Powershift dual clutch automatic transmission requires fresh fluid every 3 years at a cost of £250.
On 1.0 Zetec EcoBoosts the EasyFuel fuel flap does not lock when the car is locked.
Early reports of 1.0 EcoBoost cooking their turbos because drivers switched the engines off when the turbos were almost red hot.
3-7-2013: Seems to be a known problem with the stop/start system only working intermittently. Apparently Ford is working on a fix.
12-7-2013: Reader reported just 25mpg from a Fiesta 1.0 EcoBoost and was spun a line by the dealer that was normal. It would free up and become more economical on 5000 - 6000 miles.
29-9-2013: Mysterious problem of 1.0 Ecoboost bought new on 24-8-2013 since when, in low gear, the engine has severely lost power 9 times and warning light "ENGINE MALFUNCTION SERVICE NOW" came on. Switching off and on again cleared both faults.
21-2-2014: Buzzing noise reported from electric power steering motor of Fiesta 1.0 EcoBoost 100.
26-3-2014: Problem after first service of 2013 Fiesta 1.0 EcoBoost. 100 miles into a subsequent journey a warning appeared: "Low oil pressure stop engine." Car recovered to a Ford dealer. Apparently, ECU should have been updated as part of the service. Car now running 10mpg more economically than before the service.
10-4-2014: Report of clutch and clutch slave cylinder of Fiesta 1.0 EcoBoost being replaced under warranty. Begs the question why a non DMF Fiesta clutch and slave cylinder are routinely replaced under warranty, whereas if the clutch fails on a Focus 1.0 EcoBoost with a DMF, the clutch, clutch slave cylinder and DMF are all replaced and the customer is charged for the job.
16-5-2014: Low pressure fuel tank pump failed on month old 2014 Fiesta 1.0 Ecoboost. Same fuel pump type no longer available and reader waiting for almost 2 weeks for new type of replacement pump.
4-9-2014: Exhaust rear silencer box rusted through on 11 month old Ford Fiesta 1.0 EcoBoost.
12-10-2014: Transmission of 6000 mile 2013 Fiesta 1.6 Powershift started shuddering at 15mph, particularly on inclines. Reason was transmission oil seal failure allowing transmission fluid to leak onto the dry clutch pack.
25-10-2014: Dry clutch Ford Powershift transmission seals (1.0 and 1.6 petrol engines) have become a serious problem. Ford has stopped supplying the original seals as replacements. As of 19th October, Ford has introduced a kit of parts to fix Powershifts that should include a redesigned seal.
27-11-2014: Electrical problem with new Ford Fiesta Titanium 1.6 Powershift gearbox. Battery goes flat overnight. Ford apparently now recognise a problem with new Fiestas and Kugas fitted with DAB radios and is trying to fix the issue. In the meantime Ford advises leaving the radio switched on at the radio and switching off via the ignition. Illogically, this cuts the current better than switching off at the radio.
13-1-2015: Another 2014 Fiesta reported with battery drain problems. Reader advised to leave radio permanently on, and volume turned down if radio not required. Ford 'fix' now delayed to end February 2015.
13-1-2015: Another 2013 Fiesta 1.6 Powershift reported with clunky transmission. Probably due to the known fault of transmission input shaft oil seal failing and leaking fluid into the twin dry clutch.
1-3-2015: Another Fiesta battery drain reported, this 1.2 watts from a 2013 Fiesta 1.6. Likely to be the DAB radio.
7-6-2015: Another report of drivetrain problems with a Focus 1.0 EcoBoost 125. IB5 gearbox failed after 5 months, clutch replaced after seven months, gears worse again after 11 months and total of 6,500 miles. TrustFord diagnosed a faulty clutch slave cylinder and put a claim in to Ford for that. Told by TrustFord that jamming and crunching is a "characteristic" of the IB5 gearbox.
15-6-2015: Less than two year old Fiesta Powershift juddering on take offer. Dealer suggested software cure. More likely to need new transmission oil seal.
22-6-2015: Failure of clutch pack on 2013 Fiesta Powershift reported and long wait for replacement clutch pack. Likely to be caused by the same shaft seal oil leak as on other dry clutch Powershifts.
15-10-2015: "Stiff clutch" reported on 2014 Fiesta EcoBoost. Probably failing clutch slave cylinder.
28-12-2015: Heater/blower fan speeds 1-3 stopped working on 2013 Fiesta Zetec S. Works only on maximum speed. Suspect resistor pack, but fan motor must be checked in case the problem is with it rather than with the resistor. If only the resistor is replaced and the fan motor has a fault it could lead to overheating and a similar wiring fire as in RHD Vauxhall Zafira Bs.
2-1-2016: Jerking and hesitation reported from transmission of 2014 Ford Fiesta 1.6 Titanium Powershift when turning left or right and driving up a slight gradient.
20-1-2016: 2013 Fiesta 1.0 EcoBoost had water pump and coolant pipe replaced under warranty. Now, at 45 months old and 46,000 miles cylinder head gasket has failed. Ford dealer refuses any liability.
10-5-2016: Class action legal proceedings have been issued against Ford Australia by Banister Law over problems with Ford/Getrag Powershift automatic transmissions. Bannister Law claims that, while driving, its clients have experienced, without warning, "sudden acceleration, delay in downshifts, delayed acceleration and, in some circumstances, difficulty in stopping the vehicle whilst braking." The models fitted with Powershift transmissions include the Focus 1.6 and 2.0 models built between 2011 and 2014, the 1.6-litre Fiesta and 1.5-litre Fiesta produced between 2011 and 2014 and the 1.5-litre EcoSport crossover built from 2013 to 2014.
17-5-2016: Report of cooling system "bubbling" on 2014 Fiesta 1.0 EcoBoost 5-speed. Possibly a fault with the watercooling for the turbo.
18-5-2016: Another Fiesta heater fan switch failure reported (see 28-12-2015).
27-5-2016: Frequent draindown of battery on 2014 Fiesta 1.0 EcoBoost reported. AA called out 6 times. Battery replaced once.
18-7-2016: When juddering problems is reported together with surging when slowing down there is now a 3 stage cure for Powershifts. Firstly re-set the ECU, which apparently corrects about 30% of the cars. The next stage is to replace the dry clutch pack and alsp replace the transmission fluid. As long as the fluid has been replaced at 3 yearly intervals, Ford now warrants Powershifts for 5 years.
9-8-2016: Report of 2 year old Ford Fiesta 1.0 Ecoboost bought used 6 months previously suffering clutch failure at 36,000 miles. Selling dealer thought probably clutch slave cylinder, but said he wasn't liable because it was an ex-driving school car. But he is liable because he sold a car with a pre-existing fault.
3-9-2016: Report of gearbox problems with 7,000 mile June 2014 Ford Fiesta 1.0. EcoBoost. For the past few months it seemed to have engaged but on lifting the clutch the gears have ground. On the second try it has engaged. However, twice the gear has engaged first time only to 'pop out' after moving the car a yard or two. Probably the standard clutch slave cylinder problem.
26-9-2016: Mass demonstrations by owners in Thailand against problems with 6-speed dry clutch Powershift transmissions in Ford Fiestas and Focus models. Ford of Thailand promised action.
27-9-2016: Another report of a 2014 Ford Fiesta Titanium X occasionally jumping out of reverse gear. The dealer said no problem with the gearbox at first service. At 2nd service owner complained again and Service Manager said it is because there is no synchromesh on reverse gear. Then it happened to him as reversed the car to take it to the Service Bay.

30-9-2016: Report of clutch problems with 2014 Fiesta 1.0 Ecoboost. Within 1,200 miles owner twice reported clutch problems - smell, inability to engage gears. On diagnosis (a drive around the car park) no problems were found and the car was fine in service until this week at 30,000 miles the clutch went. Trust Ford refuses to treat this as a warranty repair unless some other fault is found (such as a duff clutch slave cylinder). They have offered a discount on labour costs, but owner will still be liable for over £600.
6-10-2016: Report that front doors of a 2016 Fiesta will centrally lock on the plip even though a back door or the hatchback has been left unlatched. Dealer tested several others and found they were the same.
5-12-2016: Report of repeated juddering at low speeds of 8,000 mile 2013 1.6 litre Fiesta Titanium automatic (Powershift). Despite numerous software adjustments by Ford dealer a intermittent pronounced juddering on acceleration at low speeds has persisted. 28 faults reported since January 2011 (effectively since January 2013).
7-12-2016: Report of reverse difficult to engage in 33k mile 2013 Fiesta 1.25: sometimes graunches into gear and sometimes (although rarely) pops out.
21-12-2016: Report of coolant level of new Ford Fiesta Ecoboost 140PS rising above max level. Coolant drained to max, but after another journey rose back above max. Suggests to me an airlock in the cooling system and there have been reports of the coolant pipe to the turbo fracturing slightly allowing loss of coolant. Engine therefore rinning on not enough coolant so urgent attention required.
9-1-2017: Report of problems with 2013 Ford Fiesta 1.0 EcoBoost: Broke down for the third time with apparently the same problem (engine management sensor?) The first time was 14 October 2016 and it took 5 weeks to "solve" the problem. The problem repeated on about 21 November 2016 after having the vehicle back for a short period of time. Dealer again had the vehicle for several weeks before returning it "repaired". 8 January 2017 the problem appears to have returned.
21-2-2017: Report of 2013 Ford Fiesta Powershift bought used on 21-1-2017 juddering and shaking in lower gears and returened tro dealer afdter 6 days. After several delays, now having new dry clutch pack fitted.
3-3-2017: Report of occasional juddering from transmission of 14,500 mile 2014 Ford Fiesta Powershift when accelerating from stationary or at low speeds. Ford dealer says it needs a new clutch pack that will cost £1,500. Dealer has offered to put in a goodwill claim to Ford, but because one of the services was not done at a Ford dealership, they don't think owner has much chance of success.
9-3-2017: First report received of timing belt failure of the belt in oil belt in a Ford 1.0 EcoBoost, in this case a 2013 125 EcoBoost in which the belt failed at 108,000 miles despite having a recommended life of 150,000 miles. So our recommendation is not to leave a belt change on these past 100,000 miles.
21-3-2017: 2013 Fiesta 1.5TDCI needed new DPF at 28,000 mostly motorway miles. Cost £1,000. Still judders and cuts out.
31-3-2017: Complaint of electric windows of 3-door Fiesta not closing properly, seemingly hitting a stop and then rolling down again. Advised owner to check the window channels.
22-5-2017: Just-auto.com reports a mass class action lawsuit against Ford over failed low torque dry clutch Powershift transmissions in Fiesta and Focus models. A mass action lawsuit has been filed, under the Magnuson Moss Warranty Act, against Ford Motor Company claiming a defective PowerShift transmission in Ford Focus models from 2012-2015 and Ford Fiesta models from 2011-2015. Currently, there are more than 4,000 past or current owners who have joined the lawsuit. Thousands of Ford Focus and Ford Fiesta owners have reported consistent jerking and shuddering while driving these vehicles, and many have experienced delayed acceleration and deceleration. In some instances, drivers reported unintended acceleration when stopped at traffic lights, and other times the cars would roll backwards on an incline. Ford has issued more than 20 Technical Service Bulletins (TSB) on these models to alert dealership service technicians about known mechanical issues. A TSB is not public and dealers are not mandated to contact owners to complete the repairs. The most common course of dealer action has been to re-flash the transmission control module (TCM) and replace clutches, but the transmission problems persist. Many customers have taken their vehicles to dealerships for repairs and spent hundreds of dollars, but the vehicles continued shudder. Often customers were told that the problems weren't real, but were part of normal operation. Feeling their cars were unsafe and unreliable, some customers ultimately sold them at a loss. According to Kelley Blue Book , the resale value of Ford Focus and Ford Fiestas with the PowerShift transmission is $3,000 – $4,000 less than Focus and Fiesta models without it. In 2014, Ford extended the powertrain warranty on the vehicles from five years and 60,000 miles to seven years and 100,000 miles to cover the clutch shudder on cars built before June of 2013, but no consistently reliable repair has been provided. Consumers interested in participating in the mass class action suit should visit FordTransmissionProblems.com and www.facebook.com/YourLegalJustice. Since this is a mass action lawsuit with "fee shifting", consumers will incur no legal fees. SOURCE Stern Law, PLLC
11-7-2017: "Jerky" starts reported in Fiesta 1.0 EcoBoost Powershift.
30-8-2017: Report of 2014 Ford Fiesta 1.0 EcoBoost needing two new engines and now back at the dealer with the same problem. They are now saying it is the waterpump, but the symptoms are the same as before, white smoke coming from exhaust, high engine temp and loss of coolant. Our explanation is t he engine has a watercooled turbo that superheats the engine coolant before sending it back to the expansion tank via a 'degas pipe' that was found to have a weak union in it. All of these degas pipes should now have been replaced. But the turbo is also oil cooled and if the oil feed and oil return pipes are blocked with carbonised oil from switching the engine off when the turbo is too hot, the bearing will not get its necessary lubrication and will overheat beyond the capacity of the watercooling to cool it.
11-10-2017: Report of front alloy wheels of November 2014 Ford Fiesta corroding around the valves and causing the tyres to lose pressure. Ford agreed to replace the front wheels, but not the rears that are showing the same type of corrosion around the valves but are not yet leaking.
23-10-2017: 2nd complaint that Easyfuel filler flap of 2016 Ford Fiesta 1.0T Ecoboost does not lock.
27-10-2017: Report of 2014 Ford Fiesta 1.0 Ecoboost in Trust Ford dealer since July 2017 and finally fitted with a new engine under warranty.
19-11-2017: "Shuddering" reported from clutch pack of February 2013 Ford Fiesta Powershift that disappears when driven manually and at speed. Car now at 32,000 kilometres in "Asia". Probably needs a new Powershift clutch pack.
9-1-2018: Report of speed control of heater fan of 2013 Ford Fiesta failing for the 6th time. Replaced previous 5 times under warranty. Suggests a fault with the fan motor for which thespeed control is merely a variable resistor.
18-1-2018: Battery draindown reported on September 2013 Ford Fiesta 1.25 bought pre-registered in April 2014. Breakdown company called out when it failed to start and reported: "Started your vehicle, tested your battery, charging system and tested for electrical discharge. Battery voltage 3.3volts on arrival. Boost started and charged battery for 15 minsalternator output 14.2volts 32amps at negative terminal. Battery tested good recharge required. When switched off there is a parasitic drain of approx 1.5amps and the centre display (radio/phone etc) Is powering up and displaying message "traction control is off" every 10 secs.Advised customer to take to their garage/dealer for further inspection as battery will continue to drain. The cause of the discharged battery could not be identified at the roadside and will need investigating. Drive or run your vehicle for at least 40 minutes or connect a battery charger to fully charge your battery. Diagnostic testing may be limited in a breakdown type situation. Please ensure symptoms/suggested faults are confirmed by your chosen repairer before any suggested work is started." Ford dealer car purchaaed from unable to look at it for a week, then charged £90 to re-set the ECU. Similar battery draindown problems reported on post-2013 Fiesta on 27-5-2016; 1-3-2015; and 27-11-2014.
20-2-2018: Complaint of driveshaft failing on 2015 Ford Fiesta 1.0 T EcoBoost at 30,000 miles. Car has RAC check in November 2017, CV boots intact, then became difficult to get into gears then inner CV failed.
25-2-2018: Further report of battery draindown on September 2013 Ford Fiesta 1.25 (18-1-2018) turned out to be a failed cell in the battery. After further testing the sealer found a problem with the electrics that operate the passenger window, and needed replacing. Cost £400.
18-4-2018: Report of loss of compression probably due to a dropped valve in engine of 2015 Ford Fiesta 1.25 after 3 years and 5 weeks and 36,000 miles.
26-4-2018: Ford has been hit with record $10 million fine for unconscionable conduct over its handling of complaints about faulty Powershift automatic transmissions in more than 10,00 Australian cars. The Australian Competition and Consumer Commission (ACCC) launched legal action against Ford in 2017 after receiving complaints about Fiesta, Focus and EcoSport vehicles fitted with the "PowerShift" transmission. Thousands of drivers complained that their cars shuddered and jerked when accelerating, suddenly lost power or made a lot of noise. "Despite knowing that shuddering was a symptom of the quality issues with the vehicles, Ford frequently told customers that shuddering was the result of the customer's driving style," ACCC chairman Rod Sims said. Ford knew that the symptoms of the quality issues with the vehicles were experienced intermittently, but required customers to demonstrate them on demand in the presence of a dealer in order for repairs to be undertaken." About 75,000 Ford vehicles sold in Australia between 2011 and 2016 were fitted with the "PowerShift" transmission. Complaints began to surface in late 2015, but the ACCC said in many cases Ford refused to offer a refund or replacement. Drivers who wanted a new car were required to make a significant payment towards their replacement vehicle. "Ford told consumers that refunds and replacement vehicles were not an option, when they may have been legally entitled to these remedies under the consumer guarantees," Mr Sims said. Ford has acknowledged it took too long to identify problems with the gearboxes, and vowed to make things right with its customers. Ford Australia chief executive Graeme Whickman said. "We were overwhelmed with the volume of complaints and, while it was not intended, over a 10-month period our processes were inadequate and information provided was either inaccurate or incomplete. We let our customers down and for that we are sorry." Under a deal struck by Ford and the ACCC — and approved by the Federal Court — the car maker will review complaints made by up to 10,500 customers between May 1, 2015 and November 1, 2016. An independent auditor will assess whether those drivers are entitled to a refund or replacement vehicle. The review process will commence in early July 2018 and run for 12 months.
8-5-2018: Report of drivetrain of 2016 Ford Fiesta 1.0 EcoBoost slipping when reversing up even a slight incline. Ford dealer replaced the dual mass flywheel but not the clutch nor the release bearing under warranty. However, since its replacement a moaning noise is sometimes heard when driver lets the clutch up in reverse gear and first gear is staring to show the same condition to a lesser degree. The repairing dealer informed owner that it is a characteristic of the dual mass flywheel, and not the clutch slipping. He says that should it get worse owner should should return it to him.
20-5-2018: Owner of 2nd hand Ford Fiesta EcoBoost reported that after starting problems at 30,000 miles not cured by a new battery, new spark plugs or a 30,000 mile service at an independent garage she took it to a Ford dealer who told her it needed a new engine at a cost of over £5,000.
13-6-2018: Report of oil seal and clutch pack failure for a second time in a 2013 Ford Fiesta Powershift. Dealer quoted £957 to replace. Ford refused any financial assistance as the car is now 5 years old.
14-6-2018: At 4th year MoT owner of 2014 Ford Fiesta 1.0 EcoBoost told there was "a small leak in the coolant system." On further investigation leak was found to be inside the engine (head gasket? waterpump?) and dealer needed car for 2 days.
15-6-2018: If a Fiesta 1.0 Ecoboost has a degas pipe from the turbo to the coolant expansion tank with a black plastic union that looks like this: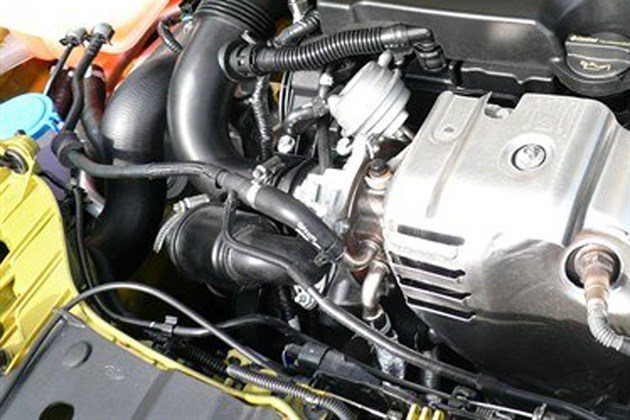 It needs to be replaced with one with a white nylon union that looks like this.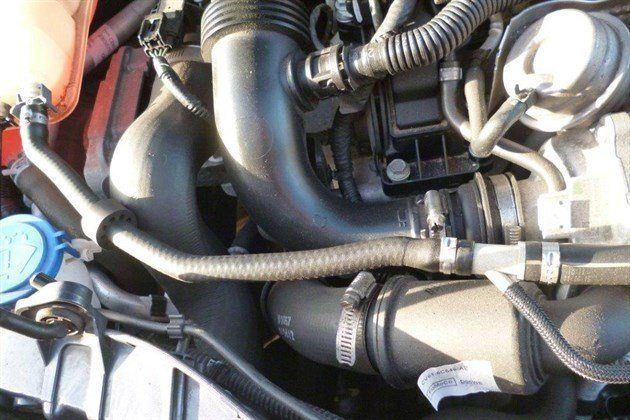 Otherwise the union in the pipe could fail, the engine could lose its coolant and the engine could then overheat and potentially destroy itself. Most EcoBoost engines have been fixed by Ford dealers when in for a service, but this was not a DLVA recall, so cars that were independently serviced may not have had the work done.
Below is the Production Modified (rather than Dealer Modified) degas pipe in later Ecoboost 1.0 engines. This one is on a 2016 Fiesta 1.0 EcoBoost 140 and has no union in the pipe itself: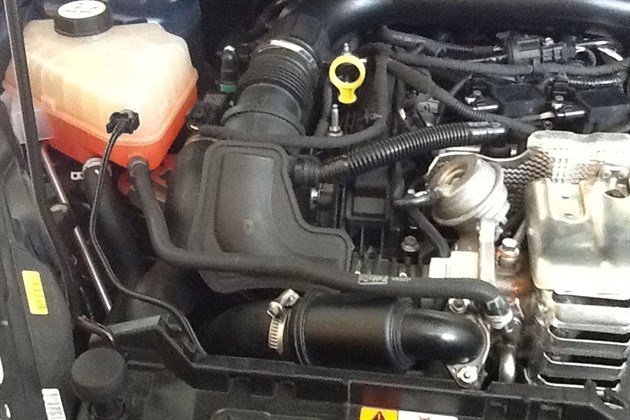 26-6-2018: Report of 2nd failure of clutch pack of Ford Fiesta 1.6 Powershift at 22.500 miles manifested by low speed judder on acceleration. Dealer reduced to price to £750, but no assistance from Ford, which point blank refused.
16-7-2018: Report of Powershift transmission of 12,000 mile 2014 Ford Fiesta 1.0 EcoBoost "starting to whine under acceleration and gives the feeling the clutch is slipping as the vehicle doesn't drive forwards as it used to. Local main dealer denies any knowledge of such problems and insists there has never been a recall issued for the car. Won't admit to any form of extended 5 year warranty as in other countries and refused to look at the car for 3 weeks due to "pressure of work".
4-8-2018: Report that used 2014 Ford Fiesta 1.0 Ecoboost, bought from Ford dealer, immediately needed (within 3 days) " clutch assembly, cylinder assembly, gasket and anti freeze, bolt hex h."
20-8-2018: Report of independently bought and serviced 2013 Ford Fiesta 1.0 EcoBoost suffering degas pipe failure and consequential cylinder head gasket failure.
27-8-2018: Report of rear coil spring failing on 2015 Ford Fiesta 1.0T EcoBoost 125 Titanium X 3dr, 4 months out of warranty. Dealer refuses to entertain a post warranty goodwill claim and wants £340, to replace both rear coil springs.
7-9-2018: Report of coolant leak from engine of 2016 Ford Fiesta 1.0 T EcoBoost 100 Start/Stop Zetec 5dr Hatchback.
7-9-2018: Report of 2015 Ford Fiesta at 41k miles failing MoT emissions test. Passed after significant work by local Ford Dealer who thought it would fail next year.
12-9-2018: Report of two 2016 Ford Fiesta 1.0 Ecoboost Powershifts both suffering shuddering when accelerating from standstill.
26-9-2018: Report of 2013 Ford Fiesta 1.0 Ecoboost, purchased in July 2017, suffering engine failure after 8 weeks. The Ford dealer replaced the engine. Now, 10 months later and 2 months out of dealer warranty, the engine has failed again and the dealer is refusing to replace it.
1-10-2018: Ford announced that it will be fitting new 1.0 Ecoboost engines to the 1,000 out-of-warranty Fiesta, Focus and Tourneo Connect models the company had previously refused to re-engine when the engines failed due to loss of coolant (some cars for a 2nd time). 600,000 1.0 EcoBoosts have been produced. 44,000 have had their turbo-to-expansion tank degas pipes replaced as a TSB 'service action'. But 2,000 suffered actual engine failure. Of these, 1,000 have had their engines replaced free of charge, but the other 1,000 had not. Ford rectified this situation on 1-10-2018. Ford's website carries details to encourage outstanding owners who have experienced an issue to get in touch ( https://www.ford.co.uk/owner/resources-and-support/faqs ). With any future cases, subject to being assessed and linked to potential 1.0-litre engine overheating, Ford will contribute 100% of the cost of repair at a Ford dealer. Furthermore, we will re-examine previous cases to ensure that this policy of a 100% contribution to the repair cost is applied consistently. UK owners should contact Ford by emailing mgrcrc@ford.com with vehicle registration number. It will take time to re-examine previous cases thoroughly, but Ford will respond to all correspondence.
19-10-2018: Report of transmission failure wanring light coming on in 2014 Ford Fiesta Ecoboost Powershift at 50,000 miles and the car suddenly was very jerky to drive. Owner ould not use reverse. He took the car to the Ford dealership and it needed a software reset. A few days ago, the warning light came on again. The Ford dealer had the car for a couple of days and thought they had cured the problem. Then, the next day, the same thing happened again: warning light, jerky, no reverse. Back to dealer then phone call from dealer: the whole gearbox needs replacing. Over £5,000. Owner has extended platinum warranty until December 2018, but apparently Ford will only pay £1,500 and he has to pay the rest. Ford will pay the rest and if it refuses can be compelled to.
4-11-2018: Report of ignition lock failing on 2015 Ford Fiesta just out of 3 year warranty. Replaced by local Ford dealer at owner's expense. Owner asked for controbution from Ford which Ford agreed to, but says he never received the money.
20-12-2018: Report of failure of dual mass flywheel of 2014 Ford Fiesta at 37,000 miles. Charged £900 to replace.
31-1-2019: Report of "nut coming loose" in turbo of 2013 Ford Fiesta 1.0L Ecoboost and destroying the turbo.
19-2-2019: Numerous problems reported with 2016 Ford Fiesta 1.0 EcoBoost: Slight kangarooing since new, new battery required after 18 months, oil leak detected on 3 year service so new head gasket required after 34 months, engine management sensor replaced a week after head gasket replaced.
22-2-2019: Report of 2016 Ford Fiesta 1.0 EcoBoost slipping out of reverse gear. Dealer told owner it was because the clutch pedal was being pressed too far down.
23-2-2019: Report of failure of clutch of September 2016 Ford Fiesta Zetec at 26,000 miles.
24-2-2019: Report of premature rusting at the bottom of the wheel arches of a 2013 Ford Fiesta ever since it was new. Ford blames stone damage chipping off the paint.
13-3-2019: Problem with severely out of date mapping in Fords's Sync 3 satnav (in this case in an April 2017 Kuga) fiinally cured by an update. If you visit https://www.ford.co.uk/owner/resources-and-support/sync-bluetooth/update#/status/ and enter your chassis number it tells you an update is required. It needs to be downloaded onto a USB stick and then loaded into the car.This takes a long time because the file is massive approx. (25GB). Enter chassis number bottom right, then it'll find map update required and click 'prepare maps download' and then take it from there. This afflicts all Sync 3 sat navs to date.
19-3-2019: Report of several issues with 2015 Ford Fiesta 1.0 Ecoboost now at 27,500 miles. A coil spring failed and both were replaced under warranty. Then warning came up: 'service engine now' with the orange spanner and a few hundred yards later the car went into 'limp' mode. Recovery came out, although they could start the car it was just shuddering and not driveable). Taken to local Ford dealer who diagnosed 'fuel pump internal error', covered under my extended warranty purchased from Ford Protect, but not the diagnosis that cost £114. Fuel pump replaced but after testing the technician noted it was popping fuses which he replaced and re-tested but it happened again. He thought it was probably a wiring issue which he then investigated and confirmed this was the case and fixed it (all covered under warranty apparently).
2-4-2019: Several reports of Ford Fiesta fan motors only working on the highest setting. This means the fan motor is faulty/wearing out. The car needs a new fan motor. It does not need some cleverdick messing around with the variable resistor that controls it or the car could catch fire.
10-5-2019: Report of failure of Powershift transmission of 22k mile 2014 Ford Fiesta bought used in October 2018. A high pitched whining started around 2 weeks previously. New transmission qupater at £4,500. Dealer and Ford both deny any kind of responsibility because more than 6 month since purchase.
19-7-2019: Report of failed rear axle bushes on 2015 Ford Fiesta at 26,000 miles. Quoted £320.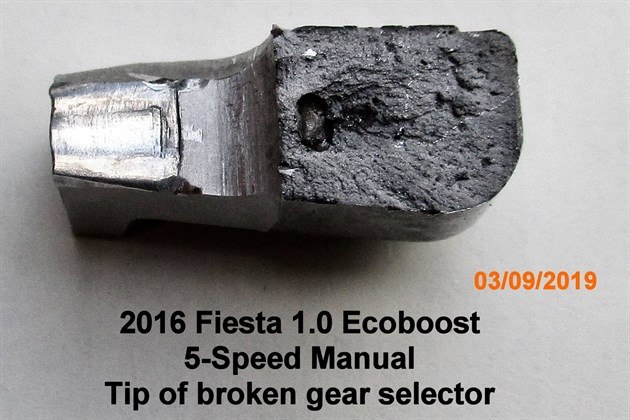 31-7-2019: Report of DMF/clutch/transmission failure in 2016 Ford Fiesta 1.0 EcoBoost IB5 manual at 42,000 miles. Would not change from 2nd to 3rd, then stuck in 4th. The clutch pedal now seems very light and the tactile feel of the clutch diaphragm spring going 'over-centre' can no longer be felt. The gear lever can be in the neutral position, but the car is still in 4th gear. The gear lever feels OK with the engine off and it appears to select all of the gears when the engine is off. This is not the case with the engine running. There are some mechanical noises coming from the 'bell-housing area' if attempts are made to drive the car forward. Owner later reported gear change cables and external linkages checked and OK. Not DMF failure because has a solid flywheel. Not concentric clutch slave cylinder leaking as no evidence of this. Box permanently stuck in 4th gear, but 1st and 2nd could be selected putting the box in two gears simultaneously but that locked up the gearbox. Owner diagnosed broken gear selector, which appears to be made of an aluminium alloy. It shows signs of defective manufacture with "a significant and conspicuous fatigue spall evident on the fracture face. The fracture face is crystalline in appearance, which indicates that hydrogen embrittlement may have contributed to the component failure." Cost of repair estimated at £3,179.49 comprising: new gearbox, flywheel, clutch assembly, concentric clutch slave cylinder, clutch thrust bearing, offside driveshaft. Ford Customer Care made a contributory offer that effectively covers 50% of the repair costs leaving the owner with a £1,585.74 bill towards the repair. After an independent report nby ACE Automotive Consulting Engineers, by December 2019 the Ford dealer paid the rest.
8-8-2019: Report of powertrain warning on the revcounter dial of 2015 Ford Fiesta 1.6 Powershift. Probably the dual clutch staring to fail.

15-8-2019: Report of warning message on dash of 6,000 mile 2016 Ford Fiesta 1.6 Powershift: "Transmission Fault book-in with Ford Service".
12-10-2019: Numerous problems reported with 45k mile Ford Fiesta 1.0 EcoBoost, bought from a car supermarket. After a short time the warning light came on and, after testing, it was decided it was the lamda sensor 1 (code poo36) and the car needed a new catalytic converter, spark plugs, air filter and sensor at a cost well in excess of £1000. Work done but, shortly after, the light came on again indicating a sooted lama sensor 2 (code p0032). This was then changed at a cost of £300. Immediately after returning home the warning light again came on yet again. It was taken back to the same garage and extensive checks were carried out which indicated that the mass airflow sensor had failed. This was replaced at a cost of £186. After driving less than 5 miles the warning light has come on again.
2-11-2019: Report of clutch of 2016 Foed Fiesta 1.0 EcoBoost lesting only 12,000 miles driven by an 80 year old, always on runs of 150 miles or more. Could be due to a failed concentric clutch slave cylinder.
27-11-2019: Report of dual mass flywheel failure on 2017 Ford Fiesta at 17,000 miles.
7-12-2019: Report of Ford Fiesta Powershift requiring 4 replacement brake pedal switches and one new clutch pack but garage cannot reprogram the system.
22-12-2019: Report of pinking of engine of 2015 Ford Fiesta 1.0 Ecoboost. Superunleaded and a fuel system cleaner did not help. Eventually traced to a dirty air filter that had not been changed by the Ford dealer in 40,000 miles of services. Air filter costs £17 and contains a sensor.
7-1-2020: Report of failure of Powershift dry clutch transmission of '64' reg Ford Fiesta at 21k miles. "Transmission malfunction, service now" appeared on dash. Ford dealer said fault with module and quoted £1,500.
81 complaints received since since July 2013. But should be seen in the context that the Fiesta is Britain's most popular car selling 10,000 a month so the number of complaints v/s sales needs to be taken into consideration.
Recalls
24-7-2013: TSB6370 New Fiesta / B-MAX - Start / Stop system not working as expected according to temperature control, EATC only. If a customer complains about the above concern the cause is most probably related to the Electronic Automatic Temperature Control (EATC) system. Within manual modes (manual blower or A/C off) the EATC logic inhibits the stop functionality of the Start/Stop system. A software update will become available to change this logic. Start/Stop should work if EATC is completely off, if not the root cause is something else. Start/Stop does currently not work with temp set to LO/HI or when the in-car temperature is higher than the set temperature on the EATC. Please inform the customer about the possible setting to get Start/ Stop working in warm weather (Temp Set to 20°C, Automatic mode on with A/C on).
We need your help with our latest Satisfaction Index, so that we can help others make a smarter car buying decision. What's it like to live with your car? Love it? Loath it? We want to know. Let us know about your car - it will only take a few minutes and you could be helping thousands of others.
Help us with the Honest John Satisfaction Index now