Audi A6 (2011–2018)
Model History
December 2010
New Audi A6 unveiled
All new technology-laden Audi A6 executive saloon employs aluminium and steel composite construction to minimise weight. Derived from A7 Sportback. Open for ordering in the UK in January 2011, priced from £30,145 OTR (including 20% VAT) - first customer deliveries in spring 2011
4,920mm long, 1,870mm wide, 1,460mm high.
Composite aluminium and steel construction means 2.0 TDI model weighs just 1,575kg, 15% less than an all-steel equivalent. Exterior panels are 20% aluminium. Choice of four efficient engines at launch – one petrol and three diesel – teamed with manual, multitronic or S tronic transmissions. Multitronic CVT or manual for front-wheel drive, and S tronic twin clutch for quattro models
A6 2.0 TDI (177PS) manual is the most efficient derivative – 0-62mph in 8.7 seconds, top speed 142mph, emits 129g/km CO2 and certified at 57mpg combined. Options include head-up display, Bluetooth internet connection, 1,200-watt Bang & Olufsen Advanced Sound System and MMI touch with 3D graphics chip. A6 hybrid model to become available.
The 2.0-litre TDI 177PS, 3.0-litre TDI 204PS, 3.0-litre TDI 245PS and 3.0-litre TFSI 300PS units all make use of advanced direct injection technology for the leanest possible fuel burn rate, and work in conjunction with important technologies from the brand's modular efficiency platform – the start-stop system, the energy recovery system and the innovative thermal management concept. As a result, fuel economy has improved by up to 19 per cent compared to the previous A6.
A6 hybrid will combine a 2.0-litre TFSI petrol engine with an electric motor will be capable of zero emission urban driving and up to 45.6mpg, yet will also have 245PS on tap for strong performance.
The quattro permanent all-wheel drive system fitted to the new A6 Saloon is the latest incarnation, with a crown gear centre differential and a torque-vectoring function for the ultimate in traction, stability and dynamic response. For the top-of-the-line engines, the quattro sport differential that has already won acclaim in performance cars such as the S4 will also be offered as an option.
New energy efficient electromechanical power steering, in conjunction with lightweight aluminium suspension. Standard fit Audi drive select adaptive dynamics system will allow drivers to fine-tune the car's responses as desired via the MMI screen, and in front-wheel-drive models the latest Electronic Stability Programme with electronic limited slip differential will imperceptibly boost agility and subtly maintain order during challenging driving.
More refined ride than previous A6. Option of adaptive air suspension with controlled damping. Cocooning 'wraparound' dash panel and much roomier back seat than prefvious A6. Now a full 5 seater. Supportive seats upholstered as standard in Milano leather position occupants perfectly in relation to the cabin's focal point, the Multi Media Interface with its 6.5-inch retractable monitor and large central control knob. MMI provides easy and intuitive access to the high quality audio system, the Bluetooth phone interface and the SD card-based navigation system is standard in the new Audi A6.
8-inch monitor and fingertip sensitive touch pad are available to upgrade MMI to MMI Touch. The system's touch pad enables characters to be 'drawn' by the driver using an index finger for navigation or telephone data entry. As well as intelligent 3D navigation mapping, the new MMI Touch system can store audio tracks and telephone data on its sizeable hard disk.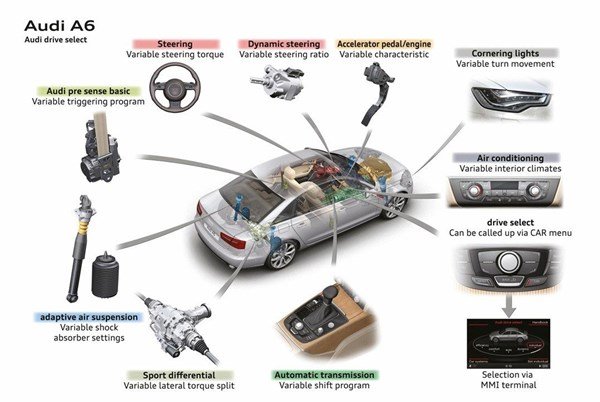 Online services including news and weather information supplied by Google will also be accessible if the Mobile Telephone Preparation High option is specified. This option will enable drivers to plot detailed routes on a home computer and download them to the navigation system when they start a trip. Google Earth images will also be beamed via the car's internal UMTS module to the MMI monitor for navigation purposes. Through its wireless local area network link passengers will also be able to connect to the internet using their own computers. It requires either a SIM card fitted to the system which then disables the driver's Bluetooth hands free connection to his own mobile, or requires pairing with the driver's mobile. The signals are not free.
MMI navigation plus will be able to work closely with the optional assistance and safety systems in the new A6. It can forward route data to the control units for the headlights, the automatic transmission and the adaptive cruise control with stop & go function. This will enable these systems to recognise complex scenarios and assist the driver. The Audi pre-sense basic system first seen in the new A8 will also provide further safety back-up by analysing the information from the ESP sensors and intervening to activate the hazard warning lights, close the side windows and sunroof and tension the seatbelts when maximum brake application or skidding is detected. The pre-sense system is expandable in various stages: the full version brakes the car automatically in order to minimise the consequences of a nose-to-tail collision.
Optional driver aids will also include a night vision assistant employing a thermal imaging camera to highlight 'warm-blooded' road users in front of the car, a head-up display projecting key information onto the windscreen so that it appears to float about 2.5 metres ahead and a park assist system which automatically takes care of the steering function for the driver when manoeuvring into parallel or perpendicular parking spaces. More familiar options such as the Audi side assist blind spot warning system and the Audi lane assist lane departure detection system will also be available.
The new Audi A6 Saloon – UK OTR pricing
A6 2.0 TDI SE manual six-speed, 177PS £30,145 OTR
A6 3.0 TDI quattro SE S tronic seven-speed, 245PS £39,110 OTR
A6 3.0 TFSI quattro SE S tronic seven-speed, 300PS £39,290 OTR
A6 2.0 TDI S line manual six-speed, 177PS £32,495 OTR
A6 3.0 TDI quattro S line S tronic seven-speed, 245PS £41,460 OTR
A6 3.0 TFSI quattro S line S tronic seven-speed, 300PS £41,640 OTR
February 2011
Highly-efficient all-LED headlights use just 40 Watts of power each, are maintenance free and long-lived. All-LED headlights are optional on the new A6 Saloon and include main headlights that have cornering light, all-weather light and highway light configurations, indicators, and daytime running lights.
January 2012
New 313PS Biturbo TDI engine is now available for A6 Saloon and Avant models. The new twin-turbo V6 is notable not only for being the most powerful six-cylinder diesel engine ever offered by the Vorsprung durch Technik brand, but also the sweetest-sounding. Available now in A6 models priced from £43,810 OTR, and from £51,645 OTR in the A7 Sportback, it combines trademark Audi TDI refinement with an exhaust-mounted sound actuator that enables it to deliver its mighty 650Nm output to the tune of a distinctly sporting soundtrack.
Slotting in above the single-turbo 204PS and 245PS versions of the 3.0 TDI that already feature in the A6 and A7 Sportback ranges, the latest V6 has a two-stage turbocharger group that delivers a maximum boost pressure of up to 3.2 bar, helping the A6 3.0 BiTDI quattro Saloon to lunge at the horizon and pass the 62mph marker in as little as 5.1 seconds, and the A6 Avant and A7 Sportback to do the same in just 5.3 seconds. An electronically limited top speed of 155mph is common to all versions.
Like the existing TDI engines, the new star performer is backed up by technologies from the Audi modular efficiency platform, including start-stop and recuperation systems and the innovative thermal management system that quickly brings the coolant and oil up to their operating temperatures. With their help, combined economy in A6 and A7 Sportback models is on an equal footing at 44.1mpg – an impressive figure given the high outputs and low acceleration times involved.
Thanks to an innovative actuator in the auxiliary channel of the exhaust system, the BiTDI A6 and A7 Sportback models don't sound like they should be capable of such level-headed economy figures. The actuator system essentially consists of a speaker which imposes a defined oscillation pattern on the exhaust flow and transforms the typical TDI exhaust note into a more sonorous roar that is closer to the output of a high-performance petrol engine.
Without exception, power is transmitted from the BiTDI engine via an eight-speed tiptronic transmission to the latest generation quattro all-wheel-drive system, which features a self-locking centre differential and torque vectoring for optimum traction and stability. A sport differential which distributes power in continuously variable proportions between the rear wheels is available from the options list to sharpen and quicken response even further.
The mighty new BiTDI engine is available in conjunction with SE and S line specification in the A6 Saloon, A6 Avant and A7 Sportback. The forthcoming A6 allroad quattro, due to open for order in February, will also offer this exceptional unit.
Stand-out features common to all these models include satellite navigation linked to a 6.5-inch retractable colour monitor, Milano leather upholstery, the Audi drive select adaptive dynamics system controlling throttle response, transmission shift points and steering feel, the Audi parking system plus, light and rain sensors, cruise control and keyless go push-button engine ignition.
| | | | | | | |
| --- | --- | --- | --- | --- | --- | --- |
| MODEL | TRIM | PS | TRANSMISSION | CO 2 (g/km) | ECONOMY mpg (Combined) | OTR |
| A6 Saloon 3.0 BiTDI quattro | SE | 313 | 8 sp Tiptronic | 169 | 44.1 | £43,810 |
| A6 Saloon 3.0 BiTDI quattro | S line | 313 | 8 sp Tiptronic | 169 | 44.1 | £46,160 |
| A6 Avant 3.0 BiTDI quattro | SE | 313 | 8 sp Tiptronic | 169 | 44.1 | £45,650 |
| A6 Avant 3.0 BiTDI quattro | S line | 313 | 8 sp Tiptronic | 169 | 44.1 | £48,000 |
November 2012
Black Edition A6 introduced
Priced from £35,010 OTR to £49,185 OTR, Black Edition distinguishing features start from the ground up with rotor-design 20-inch alloy wheels with a dark titanium finish. These fill their arches in the A6 helped by lowered sports suspension which is a standard feature of the S line models on which the new specification is based.
There's a black finish for the grille and number plate surrounds and the window frame strips, and by privacy glass extending from the B-pillar rearwards. Inside, the scene is set by distinctive Piano Black inlays which complement the sports seats upholstered in black Valcona leather and the black headlining. The S line equipment list is also expanded by a BOSE surround sound system, DAB digital radio and the Audi Music Interface (AMI) for iPod connection.
The new Black Edition specification is an ideal accompaniment to the formidable 3.0-litre BiTDI unit with its 313PS and 650Nm of torque. It's also available the 177PS 2.0-litre TDI upwards and with either front-wheel-drive or quattro all-wheel-drive.
October 2013
A6 3.0 TDI quattro 204PS launched
Prices from £38,385 OTR and 0 to 62mph in seven seconds (7.2 seconds in the Avant). Benefits from a torque boost over its eight-speed multitronic transmission-equipped, front-wheel-drive equivalent, from 400Nm to 450Nm. Top speeds are 149mph for both Saloon options, and 143mph for both Avants.
Three V6 TDI options The new 204 PS V6 TDI quattro is one of three powerful V6 TDI engines in the A6 range to feature the crown gear centre differential-based version of the quattro all-wheel-drive system. The more powerful 3.0 V6 TDI engine with 245 PS and the top of the range 313 PS V6 BiTDI are linked to this system exclusively.
Prices for the new 204PS A6 3.0 TDI quattro models start from £38,385 for the A6 Saloon 3.0 TDI quattro SE, increasing to £44,945 for the lavishly equipped, S line-based A6 Avant 3.0 TDI quattro Black Edition.
February 2014
A6 TDI ultra introduced
A new range of Audi 'ultra' models focusing more intensively than ever before on class-leading economy and company car viability will be spearheaded in the UK by the new A6 ultra, which is available to order priced from £32,515 OTR.
Power for the Saloon and Avant-based A6 TDI ultra variants is provided by a new 2.0-litre diesel engine that supersedes the existing 177PS unit and complies with forthcoming EU6 emissions regulations. Power increases to 190PS and torque from 380Nm to 400Nm, the latter available over a wider spread from 1,750 to 3,000rpm.
At launch in the UK the new unit is linked exclusively to a completely redesigned seven-speed S tronic twin-clutch transmission, which replaces the eight-speed multitronic CVT in four-cylinder models. Advances in the new transmission include further minimised internal friction, highly efficient oil supply and a centrifugal pendulum-type absorber that counteracts undesirable vibrations and allows low-noise driving at very low engine speeds. Later in 2014, manual transmission versions will also become available.
Combined economy and emissions in the new A6 2.0 TDI ultra with the seven-speed S tronic transmission show the most impressive improvement, with up to 64.2mpg delivered along with CO2output of just 114g/km (2.0 TDI 177PS multitronic 56.5mpg, 132g/km).
Uniquely for a conventionally powered car in the premium sector – it has been achieved without need for any restriction on equipment. Like all A6 engines the new 190PS 2.0 TDI ultra unit can be paired with SE, S line and Black Edition specification, meaning its improved performance can be enjoyed along with alloy wheels of up to 20 inches in diameter, with the popular S line body styling additions and with every other infotainment feature, driver aid and comfort-enhancing option available for the rest of the range.
Subtle 'ultra' badging at the rear will mark out the most efficiency-focused A6 models, all of which will share the core A6 specification common to the range as a whole. This includes full leather upholstery, the MMI Radio Plus with 6.5-inch retractable colour display and DAB digital radio, SD card-based satellite navigation, light and rain sensors, cruise control, keyless go and the Audi parking system plus with acoustic and visual guidance.
September 2014
Audi A6 range revised
Orders taken September 2014 for delivery late 2014. Prices from £32,000.
Enhancements include: Styling revisions, xenon headlamps as standard for SE versions, LED headlights as standard for S line,Matrix LED lights optional for A6 and S6 and standard for RS 6 Avant; Interior decor improvements and upgraded infotainment system; EU6-compliant engine range benefits from emissions reductions of up to 22 per cent; Line-up includes 2.0 TDI ultra offering up to 64mpg with CO2 of as little as 114g/km; New S tronic twin-clutch transmission replaces multitronic CVT in front-wheel-drive variants.
There are upgraded infotainment options, which include new versions of the MMI navigation plus and Audi connect elements. Based around an eight-inch retractable colour monitor, MMI navigation plus is available as an alternative to the standard navigation system. It now uses a more powerful Tegra 30 graphics processor from Audi's partner Nvidia, and includes MMI touch, which enables the driver to scroll and zoom in lists and maps via a touchpad. Audi connect now brings tailored Internet-based services and new media streaming apps to the car via the latest LTE high‑speed data transmission standard for ultra-fast 4G click-through and download functionality.
Audi phone box option is also now available - it enables occupants to connect their mobile phones to the car's antenna for improved reception simply by placing them in the phone box compartment.
In the UK the engine line-up for the updated A6 and A6 Avant comprises four TDI engines with either four or six cylinders and either single or twin turbo charging. All engines comply with the limits of the Euro 6 emission standard, and their CO2emissions have been reduced by as much as 22 percent. As before, the most efficient engine - the 2.0-litre TDI four-cylinder with 190PS - is reserved for Ultra versions of the saloon and Avant which combine strong performance, hushed refinement and the potential to return up to 60mpg with CO2 output from as little as 114g/km. Despite its sports styling, 18-inch alloy wheels and extensive specification, even the A6 2.0 TDI ultra S line Saloon with S tronic transmission achieves these exceptional economy and emissions figures.
The trio of 3.0-litre six-cylinder TDI 'clean diesel' units starts with a single-turbo V6 with 218PS which replaces the existing 204PS version, and is followed by a 272PS variant, also with a single charger, which takes over from the outgoing 245PS unit. At the top of the range, the 3.0 TDI clean diesel biturbo produces 320PS, an increase of 7PS over its existing equivalent.
The high‑performance diesel is paired with an eight‑speed tiptronic automatic transmission. All other engine variants are linked to either a newly designed six‑speed manual gearbox that is particularly lightweight and low-friction, or a seven‑speed S tronic twin-clutch transmission. In the versions with front-wheel drive, a fully redeveloped dual-clutch transmission replaces the familiar eight-speed multitronic continuously variable transmission.
Quattro all-wheel-drive is available in conjunction with all engines bar the 2.0-litre TDI, and in versions with 272PS and above, the quattro permanent all‑wheel drive system can be supplemented with the sport differential, which actively distributes power between the rear wheels.
Sports suspension lowered by 20mm is standard for the A6 S line and optional for the SE model, and the former can be rooted to the tarmac even more firmly by S line sports suspension which lowers the body by a further 10mm. Alternatively, the cushioned comfort of electronically controlled adaptive air suspension is available in conjunction with both specification options. The Audi drive select dynamic handling system is standard.
What does a Audi A6 (2011 – 2018) cost?
List Price from
£40,395
Buy new from

£31,177

Contract hire from

£329.38

per month
Buy a used Audi A6 from £12,098