Gaining practical winter driving experience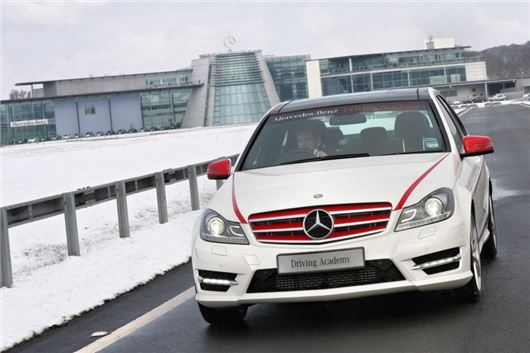 Published 16 December 2013
As cold weather starts in earnest you'll start to see a nonstop stream of tips and pieces of advice from motoring organisations about how to drive in snow, ice, fog or rain. You'll also get instructions from garages to have fluids checked, batteries overhauled and winter tyres fitted – and that's all perfectly fine.
However, should you end up in a position where you have to drive in less than perfect conditions the theory can only do so much – if you hit a patch of black ice or find yourself on an unsalted road you'll probably quickly forget what you've read and instead run on instinct. That's not often the best thing to do when behind the wheel.
What you really need to be safe in poor conditions is experience – but rather than go out into a slippery car park in your own car you can go to a place with the correct facilities to be taught precisely what to expect in poor conditions, and how to react properly. You'll also learn how the safety systems in your car can really make a difference – and you'll have a lot of fun. We went to Mercedes-Benz world for a winter driving experience.
There are several cars to choose from, with manual or automatic transmissions along with front-, rear- or even all-wheel drive, so you can best replicate your own car. It all starts simply enough, with a bit of slow-speed driving on a narrow circuit, but even here the driving instructor will help improve your skills, making sure you look far ahead and grip the wheel properly.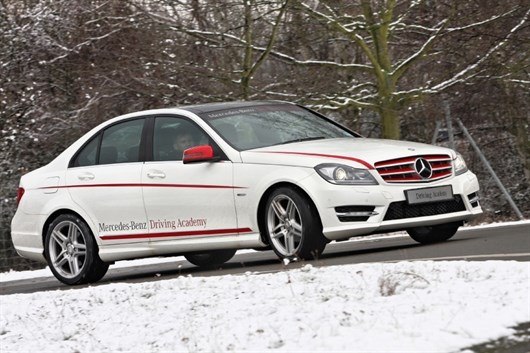 Some drivers will say that shuffling the wheel is better and others will swear it's perfectly fine to cross your arms over when going through tight corners. Our winter driving instructor's advice? Shuffle the wheel – if your forearms are crossed over the front of the steering wheel and the airbag goes off they can be seriously injured. In ice and snow there's a higher chance of that happening!
Next there's a lesson on braking, with advice structured to suit your driving style. You'll learn how anti-lock brakes work and how they feel when they're working, plus you'll be taught to trust the car to steer even under heavy braking. This lesson is replicated on regular tarmac and on simulated ice. It quickly becomes clear that delicacy is the key to safe braking in poor conditions – a skill that will become useful on the wet circle.
The wet circle simulates the effect of driving on a sheet of black ice, and it's the most useful and eye-opening segment of the hour-long experience. You'll learn precisely what happens when you hit a patch of ice suddenly, or when you brake or accelerate suddenly on a slippery surface. What's more is that the circle simulates a very, very slippery surface, so if you can master driving on it then you ought to be far safer on snow or slush, and even on patchy ice.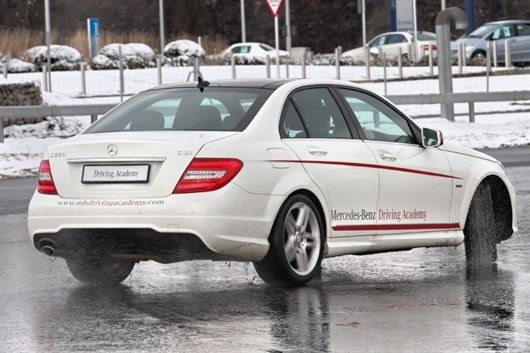 Aside from all the practical training the instructor gives advice on how to keep tailgaters from crashing into the back of you in poor weather, as well as how to keep a car at its very best. For someone who can't avoid driving in poor weather it's an incredibly worthwhile experience worth every bit as much as a set of winter tyres or a car health check.
It costs £99, which is reasonable value considering the skills that can be learned. It'll help you understand the way a car behaves when it loses traction and it'll give you the confidence to trust modern systems to sort out problems. It'll also make you laugh and smile... Mercedes-Benz World also offers the experience on corporate package for company car drivers.  
Comments
Author

John Slavin
Latest