Skoda Roomster 2006 Road Test
Sun, 03 Dec 2006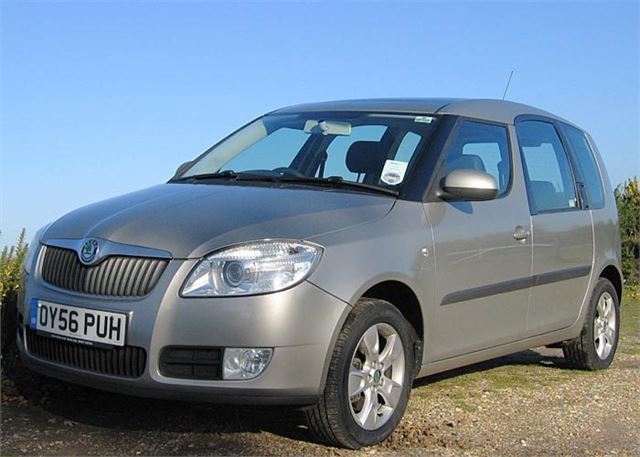 When you first look at the Skoda Roomster you think it's going to be another Berlingo. A very good combi-van utility-car kind of thing, yet still basically a van. Get behind the wheel, though, and it doesn't feel like that at all.

Admittedly, my test car had the 'small leather kit', which included a leather-covered steering wheel. Something you don't expect to find in a van. But the wheel also has a full range of height and reach adjustment, and so does the seat. So you think you are in a standard VAG group car.

Start the engine (the best and most obvious choice is the 105PS 1.9 TDI PD) and it's also as quiet and amiable as the same engine in a car. No big hole in the torque delivery then a sudden rush at 1,700rpm. This gently provides its modest but adequate power without any unpleasantness. It steers, corners, rides potholes and speedhumps just like a well-sorted mid-size estate car.

It isn't as big inside as you think it's going to be, though. Its 450-530 litre boot and total luggage capacity of 1,780 litres compares unfavourably with the Berlingo's 624 litres and 2,800 litres. And even less favourably with the Doblo's 750 litres and 3,000 litres. Not only that, though the outer two rear seats slide and fold separately, the centre rear seat is narrower and doesn't slide. You could not fit three child seats across the back. However, all three rear seats are separately removable, and are set slightly higher than the fronts to give rear passengers a decent forward view. The centre backrest folds down to become an armrest-cum-cupholder. And at the back, as well as stowage compartments, there are plastic clip rings to keep loose items in check.

Instead of sliding, the rear side doors open conventionally, but do have very easy to use door handles, set vertically at exactly the right height.

The instruments are neat and everything on the dash falls easily to hand so there is no need for steering wheel radio controls. But, like the Fabia, the fascia has all the character and interest of a coalface. The benefit is it doesn't reflect in the screen at all.

There's a heavy, oily precision about the major controls. The steering wheel feels connected to the front wheels by steel rather than electronics. The gearshift is baulk-free and extremely positive. And the handbrake feels like a lever that could move the world.

I suppose underneath must lurk the floorpan of a VW Caddy. It has a long wheelbase of 2,617mm and, unlike the Caddy, semi-independent twist-beam, coil sprung rear suspension

It's hard to make a practical case for the Roomster because it simply can't carry as many child seats and as much stuff as a Berlingo or a Doblo and it's more expensive. But it's beautifully built of what look like high quality, hard-wearing materials. It drives very pleasantly. It grips and handles brilliantly. It's comfortable. It's mild mannered There's nothing irritating about the way it drives. And its characterful looks grow on you.

You'd better get used to them. Because the Roomster has the new corporate 'face' of Skoda and the new Fabia will look exactly like it.

By the end of my 10 days living with it I'd grown to like it a lot. It was a painless and unexpectedly pleasant experience. It's more practical and at least as good to drive as any small estate. The driver of a be-spoilered, be-snouted mid-engined Renault Clio V6 got a shock when the Roomster outhandled him round a roundabout, then slipped past the traffic on the next one while he huffed and puffed up its chuff, gobbling fuel at a prodigious rate against the Skoda's creditable 47mpg.

Perhaps the way to think is whereas Berlingos, Partners, Kangoos and Doblos are a good vans converted into cars, the Roomster is a good car that just happens to look like a van.