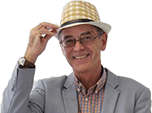 Renault Megane CC 2006 Road Test
Thu, 18 May 2006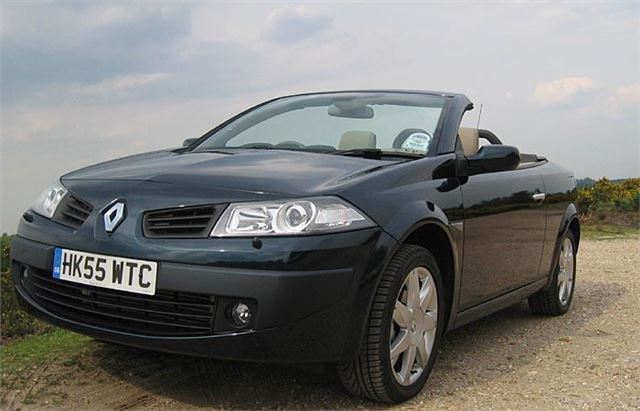 I linked to the Renault Megane CC tested here in my test of the Peugeot 307CC so thought I better return the favour.
Who would want to be a mainstream car manufacturer right now?

You can't just run off a million identikit Cortinas every year and expect people to buy them.

These days the punters want to be different. They want niche cars. So, like Polyfilla, you have to offer something to fill every single niche.

Hence the current compulsion to saw the roofs off every saloon and hatchback there is, then fit some electric motors to it so it stows away in the boot at the touch of a button.

Just like the 1958 Ford Fairlane Skyliner.

In attempting this feat, manufacturers have had mixed success.

Some roofs split into three parts and, with much whirring of motors and tensioning of cables, eventually disappear into a boot the size of an elephant's bum.

Making the car look like a cross between an elegant coupe and a 25 stone builder.

They're all at it: Mercedes, Peugeot, Ford, Volvo, Vauxhall, Daihatsu, Lexus, Volkswagen, Nissan, Mitsubishiand achieving various degrees of success.

But the first time I put the roof down on the Renault Megane CC I realised Renault had cracked it. This two-piece top is incredibly simple. Instead of cables and wires all over the place the mechanism is simpler than the average sports car soft top.

The second time I realised Renault were the runaway winners. I had returned to the car to find an elderly neighbour admiring it. He was nonplussed to see how I opened the door without appearing to unlock it. Then knocked off his feet to watch the roof of the elegant hard top coupe that had attracted his attention magically disappear into its elegant rump.

I was privileged with the top model (the 'Privilege') and it looked really good in dark blue metallic with creamy beige leather interior. It cruised quite well at a relaxed 30mph per 1,000rpm in 6th with no more wind noise than you'd expect from a pillarless hardtop, let alone one that doffs its top at the touch of a button. It does crash a bit in potholes and you can actually feel it doing a Chubby Checker impression over speed humps. But you expect that sort of thing from a four-seater convertible with no pretension of being a sports car.

I actually thought it handled a lot better than I remember a Megane Sport Tourer having done a few years ago. And with the 165PS Turbo it goes well too. This is one of those nice low-pressure turbos that make petrol engines feel both powerful and flexible without suddenly flinging you and the car ten feet in front of yours stomach.

So I liked it. I wouldn't pay more than £20,000 for it, though. I'd expect a decent discount. But I would seriously consider the turbo over the other petrol models because it's such a nice engine to drive.