Porsche Cayman R 2011 Road Test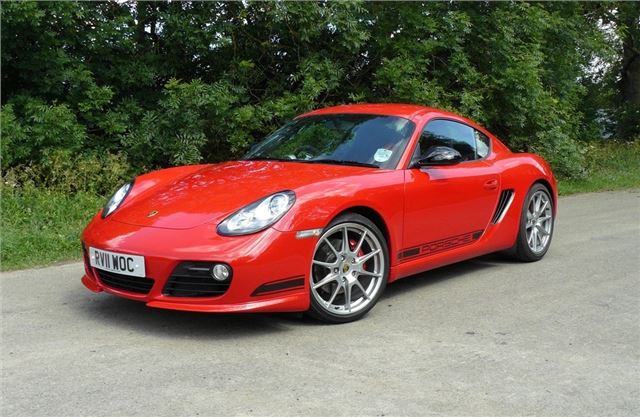 Traditionalists will tell you that the 911 is the 'real' Porsche. The iconic rear-engined classic has remained pretty much unchanged in terms of looks since it came along in the early 1960s, inspiring - in one way or another - everything Porsche has designed since. Including the Cayman. The smaller coupe was launched in 2005 as a more affordable, yet equally as enjoyable sports car.
But here's the big secret. The Cayman is actually the better car. The mid-engined layout gives it better balance than the 911, so for the uninitiated it's a far more forgiving and less intimidating car to drive. The Cayman flatters where the 911 can slap you in the face. And now Porsche has come up with the ultimate model in the line-up - the Cayman R.
Porsche has taken the Cayman and stripped it back, in a similar way to the Boxster Spyder, to produce a car designed purely for driving dynamics. As a result it's 55kg lighter than a Cayman S - helped by the removal of the air conditioning and stereo (although you'll be pleased to know that you can at least have the latter fitted as no-cost options), plus there's a smaller fuel tank and aluminium doors like the 911 Turbo.
This lighter weight is combined with more power. The Cayman R uses the same 3.4-litre direct fuel injected flat-six engine as the Cayman S but it's been tuned to produce an extra 10hp - giving it 330hp - although unlike the Boxster Spyder, it doesn't have any extra torque. Not that it particularly needs it. From a standing start it will hit 62mph in just 5.0 seconds while if you opt for the PDK gearbox and Sport Chrono pack, it manages it in an even more impressive 4.7 seconds.
Maximum power comes in right at the top of the rev range at 7400rpm (maximum revs are 7500rpm), so you're able to fully exploit the engine and it still has more in reserve. There's no danger of the power dropping off, instead the Cayman R just gets better the harder you work it, helped by plenty of torque with 370Nm at 4750rpm.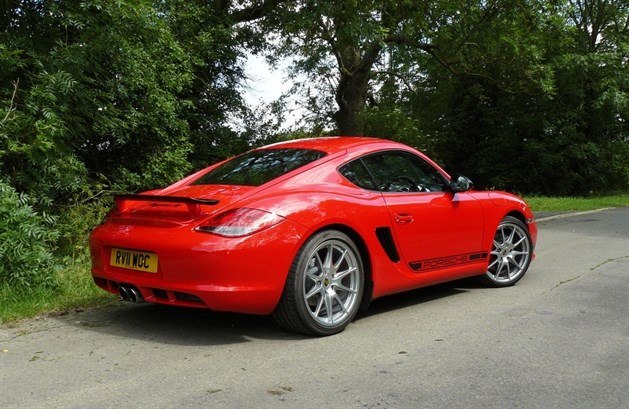 The sharp and positive manual gearbox is undoubtedly more enjoyable to use (a short shifter is available as an option) but the seven-speed PDK gearbox is a good alternative. The twin-clutch system has been specifically tuned for the R, reacting even more quickly when you put your foot on the accelerator while downshifts are more spontaneous and carried out at higher engine speeds.
The PDK is smooth and effortless in standard model, but put it in 'manual' and press the 'Sport Plus' button (if you have the Sport Chrono pack) and you're rewarded with enjoyably aggressive changes which feel more in tune with the performance-focussed Cayman R. It also comes with metal paddle shifts on the steering wheel for changing gear manually.
The suspension is lower by 20mm, helping the lower centre of gravity and the R gets special lighter 19-inch alloy wheels (first seen in the Boxster Spyder). Not surprisingly the ride is firm, noticeably firmer than a Cayman S, plus it feels very busy on poor quality road surfaces where it struggles to iron out bumps. It's not uncomfortable though and you have to remember that this is a Cayman designed for driving pleasure, not comfort.
And when it comes to pure driving enjoyment, the Cayman R excels. It has the same incredibly responsive and precise steering as the Cayman with just as much feedback from the front wheels. There's no electro-mechanical steering here - it's a good old rack and pinion system which means you always feel connected to what the car is doing.
Porsche has fitted shorter, more rigid springs and customised anti-roll bars on the front and rear axles. In corners it's simply superb with epic amounts of grip at both the front and back, while the relatively long wheelbase means it's very stable and predictable when accelerating out of slow bends. The R also has a rear axle differential lock which helps with traction and stability, especially through winding routes and on circuits. Stopping power is immense too thanks to perforated and internally ventilated brake discs.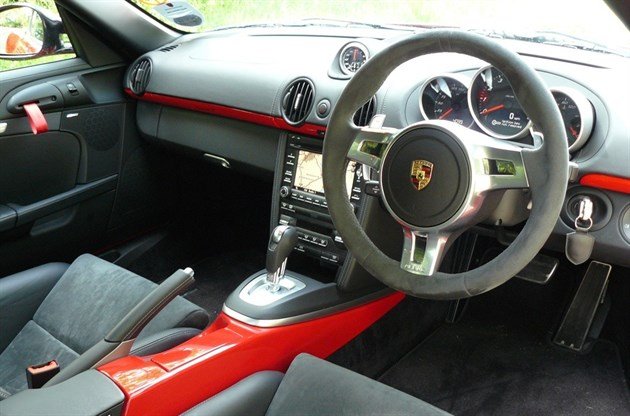 This Cayman is incredibly rewarding to drive yet forgiving at the same time, so you don't have to be God's gift to motoring to get the best from it. It effortlessly flows from bend to bend with that lovely flat-six engine noise and deep exhaust providing a suitable soundtrack. A sports exhaust is available as an option and although it's not cheap at almost £1500, it does make the Cayman R sound even better, with a lovely deep resonance at start-up, a loud howl under full acceleration.
But while this is driver focussed Cayman, that's not to say it's a 'stripped out' racer. True, it does without some of the comforts such as air con and cupholders above the glovebox while instead of door handles there are fabric strips, but it's still a great cabin, with the extra-light sports bucket seats a real highlight. Finished in Alcantara they don't offer much in the way of adjustment - in fact all they do is slide forward and back - but they're so well designed you immediately feel perfectly position behind the wheel.
And don't let appearances fool you. The seats may look quite hardcore but are surprisingly comfortable with good support, so that even after long driving stints, you don't ache. However, if you really don't fancy them, standard sports seats are available as a no cost option. The Cayman R also has the central console and strip across the dash painted in the exterior paint colour (reminiscent of the Fiat Coupe) to help it stand out from the standard Cayman range. Oh - and there are no door pockets either.
From the outside, the Cayman R is distinguished by the Aerokit sports styling with a fixed rear spoiler in black along with black-framed halogen headlights, contrasting side mirrors and Porsche side-stripes on the doors. A nice retro look that definitely works on the Cayman.
It may be more expensive than a Cayman S and yes, it does come with less standard equipment, but the Cayman R is all about emotion. It's such a delight to drive that it makes you realise that the best sports cars keep things simple. It's not laden down with turbochargers and there's no technology for the sake of it. Instead Porsche has produced a wonderfully honed driver's car. It's certainly the purists Cayman.