Porsche Boxster 2012 Road Test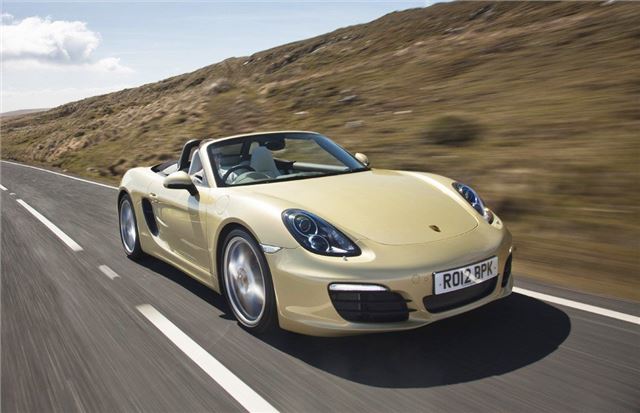 Think Porsche and you more than likely think of the iconic 911. But the fact remains that if it wasn't for the Boxster, first launched in 1996, Porsche probably wouldn't exist in the shape it does today. The Boxster is the car that brought the famous German brand to a much wider audience and since then the company has gone from strength to strength.
This is now the third generation of the open top sports car and although it doesn't look hugely different than its predecessor there are some key differences. Compared to the 911, Porsche is able to take a few more liberties with the styling of the Boxster and this all new model gets a sharper and more aggressive look than before. Key design features include more pronounced side air intakes and larger alloy wheels - 18-inch on the Boxster and 19-inch on the Boxster S - as standard.
It's a great a looking car, especially when viewed from the back with that prominent edge that runs across the back between the rear lights. This also houses the neat pop-up spoiler. But it's the interior where this Boxster is most notably different. It's been completely redesigned and echoes the Panamera and latest 911 with a high central console and a quality seven-inch touchscreen to control the stereo and sat nav. There are plenty of buttons, there's no BMW-style iDrive controller here, but it's easy to work out what everything does.
The Boxster now gets an electric parking brake too, which frees up space, while the overall quality along with the fit and finish have been even further improved from the high standards of the previous Boxster. There are also changes to the electric hood. As before it's a fabric roof which means it is light weight, but there's no longer a handle to undo before you retract it. And putting it down takes just nine seconds (which can be done at up to 30mph) with a very smooth mechanism.
With the roof up, which in the UK is how it will spend the majority of its time, there's less noise than before thanks to a new layer of Thinsulate - the thermal fabric used in outdoor clothing. In fact according to Porsche sound levels have been cut by half. With the roof down it is quite blustery, more so than a BMW Z4 for example, but this only adds to the sports car feel.
The new Boxster gets a traditional Porsche flat-six engine which produces that unique sound and feel. The standard Boxster has a new 2.7-litre engine replacing the 2.9-litre in the previous model, It may be smaller but power is actually increased to 265PS - an extra 10PS - while both economy and performance improve.
But it's the Boxster S which is the real star. It uses the same 3.4-litre engine as before but it's been further improved. Power is up from 310PS to 315PS while 0-62mph now takes just 5.1 seconds. Yet economy is also better, improving from 29.7mpg to 32.1mpg. While the Boxster is quick, the Boxster S takes things into a different league. The engine is incredibly responsive, remember there are no turbochargers here, while it's amazingly rapid from pretty much any speed.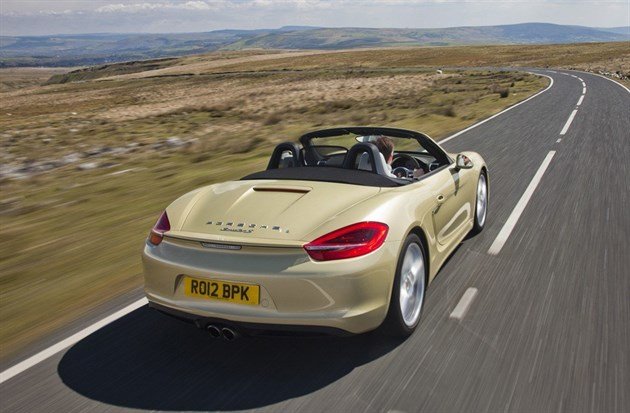 But of course the big question is, what is it like to drive? Well the answer is simply one word - exceptional. Porsche has always been a cut above other sports cars when it comes to handling and the new Boxster continues this tradition. It may be an 'entry-level' model in the Porsche range but it feels just as special as the more expensive 911.
The fact it's mid engined means it's superbly balanced and it corners with superb reassurance. There's immense grip while it rarely struggles for traction either. It's very forgiving too and feels less intimidating than the rear-engined 911, giving you plenty of confidence to drive it quickly. And at the same time putting a huge smile on your face.
This new Boxster is not only longer and lower than before, it also has a longer wheelbase. This means more space inside but more crucially, improved handling and stability. Thanks to the extensive use of lightweight materials such as an aluminium bonnet and doors it's around 35kg lighter but also 40 per cent stiffer which helps the ride quality.
It comes with a new electro-mechanical steering system and often the introduction of these systems means a big drop in steering feel, but there are no such problems with the Boxster. It's as responsive as ever with plenty of feedback and great presicion in corners. To further enhance handling there's the optional Porsche Torque Vectoring system (or PTV for short).
This basically imitates a rear differential by gently braking the inside wheel as the car enters and exits a corner while at the same time sending more power to the outside wheels. The effect is that you don't need as much steering input through bends and there's better traction on the way out. If you want to get the most out of your Boxster it's worth the extra money.
The other popular option on the Boxster is the PDK gearbox. This seven-speed double clutch automatic may seem better suited to the likes of the Cayenne and it had a mixed reception when it was first launched in the 911. But Porsche has extensively redesigned it, so it now provides more aggressive and faster changes when you press the Sport button. It's still smooth and sedate at low speeds though so it's ideal if you spend a lot of time in traffic.
There's a manual mode so you can change gear using the steering wheel mounted paddles while heavy braking results in faster downshifts at higher engine speeds, with a nice blip of the throttle inbetween each shift. The PDK also means better economy (35.3mpg in the Boxster S) and faster acceleration. If you go for the optional Sports Chrono pack which includes launch control, the Boxster S PDK will do 0-62mph in just 4.8 seconds.
The key strength of the Boxster is that it's such a useable car everyday. It's just as happy sitting in traffic in London as it is on the motorway or thundering down a quiet back road. The ride is amazingly smooth and serene, the gear changes are light and easy plus it's even easy to park. Yet make no mistake. This is a bona fide sports car that handles just like a Porsche should.