Peugeot 1007 2005 Road Test
Thu, 14 Jul 2005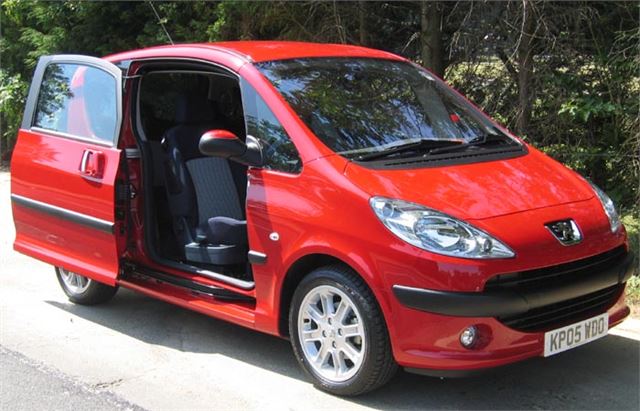 The 1007 is a brave and risky gamble for Peugeot. It's an original, intended to set a trend rather than follow one. The first small car in Europe designed around a pair of electric sliding doors.
It caused sensations at Motor Shows a couple of years ago when it was displayed as the 'Sesame' concept car. But is it just a gimmick? Or does it make an open and shut case?

No doubt about it, the doors work, and the car is exceptionally easy to get in and out of on city streets. From outside, the remote key allows you to open the door either side. From inside you pull a switch and they quietly pop out then glide back, a bit like the doors on an Underground train. You can even drive with them open, which might be illegal, but was the way newpapers used to get delivered to news stands. But that's not the point of the 1007. It's to offer something new that people will see in action and smile at, then want one.

Fashion can tell people to do all sorts of ridiculous things. Buy shoes so high they can't walk in them, wear baggy trousers permanently pulled down below their buttock line, drive a car so low they slip their discs just climbing aboard. Then, the next year, flat shoes are back, trousers are hung from the waist again and tall cars are 'in' again. That's what Peugeot is hoping, anyway. The 1007 will either take off, or go the other way.

So what else is good about it?

Unlike the Smart City Coupe, a previous fashion car, the 1007 seats four, and does so with enough space over their heads to wear chefs hats. The back seats are reasonably easy to get in and out of and there's plenty of space for a five-foot niner to sit behind a five-foot niner. The back seats also slide backwards and forward and individually tumble to create a decent sized luggage well for two or three people going on holiday. It's easy to understand how the seats work, and the levers and structure seem very robust.

Up front, a long windscreen slopes into a short bonnet that probably contributes to the car's exceptionally high NCAP score of 36.1 out of a possible 37. There are airbags all over the place too, so it's a safe little car to be in. Some of the trim is held in place by Velcro tabs and you get a different coloured spare set so you can change it as the mood takes you. On reflection, it might be because the red dash top pads mirror themselves vividly in the windscreen, but the dark blue or dark grey ones don't.

There's a choice of 1.4 or 1.6 petrol engines, or a 1.4 diesel. The petrol engines can be had with a 2-Tronic semi automatic transmission, which is really Citroen's Sensodrive from the C2 on which the 1007 is based. There's no choice with the 1.6 as that only comes with 2-Tronic. So we tried that first.

It actually works quite well. You can leave it in 'auto' mode and electronics will make the gear changes for you with a little bit of help from your right foot. Or you can switch to semi-auto and clutchlessly change gears yourself using the paddleshifters behind the steering wheel. That can be good fun. And there's no need to select neutral when stopped because the system disengages drive for you, unless you are foolish enough to blip the throttle when it engages first and pulls against the brakes.

It doesn't panic at the first sight of a corner, either, because though the car is tall the weight is concentrated low down. The stiff suspension faithfully gets you round without any drama or loss of 'steering feel'. The price you pay is a hard ride, yet somehow the shocks don't feed through to the seats so you are aware of the bumps without really feeling them.

The conventional five speed manual box on the 1.4 diesel is unremarkable and familiar to anyone who has ever driven a Citroen C2 or C3. It takes a bit of rowing along and I don't advise ambitious overtakes, but even with diesel at nearly £1 a litre, running costs will be lower than the 1.6 petrol paddleshift.

Being primarily a city car, you can accessorise your 1007 with all kinds of stuff. Basic trim is either 'Dolce' or 'Sport'. Dolce gets a leather steering wheel, fog lights, air conditioning, 6 speaker radio and CD player, heat reflective windscreen, one touch electric windows, luggage net and an extra mirror to watch children in the back seats. Sport gets the additions of aluminium finish pedals and interior, a chrome surround on the honeycomb grille and exhaust pipe, black masked headlights, 16" alloy wheels, sports seats and body coloured side rubbing strips. (Even thought the 1007's doors slide, everyone else's still swing, so it can still get bashed.) And you can choose from 11 good colours.

Then you can add 'Cameleo' kits, which are 11 different combinations of door trims, dash top pads and air vent trims. You can supplement the Radio/CD with an 8 speaker JBL Hi-fi pack and a 5 CD glove box autochanger. Or you can go for the RT3 telematics system, which is a combination radio with mapping CD Rom monochrome satnav display, dual band GSM SIM card telephone with direct access to Peugeot Customer Care or emergency services.

Is the 1007 for you? Obviously yes if you want or need sliding doors. But for most buyers the decision will depend on whether or not it catches on.

It could do.