Nissan Qashqai 1.6 dCi Pure Drive 2011 Road Test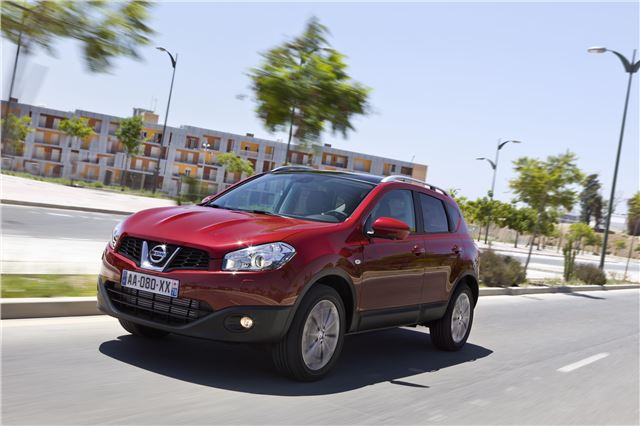 Unusually, I'm kicking off this Nissan Qashqai 1.6 dCi 130 road test with a quick quiz. 
Q1: Where was the Nissan Qashqai designed?
Q2: Where was the Nissan Qasqai engineered?
Q3: Where is the Nissan Qashqai built?
Q4: What nationality is the Nissan Qashqai?
What may surprise some is that the answers to the first three questions are: Britain, Britain and Britain. The answer to the fourth is more ambiguous. Some will argue that because it's designed, engineered and built in the UK, Qashqai is British through-and-through, while others will insist that as a Nissan it remains Japanese.
Whatever the answer, British buyers have taken the car to their hearts. It's stylish, comfortable, reliable and makes an outstanding family car, combining the best bits of a family hatch with the commanding stance of an SUV. The Qashqai has also secured jobs and exports at a time when both are crucial to the economy. Last year it contributed the lion's share of Sunderland's 400,000 Nissan exports – which is a new record for a British car factory – and there are now more than 140,000 on the road. The factory is currently working three shift and 24 hours a day to keep up with demand.
One of the biggest reasons that the Qashqai has been such a hit is that it hasn't rested on its laurels. Since it first went on sale in 2007 it's continued to innovate with the addition of new engine and trim options, a +2 seven-seat model in 2008 and a thorough facelift in 2010.
January 2012 sees the latest improvement: the addition of a modern clean-burning 1.6-litre dCi diesel engine with a start-stop system and the addition of new technologies including an Around View Camera. There's just one small drawback - although you can have a 1.6-litre diesel Qashqai now, you'll have to wait until January before you can get one with Nissan's stop-start system. It seems that the Japanese Tsunami earlier in 2011 is continuing to cause problems throughout the supply chain. The story on this occasion is that Hitachi has struggled to deliver the parts needed for the start-stop module.
The 130PS 1.6-litre diesel is the same one that's recently been fitted to the Renault Scenic. In the Qashqai it comes in at 118g/km of CO2 which puts it in the same league as the Skoda Yeti Greenline II. It's a decent effort for a car of this size and means that it falls into Road Tax Band C, which costs a mere £30 per year.
Compare that to when the Qashqai launched back in 2007 and you'll see that VED has fallen considerably. The equivalent diesel option then would have set you back £145 per year in tax. This latest engine is the third diesel in the Qashqai line-up, promising the power and refinement of a 2.0-litre diesel with the economy of a smaller unit. It replaces the manual 2.0-litre (which remains available as an auto only) and slots in above the 1.5-litre dCi (though is actually cleaner and more economical). With an official combined consumption figure of 62.8mpg, it's 31 per cent more efficient than the old 2.0-litre and 8.5mpg better than the 1.5-litre dCi.
It's been achieved by reducing the weight of the cylinder block and reducing dynamic forces, using alternator regeneration to re-charge the battery, cold-loop low-pressure exhaust gas recirculation, improving engine warming times, using a variable displacement oil pump and, of course, a stop-start system.
At start-up, it's surprisingly quiet and refined, with the usual diesel clatter kept to a minimum. Good insulation helps too. It's not at its best around town where the combination of a sharp clutch and lack of pulling power in first gear can make it jerky. First gear soon runs through the rev range and provides little in the way of pulling power; you'll soon find yourself changing up to second. There's a better spread of power in the other gears and it's actually possible to pull away from second.
Out of town it's much easier to live with. There's plenty of grunt for safe overtaking while, in sixth gear, it'll cruise smoothly and quietly on the motorway.
On paper – and in two-wheel drive – it's capable of 62.8mpg. It's an impressive figure, though the fly in the ointment is that users of our Real Life Fuel Economy Register tend to find that Nissan engines are between eight and 11mpg too optimistic. That would mean that this engine would be likely to get around 53.4mpg in real-life driving. We'll wait and see.
It's also the first Qashqai that makes sense for Company Car Choosers, too, should it appear on your company car list. With a P11D price of £24,290 for the Tekna (best-selling spec) and CO2 emissions of 118g/km, it's liable for a 13 per cent BIK charge and will cost a basic rate tax payer £631 a year and a higher rate tax payer £1263.
Inside it's largely business as usual, with a well laid out dashboard and a comfortable and commanding driving position. There is just one addition and that's the availability of the Around View Camera, initially available on n-tec+ and Tekna specs (every other Qashqai is one of these specs). It's a smart piece of kit, building on the reversing camera that Nissan has featured on its cars since the 2002 Primera.
This evolution offers the option of a bird's-eye view, which uses cameras placed around the car to show you the view from above. It's designed to help avoid kerbs and make parking easier. I tried the system with the windows and windscreen blacked out. Relying on the camera alone, I was able to negotiate a slalom course and reverse-park the car again. It's not quite as effective at night, but does still offer a good view of what's happening around the car.
Qashqai has long been popular with British buyers. The addition of this low CO2 diesel engine gives should now make it more accessible to more people.
Review of the full range in our Car-by-Car Review.