McLaren 570S 2016 Road Test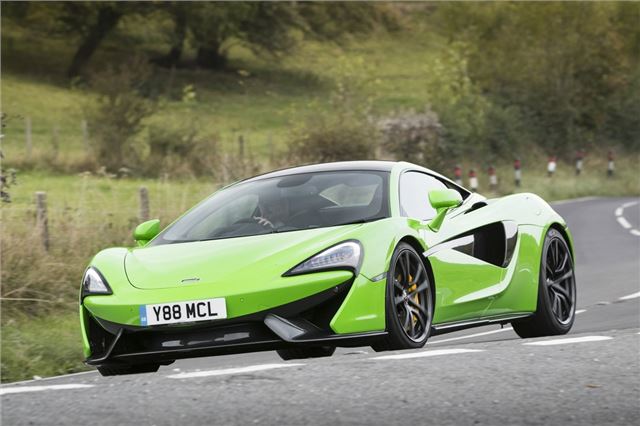 The 570S is one of McLaren's 'entry-level' supercars. However, with supersonic acceleration and a top speed of 204mph, the 570S is more than enough for your average sports car enthusiast.
Described by McLaren as a 'usable daily driver', the 570S is anything but dull, with its 3.8-litre twin turbocharged V8 creating a head thumping 570PS. As a result, it covers 0-62mph in just 3.2 seconds, while 0-100mph acceleration is rated at 6.3 seconds - a figure that equals the legendary McLaren F1 road car from the 1990s.
Over the past 30 years McLaren's F1 team has pioneered the use of carbon fibre and, as you might expect, the 570S is full of the stuff. This means the chassis is strong, rigid and incredibly lightweight. In fact, the 570S weighs in at just 1313kg, which is 282kg less than the Audi R8.
On the road, the 570S is surprisingly refined, with a comfortable ride that provides supple protection from potholes, rough roads and speed bumps. The smooth steering and intelligent seven-speed gearbox are well-suited to sub-50mph driving, providing smart gear changes that make it easy to navigate traffic and busy junctions without the car jolting forwards every time you contemplate touching the throttle.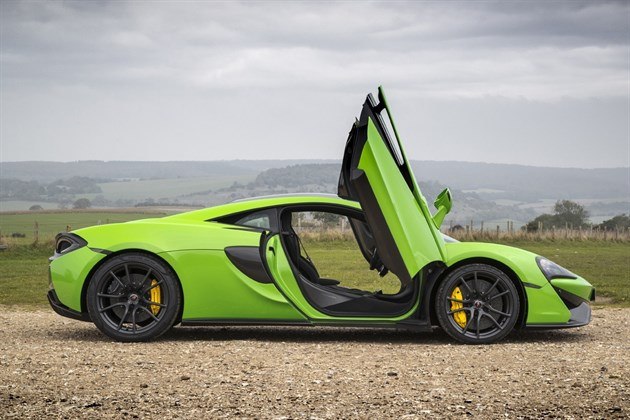 Obviously, with 570PS packed away behind the driver, the 570S has incredible performance at its disposal. Thump the throttle and it will pick-up momentum instantly, while the automatic gearbox does a fine job of distributing the power. 
The handling is excellent too, with pinpoint steering and lots of feedback through the compact race wheel. Grip levels are staggeringly high, which is impressive when you factor in the rear-wheel drive set-up and lack of a limited slip differential.
The gearbox and engine can be changed from Normal, to Sport or Track mode, which increases throttle response and shortens the shift time between gears. However, unless you're on a track, the most hardcore setting will seldom be needed.
Comfortable, refined and hushed at motorway speeds, the 570S feels more like a grand tourer than a supercar, with its light steering and well-supported seats providing long distance comfort for two large adults.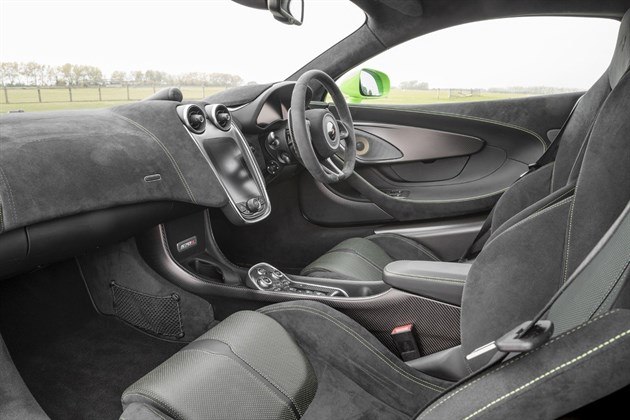 Getting in and out of the McLaren isn't easy though, with the low floor and sports seats making it difficult to slide in or out with any elegance. In fact, if you have a history of back injuries, the 570S should immediately be struck off your list. It's that tricky to access.
The leather interior is comfortable, albeit after you've lowered and twisted your way into the cabin. Getting comfortable is simple - the driver's seat has six-way adjustment, including electric height adjustment. There is lots of head and legroom plus carbon fibre shelled racing seats, as found in the McLaren P1, are available as an option.
Despite the F1-bred race tech, the 570S doesn't feel like a tooth-rattling, back-breaking, track car. Far from it. McLaren has put considerable effort into making its supercar as driver-friendly as possible, which means it is comfortable, calm and a realistic every day car. In fact, the 570S is effortless to drive at low speeds.
However, as fast as it is, the 570S rarely feels as quick as the 911 Turbo in a straight line. It's twin-turbo V8 also lacks the aural delights of the R8's V10. That said, this is still one of McLaren's most accomplished supercars and it's difficult not to be charmed by the 570S' striking good looks and brilliant handling.