Mazda CX-7 2007 Road Test
Fri, 20 Jul 2007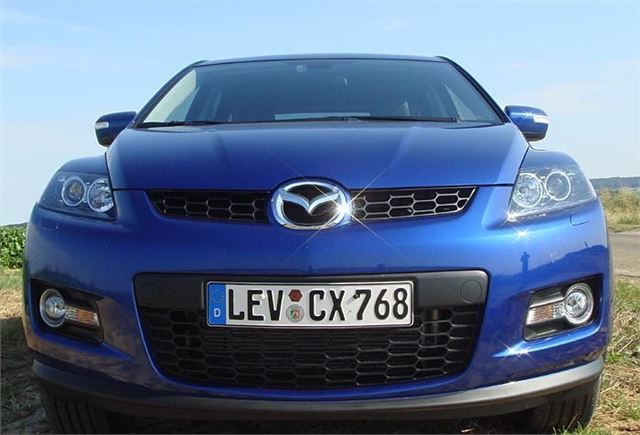 Ken Livingstone would call the Mazda CX-7 Sports Utility Vehicle a "4x4" and brand the owners "idiots". But did you know that half of the new cars sold in the USA are 'SUVs'?
In Europe, sales have doubled from 280,000 in 2001 to 560,000 in 2006. There will soon be no less than 62 different SUVs on sale in the UK. Not quite what Ken or Friends of the Earth had in mind, but earners of much needed profits for manufacturers. So now Mazda has entered the fray. 
SUVs are what marketing men call a "niche market". And since very few people who buy 4x4 SUVs ever venture further off the road than the kerb, the product planners have tried to find niches of their own within the niche.

This can make nomenclature a bit clumsy. Mazda describes its new CX-7 as a "Sports Crossover SUV", which won't mean much to the average man. So I'll call it a Sportscar on Stilts.

It's very sleek and good looking for something that competes against blinged up bricks like the Dodge Nitro. Its cd is 0.34 rather than the usual 50 or 60. Instead of a diesel engine, an automatic transmission and soft suspension, it has a 260PS turbocharged four, a six-speed manual and hard suspension. Mazda is uncompromising and unapologetic about this. Whereas LandRover developed the Freelander II on steep, muddy moorland, Mazda refined the CX-7 on the Nurburgring.

The result is it actually does drive like a sports car, and outhandles every other SUV I've driven, except, perhaps, a Porsche Cayenne Turbo S. It's also quicker than most with a 0-60 7.7 seconds and a top speed of 130. Unfortunately, that means only 27.7mpg combined and a C02 emission that going to cost £400 in tax from next year. But you are similarly stuffed in just about every petrol engined SUV apart from a Lexus RX400h and a few of the tiddlers.

You're also hit in the same way for driving most sportscars. And the CX-7 is definitely a sportscar. It's a bright spot on the horizon when the other half announces you've got one in the net, your two seater has to go and she fancies one of those 4x4 thingummygigs. She can have her 4x4 and you can have your sports car.

It has all the practical attributes of a child carrying vehicle. Mazda's clever Karakuri split-folding rear seats drop at the pull of a lever in the boot, exposing a load area capable of swallowing 1,348 litres. The load floor flips over from carpeted to waterproof plastic. Both outers rear seat have ISOFIX fasteners. And, of course, the front passenger airbag can be switched off.

The special Bridgestone Dueller H/P 235/60 R18 tyres aren't the deepest profile, but they are capable of shrugging off low kerbs. Aircon and leather are standard. The driver gets an electric seat with adjustable lumbar support. It's so loaded with kit, the only factory fitted extra you can buy for the car is metallic or mica paint.

No satnav, though. Only an afterthought dealer-fit gizmo, so you might as well buy your own. And unlike a Freelander, the rear seats are lower than the fronts so children travelling in them will need boosters.

The 'Active Torque Split' four-wheel-drive is basically the same as the Mazda 6 MPS. A sports set-up rather than an off-road system, but one that will get you to the ski resort if necessary.

It cruises at 25mph per 1,000rpm in 6th, and that slippery body makes it very quiet so 110mph feels more like 90. It's also very reassuring at these sorts of speeds. You never feel you're teetering on the edge of its stability. I'd like to see it compete against a BMW X3 3.0Si, a Freelander II 3.2 i6, a Nissan Murano, and a Subaru Forester turbo for best time round the Nordschleif.

Not an entirely pointless exercise, but if it beat or equalled the X3's time that would at least give the CX-7 a pedigree.

Just as 95% of 4x4 drivers never drive their 4x4s off road, hardly any CX-7 drivers will ever take them to the Nurburgring. But they'll all know that if they did it would put up a good show.

Even with a pair of child seats strapped into the back.