Hyundai i30 N 2018 Road Test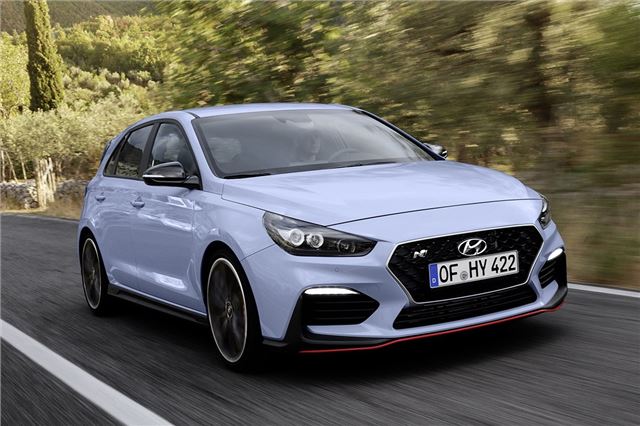 While Hyundai has spent the past five or 10 years making good cars, there has always been a 'but' or an 'if'. There are no caveats with the i30 N though – this hot hatch is as good as or better than its rivals in every way that matters. It has the power, handling and – perhaps surprisingly – the personality to be a worthy of comparison with the Volkswagen Golf GTI. And it's definitely better value.
For £24,995 you get a standard i30 N with 250PS, while £27,995 gets you the Performance pack. This boosts power to 275PS and brings a few other extras including a limited slip differential and larger 19-inch alloy wheels on stickier Pirelli tyres. It also gains an active exhaust which cracks, pops and burbles when you choose the sportiest driving mode.
But even if you pick the standard car you're getting a proper hot hatch. It might have a lower peak power figure but it has the same torque output as the Performance Pack car, with 353Nm available from 1500rpm right through to 4700rpm. From 1750-3500rpm there's also overboost, to 378Nm, for a maximum of 18 seconds. The result is superb acceleration both when overtaking and from a standing start. Acceleration from 0-62mph takes 6.4 seconds in the 250PS car and 6.1 seconds in the 275PS car.
It's not just a strong engine that impresses about the i30 N though – it has fantastic handling. The 250PS car, with its 18-inch wheels, feels at home even on potholed, uneven roads and has excellent grip levels, while the suspension provides impressive body control. The ride quality isn't too bad either - it's firm, so hardly what you'd call comfortable, but it's not bone-shattering nor does it feel unsettled at low speeds.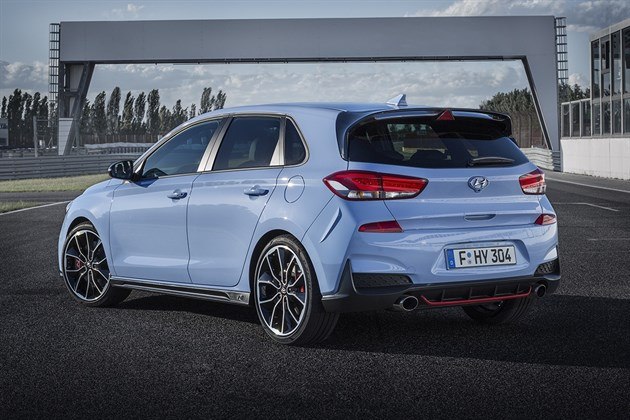 The steering is nicely weighted and precise, the brakes are strong and progressive and the gear change is short, snappy and enjoyable. It really is up there with the best of them – and not just in that "for a Hyundai" sort of way - it's a great drivers car by anyone's standards. Think Ford Focus RS and Civic Type R, even if it's less powerful than those pricier rivals. 
As is typical for most cars these days, the i30 N has driving modes that change the way the car feels. Normal and Eco modes limit torque output and make the car easy to drive in busy traffic or bad weather, while the Sports mode is for more spirited driving. There's also an N mode, which changes the traction control settings and enables a rev-matching function on downshifts.
This mode really helps when driving quickly, enabling you to change down smoothly through the gears even when braking hard, so you can focus on steering. N mode also makes the models with an active exhaust system sound meaner and more purposeful, with crackles when changing gear. Finally, there's a custom mode where you can set things up just how you want them, right down to the standard adjustable dampers.
If you're planning to drive on track days then the extra features of the Performance Pack will be welcome. The larger 19-inch alloy wheels have a marginal impact on ride quality but come with stickier tyres, plus there is a mechanical limited slip differential that keeps the front wheels pointed exactly where you're expecting them to go, without impairing the steering feel.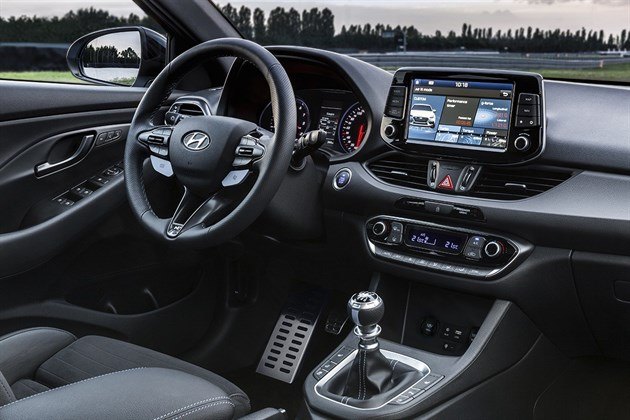 The Performance Pack adds various other small details too including a body-stiffening brace between the rear wheels, stronger brakes, slightly tweaked steering and adjustments to the gear ratios. So the benefits are noticeable even if you're not planning to go to your local track day. And let's be honest, you're not, are you? 
As impressive as it is to drive 'in anger', the i30 N is still very much a car you can live with every day. The cabin is plush and well-finished, there are five doors and there's a decent amount of space in the back row. It's not too loud or excessively firm, either – so if you're driving for the school run you shouldn't end up with a back ache and ringing ears.
It's also well-equipped. The 8-inch touchscreen system supports Apple CarPlay and Android Auto, the audio system is powerful and the layout for the controls and instruments is as simple and obvious as in the regular, family-friendly i30. Boot space is generous too, and the bracing in the Performance Pack car doesn't gets in the way when you want to load bulky items because it can be removed.
The Hyundai i30 N really is a proper hot hatch. It doesn't feel like a half-measure or a case of "almost but-not-quite", which is probably what a lot of potential buyers (and media) were expecting. So, if you have £25,000 to spend on an everyday performance car, you'll struggle to do better. Bravo, Hyundai. 
The Hyundai i30 N goes on sale in January 2018