Hyundai i30 Fastback N 2019 Road Test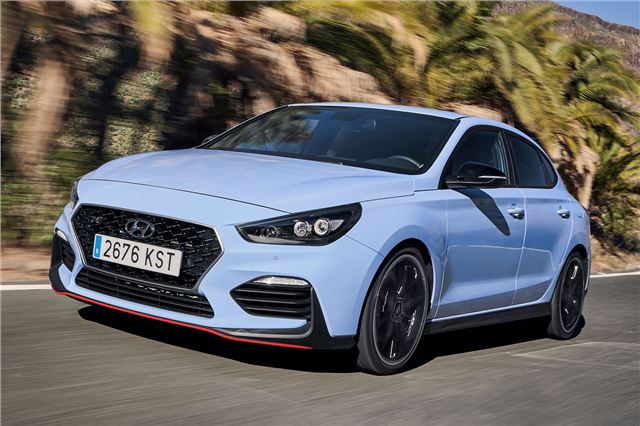 No one expected Hyundai's first foray into the hot hatch market to be quite as good as it is. It's not just good 'for a Hyundai' - in fact the i30 N is one of the best budget performance cars money can buy. In our review, we describe it as 'a genuinely superb hot hatch'. It's so good you could almost forget that it's based on the also very good if slightly unremarkable i30 hatchback.
If you've studied Hyundai's line-up closely, you'll be aware that the i30 is available in a range of body styles to cater for all niches. There's the regular hatchback - a rival to the mainstream Ford Focus and Vauxhall Astra - as well as the estate version. There's also the slightly unusual Fastback version - and it's this that's now been given the N treatment.
Just like the regular i30 N, the Fastback is a five-door hatchback. It has a more sloping roofline, however, and a slightly sticky-out boot (technical terminology). It's not an estate, nor is it a saloon. It's probably best described as a five-door coupe. Marginally longer than the hatchback (4455mm vs 4335mm), it offers slightly more boot space (436 litres vs 395). But it's not a practical family car in the same sense as the Skoda Octavia vRS.
Sure, technically, it has a bigger boot than the hatch. But it's quite shallow, with a high lip and not as useful as the deep, square luggage area found in the regular i30 N. A stiffness bar running behind the rear seats doesn't help things, either. Headroom in the back, meanwhile, is limited (anyone around six foot or more will find their head touching the roof) and legroom is nothing to shout about.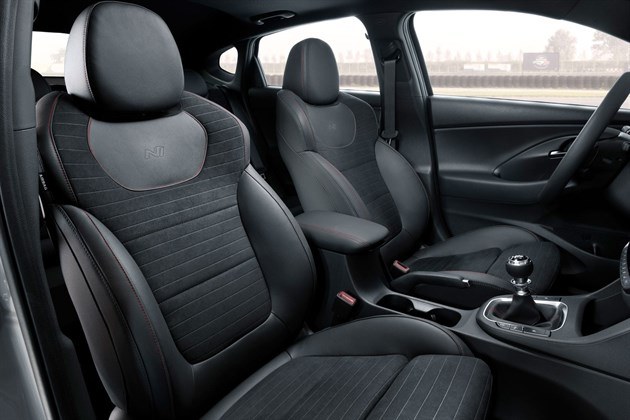 Fortunately, there's no discernible difference between how the i30 N and Fastback N drives. That's a good thing because we love the 'cornering rascal' (Hyundai's words) that is the regular i30 N. The regular model is available in two guises in the UK - the standard 250PS version and the Performance Pack alternative with 275PS. The monthly payments between the two is so small that around 98 percent of buyers opt for the Performance Pack - which explains why all i30 Fastback Ns in the UK will be powered by the 275PS engine.
Said engine is a charismatic 2.0-litre, four-cylinder turbocharged petrol unit, combined with a six-speed manual gearbox (there's no option of an automatic gearbox). A useful 353Nm of torque means it's an easy car to drive quickly, yet it's also very happy to be worked hard should you feel like clinging onto gears.
There are no fewer than five different drive modes available from the N Grin Control System, ranging from 'eco' to the hardcore N mode. The latter is brilliant for opening valves in the exhaust and creating a lot of crackles and pops when you lift off the accelerator. It's childish, sure, but it's really really fun. And quite possibly the best-sounding four-cylinder hot hatch on the market.
The i30 Fastback N offers an extraordinary amount of grip, with the front tyres showing little sign of being phased by the power on offer. Sure, it will tug on the steering wheel occasionally if you boot it out of a bend, but that's part of the experience of driving a car like this.
Our drive of the i30 Fastback N was on extremely smooth roads so it's difficult to draw any firm (pun intended) conclusions on its ride quality, but it does appear to be slightly softer riding than the i30 N we drove last year. When we drove a prototype model back in August 2018, engineers hinted that that would be the case.
In hot hatch terms, the i30 Fastback N is a fairly affordable car to run. Officially it will return 34.0mpg and our Real MPG data reveals that readers see early 30s from the hatch version. Not great for long distance drivers, but respectable for a car with this much performance on offer. It should prove to be reliable, too, while Hyundai's five-year, unlimited mileage warranty should put your mind at ease.
The Hyundai i30 N is a fantastic hot hatch. The question isn't whether you should buy a Hyundai i30 N, it's whether you should bother with the Fastback version. From an objective point of view, the hatchback is probably the better car. Not only is it marginally cheaper, it also has more space for rear passengers and the boot is a more useable shape.
Practicality isn't a concern for all buyers, though. You might think the Fastback looks better than the hatch, and it's certainly likely to have rarity factor on its side (Hyundai UK expects to sell 700 Fastbacks in 2019 compared to 1000 hatches). With that in mind, if you prefer the look of the Fastback and are willing to sacrifice an element of practicality, the i30 Fastback N is a brilliant way of spending a fiver short of £30,000.
The Hyundai i30 Fastback N is on sale on 21 January with prices starting at £29,995.